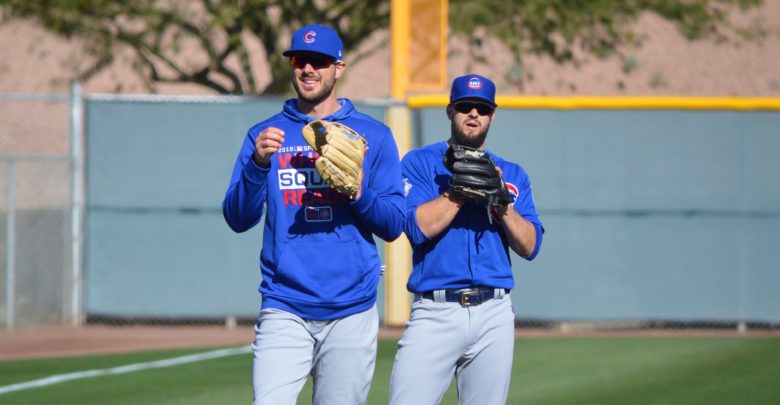 How Could Nolan Arenado Extension Impact Kris Bryant, Cubs?
As reported by multiple sources, the Rockies and third baseman Nolan Arenado have agreed to an eight-year extension worth $260 million. Full details of the contract aren't known as of post time, but it includes an opt-out after three years — at which point Arenado would be heading into his age-31 season under a new CBA — and a full no-trade clause. Though the $32.5 million AAV falls short of Zack Greinke's $34.4 million, it's a new record for position players.
Now that we've established the basics, let's talk about how this could impact Kris Bryant and the Cubs. Because the two superstars play the same position and are similar in age (Bryant is about 10 months younger), the comparison is pretty simple. We had also heard that Bryant turned down an extension of "well north of $200 million" at some point, so the comp gets even more direct with the Arenado news.
The veracity of that report leaves a little to be desired, since we don't even know exactly when it supposedly took place. We do know from both Bryant and the Cubs that extension talks have been rebuffed, but those talks have generally taken place during the offseason. And David Kaplan discussed the $200 million figure in October of 2018, noting that the discussions could have occurred several months prior.
That leads us to the most important aspect of this whole thing: timing. Arenado had recently been awarded a record-setting $26 million salary in his final year of arbitration, while Bryant still has three seasons of club control remaining in Chicago. For those of you without solid math skills, that means the Cubs had four years of control heading into 2018.
The whole point of an extension is to keep the player in his current uniform beyond his arbitration years to the benefit of both player and team. The player ostensibly receives a raise over what he'd have earned in arbitration, the team gets a discount on open-market pricing by weighing in the arb years. In Arenado's case, that discount was muted by his already high salary and limited control.
There's potential, then, for the Cubs to get in a little lower than the $260 million since Bryant is only making $12.9 million this season. But he's also said he's willing to ride it out to free agency, which should mean seeing massive raises anyway. Arenado went from $11.75 million in 2016 to $17.27 million and $26 million the past two seasons.
Bryant, who set a record for first-year arb salary, is trending above his hot-corner colleague and should continue to do so. He could easily eclipse $18 million for 2020 with another MVP-caliber campaign this year, which then lines him up to surpass Arenado's $26 million. And to think, it's all because the Cubs manipulated Bryant's service time in 2015.
So when you think about that $32 million AAV, you have to consider how it compares to current salary projections and Bryant's potential free-agent value. For the sake of argument, let's say Bryant's arb raises over the next two seasons mirror Arenado's. That would put him at around $18.5 million in 2020 and $29.2 or so in 2021. So if he were to do the same $260 million deal next year, when he's the same age Arenado is now, he'd earn an additional $24.9 million over his final two arbitration seasons.
What you have to consider, then, is whether Bryant could get more value by simply taking his arb raises and then hitting the open market. If he's able to land a six-year deal in the neighborhood of $215 million ($35.83 million AAV), he is at a total of $262.7 million over the eight-year period in question. And I think it's more than reasonable to assume Bryant can get at least that if he's able to maintain the production we've seen so far.
All of which is to say that the Cubs are probably going to need to come with something similar to what Arenado just got if they're going to try again with Bryant. And you figure it won't come up until after this season, since the team is going to want to ensure the health of that left shoulder. Bryant is likewise going to want to prove the same rather than taking a discount to offset the unknown.
As for the bigger picture of how this extension impacts baseball in general, it's a matter of whether teams were really holding off on Bryce Harper and Manny Machado in order to pursue Arenado. That's an incredibly dumb strategy since it's foolish to pass on talented players right now in order to wait on one who ended up not being available at all, but whatever. The fact that a premier third baseman is off the market just boosts Bryant's value that much more.
Back to the Cubs, who did not pursue Machado and don't appear willing or able to get Harper. They obviously don't have to worry about Arenado now, either. In addition to their stated lack of money, the Cubs have said they'd like to be able to lock up their existing players long-term. Well, things are pretty much set on a tee for them to keep Bryant with the right offer.
He's not going to be vindictive about the service-time issue, which is an overall baseball thing as much as it is a Cubs thing. But he's not going to do them any favors or offer a big hometown discount, so any extension is going to have to be fair market value. We'll see how it all works out, but I'd expect we hear more about this once the current season ends.