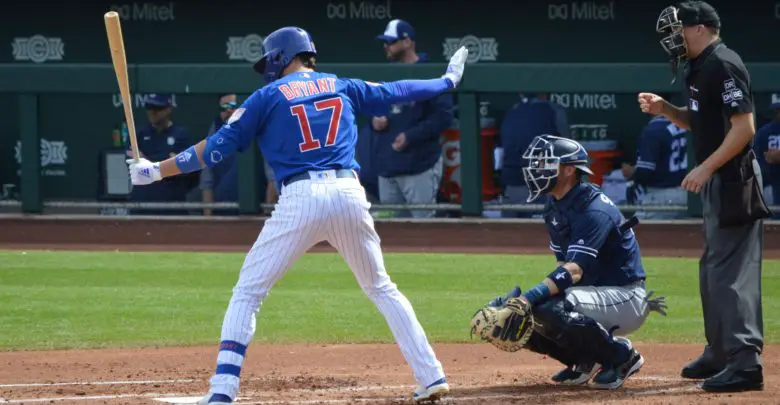 Kris Bryant Infuriated by 'Total Money Grab' of MLB's Service-Time Farce
Kris Bryant is probably never going to be the straw that stirs the drink when it comes to controversy, but that doesn't mean he's not willing to shake things up a little bit. The normally reserved slugger opened up to reporters Saturday about using slights from fans and pundits as motivation for the coming season. Some have foolishly chosen to question the veracity of Bryant's claims, but you don't have to try very hard to see what he's talking about.
Whether it's a scout questioning Bryant's ability to display power with a wood bat coming out of high school or calls to trade him as reports surfaced that he'd turned down a big extension, he's heard plenty of doubts. And even if there have only been two people in the last 27 years who didn't believe in him, who the hell cares what Bryant — or anyone, for that matter — uses to fuel hi performance?
The latest topic about which the 2015 Rookie of the Year is very understandably fired up about is service time, specifically the way teams will intentionally hold a player back in order to maintain contractual control for an extra year. That's what the Cubs did with Bryant, who was more than ready to break camp with them that first season, and it's a big part of the reason he chose to be the club's union rep last year.
At the time, the Cubs claimed Bryant was opening the year at Triple-A Iowa to work on his defense, which was incredibly laughable and more than a little disingenuous. Dude is Harrison Bergeron, they could have thrown him out there blindfolded with a wood plank strapped to his left hand and his production at the plate would have made up for it. The Blue Jays are doing the same with phenom Vladimir Guerrero Jr., who will need to spend a couple weeks honing his glove skills before joining the big team.
"It was so obvious," Bryant told Sahadev Sharma of The Athletic. "I think they're going to do it to (Vladimir Guerrero, Jr.). 'Oh, he's gotta work on his defense.' Stuff like that. But now I can look back on it and just laugh about it because I was told to work on my defense too and I think I got three groundballs in those games that I played. So it's like, 'Oh, now he's ready.'"
All the while, the official MLB Twitter account is pimping the hell out of the Guerrero by constantly sharing info and video from his already-mythical BP sessions. That, uh, seems a tad hypocritical. Bryant sure thinks so.
The phenom makes his #SpringTraining debut today. 👀 pic.twitter.com/MDR03nJ1uU

— MLB Stats (@MLBStats) February 24, 2019
#VladJr BP is something else. pic.twitter.com/Ap6Vtz4NDC

— MLB (@MLB) February 24, 2019
Your ears know when Vladdy is swinging. #SpringTraining pic.twitter.com/etoGDdwpNO

— Toronto Blue Jays (@BlueJays) February 23, 2019
"I literally saw that the other day," Bryant said in reference to the litany of tweets about Guerrero and other young stars like Eloy Jiménez in the same situation. "And that infuriated me. Stop promoting the guy if you know exactly what's going to happen. It's a total money grab on everybody's side. "
Wait, Kris Bryant can even get infuriated? I wasn't aware that he was capable of reaching simmer, let alone a rolling boil, though perhaps he's getting a little more sassy in his old age.
Regardless of the level of anger Bryant feels, it's important to note here that he's addressing the system as a whole and the leverage it gives teams over young players. Sure, he was a part of that and he talks about his specific case with Sharma, but this isn't some kind of statement about his intentions once his rookie deal is up. As easy as it is to pair this talk with his previous unwillingness to work out an extension, Bryant hasn't written the Cubs off.
In fact, I'd go so far as to say he'd sign an extension tomorrow should Theo Epstein approach him with one that makes sense. But when you're talking about a guy coming off of a deleterious shoulder injury, he's at a bit of a disadvantage on that front. Bryant putting up another MVP-caliber season would swing the juice back in his favor, though it could also make Cubs more hesitant due to the lack of available funds in their baseball budget.
Contrary to thoughts by many that Bryant will tell the Cubs to kick rocks after the 2021 season, he isn't the vindictive sort. Like Clayton Kershaw with the Dodgers, Bryant understands the power of legacy and knows he could essentially be immortal if he stays in Chicago. But he also understands very clearly that baseball is a business and that he has to operate within its confines, which is why he hired Scott Boras.
So despite all his rage, he is still just a rat in a cage. Or at least that's how noted Cubs fan Billy Corgan might describe Bryant's situation.
In any case, Boras clients aren't known for signing club-friendly extensions before they reach free agency. And Bryant has rebuffed previous front office efforts to lock him up beyond arbitration, saying that he prefers to "just play it out" when it comes to his current situation. That's not a matter of him trying to stick it to the Cubs, it's about a guy who really just wants to focus on playing baseball.
Believe it or not, Bryant's concern for the business side is more about helping his fellow players as a group than it is trying to get his. Heck, successfully negotiating a better situation for young players coming up might actually cost Bryant, whose free agency is set to come after a new collective bargaining agreement will be in place.
I'm not saying by any means that Bryant will be a Cub for life or that he won't indeed walk away or be traded over the next few seasons. Anything's possible, so to suggest certainty on any level would be foolish. What I am saying is that you shouldn't read too much into his stance on the service-time issue. Just take it at face value that he's pissed about the system and how the league is openly promoting players it knows will be held back unfairly.
And if Bryant is able to use some of that anger as fuel for the season to come, well, thoughts and prayers to those poor pitchers.