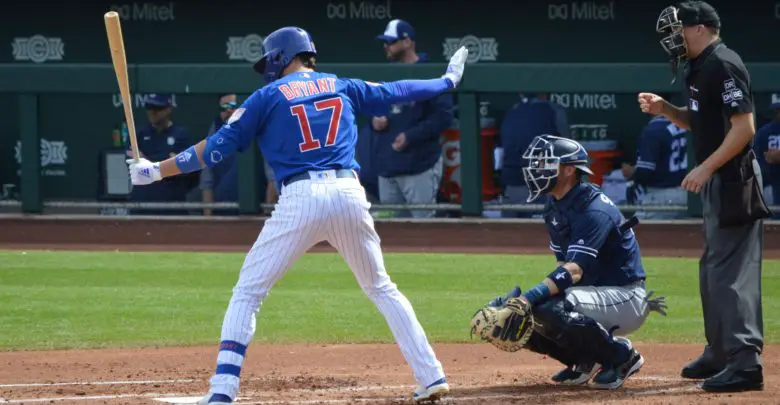 Kris Bryant Willing to Listen to Extension Offers, 'Not Stupid' About Baseball's Big Money
This might be something of a rehash for those familiar with our earlier post about Kris Bryant saying he was "absolutely" willing to talk extension with the Cubs. But the timing of Nolan Arenado's extension meant Jesse Rogers was really the only beat writer on the scene who was able to pick Bryant's brain about the matter.
That changed with Wednesday's media availability, during which the suddenly feisty third baseman shared his thoughts in greater detail.
"You always look at what the other people at your position do in terms of their contracts, and you compare yourself accordingly," Bryant admitted. "Obviously Nolan is a great player and has been doing it for a long time. So it's nice to see another third baseman sign for that much."
Part of that is coming from his position as a union rep, since Bryant wants all his fellow players to do well. But Arenado offers a very similar comp in terms of age and position, so there's also the matter of essentially setting the bar for the Cubs superstar in the future.
As for whether the Cubs can make it work in light of Tom Ricketts' recent claims about not having any more money, well, that's another issue. Not that they need to be in any hurry. Bryant is still under club control for three more years, at which point other contracts will have dropped off and the new Marquee network will be in its second year of operation.
And if you line things up between Arenado and Bryant, a potential extension would really be more likely heading into 2020 or '21. Bryant even mentioned that his colleague's deal was almost like a free agent contract in terms of its timing. But the key to all of it is money, specifically whether the Cubs have enough.
"Everybody has money," Bryant said. "We're not stupid. You see the price of tickets, the price of whatever, and the memorabilia. There are TV deals, a lot of money in this game."
Some have thought Bryant would try to stick it to the Cubs as a result of being held down in the minors long enough for the team to extract an additional year of control, but that's just not the case. While he's not happy about how the service-time situation continues to play out with younger phenoms, Bryant loves playing in Chicago and would certainly love to stay there if possible.
"I've said I would listen to anything they've had to say," Bryant explained, echoing what he's said in past years. "I'd be dumb not to hear anything they have to offer. But right now it seems like they're not willing to do that because we haven't gotten anyone new. And that's okay, too."
It makes sense for Bryant to continue to "ride it out," as he's said before, while letting his game do the talking. As much as these reports can be tedious for players and fans alike, it's sort of like the games themselves this time of year. Which is to say everyone's hungry to get back after it and there are only so many innings or narratives to go around.
The extension talk should fade in short order, though the discussion of labor strife may remain more active as rules changes and pace-of-play issues continue to bubble up. What shouldn't go away is Bryant's obvious motivation to tear it up this season. I don't care where exactly that motivation is coming from, so long as he shuts up doubters both real and imagined.