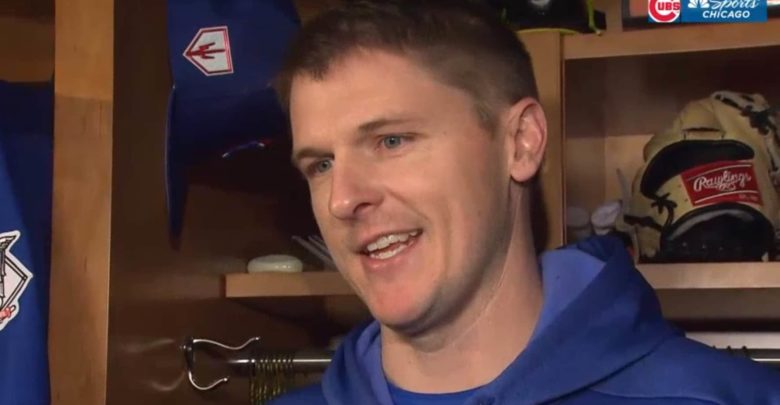 Brad Brach's Restructured Deal Leads 4 Intriguing Storylines from Cubs Relievers
I've been confined to little more than lineup posts and editorial work the past few days and that's going to continue until later in the week, but I stole away for a few minutes to lay down some thoughts. It's still way too early to get an idea for what the Cubs' bullpen is eventually going to look like, but there are a few threads I'm following in the hope that they end up woven into the final tapestry.
Or at least that's the case for most of them, since one is a little worrisome on at least a couple levels. Because the Cubs have a staff laden with veterans, not to mention one really significant injury (Brandon Morrow) and one more minor (Mike Montgomery), we're not going to see the full relief corps this spring. Then you consider how they integrate the veterans a little later and everything is understandably murky.
That said, here are a few items that I think bear paying attention to over the next few weeks at least.
Brad Brach's workload and reason for restructured deal
Arguably the Cubs' biggest signing this winter, depending on semantics and potential value to an area of weakness, Brad Brach's brief tenure has been shrouded in mystery. It took nearly three weeks for the team to officially announce his signing after reaching an agreement with him on January 24, the reasons for which were not disclosed at the time.
"Everything's fine," Brach told reporters Monday at Sloan Park. "I had just a little bit of a viral infection. It was just kind of bad timing. Just kind of one of those things. When I was doing my physical, it came up, so it was adjusted from there."
The second "it" he's talking about is his contract, which was restructured to a pretty significant degree during the 18 days of limbo mentioned earlier. According to Patrick Mooney of The Athletic ($), the deal has a $1.65 million base salary with bonuses that could reach $850,000 depending on how much time Brach spends on the active roster.
Mooney also cited sources to report that the team portion of next year's dual option is for $5 million with a $100,000 buyout, while Brach's player option is $1.35 million. Unless there's a zero missing from the report, that's an incredibly low buyout. Even the player option is so low that Brach would have to pitch terribly in order for him to want to trigger it should the Cubs not pick up their own option.
Then you look at the max value of the deal, which now goes to only $7.5 million as opposed to the $9.5 million initially reported by Ken Rosenthal. But it's how that money is structured that really gets the intrigue juices flowing. That first report was a $3 million base for 2019 with a buyout that guaranteed $4.35 total, so the options on the back were still around $5 million.
Brach's base salary was cut by more than 50 percent and it appears as though what had been a $1.35 million buyout all but evaporated. And while his initial roster bonus of $350,000 for being active one day should be a given, he's got to be active 150 days to trigger the other $500,000. The explanation of "a little bit of a viral infection" sounded a little flat, almost like we're not hearing it in stereo.
Which is to say Brach had mono, something I'd long suspected but felt was inappropriate to share earlier, though he says he's fine now and should be moving forward. Still, the Cubs restructuring to get mad club protection in the first year of the deal indicates that they're worried about something lingering throughout the course of the season, or at least long enough that it could significantly hamper Brach's performance.
The righty hasn't pitched in a live game yet this spring, though it's not quite time to worry. If he doesn't start getting ramped up before long, however, it may be time to kiss those thoughts of serving as a part-time closer goodbye. On second thought, you might want to avoid kissing just in case.
George Kontos has a weird tie to Cubs infamy
It's almost as though the Cubs have made a conscious effort to load up on Chicagoland natives on this spring roster. Like a bad college team recruiting local kids to quell the ire of fans hungry for a winner, the hometown discount may even help with those stated financial issues. The Cubs aren't bad, nor do they have real money problems, but a little feel-good never hurt.
Among those players is George Kontos, a lifelong Cubs fan who grew up in Skokie and lived in the Loop even before catching on with his favorite team. As such, he has a strong tie to one of the most infamous non-plays in Cubs history. Rather than reveal it, go check out Jordan Bastian's "Mesa miscellany" blog from a couple days ago to find out more.
Kontos was also involved in a much more joyous moment in Cubs playoff history, giving up a homer to fellow reliever Travis Wood in the 2016 NLDS. Only signed to a minor league deal, Kontos doesn't have a clear path to the bigs. But he worked hard this winter to get his velo back up and could be someone to watch for as the Cubs look to round out the 'pen for Opening Day.
Dillon Maples remaining walk-less
Dillon Maples has posted an 18.0 K/9 with no walks through three innings of work so far, which is a sight to behold. He did allow a two-run dinger to Adam Engel during his last appearance, but that's only part of the story. Engel caught up to a 97 mph fastball enough to drive it out for an oppo taco, which might not be a mark against Maples.
First of all, sometimes even good pitches get tagged and you just tip your cap to the hitter. And since it's spring, we also have to acknowledge that pitchers aren't necessarily working their full repertoire or going with proper sequencing. Whether that's because they don't know the hitters or because they're working on a specific pitch, it's a different strategy from the regular season.
Maples' issue has long been fastball command, so it's reasonable to think he was out there trying to pump heaters for strikes. After all, he was making guys look absolutely silly with that wicked slider. Limiting the walks immediately puts Maples in the conversation for bullpen staple. Save for maybe Carl Edwards Jr., no one else on that roster can do anything like what Maples can.
Giving up homers all the time would be a little worrisome, but the key right now is just avoiding walks.
Dakota Mekkes fooling MLB hitters
Dakota Mekkes has dominated at every level despite having elite velocity, which is weird because he's a big dude. It's not weird that he's done well, just that you'd think he'd be in the mid-90's at least. But he comes from a low arm slot and that big body allows him to get really close to the plate and deceive the hell out of hitters.
But what does that mean, really? Because of all the data that exists now, we can quantify so many things about how a pitcher is able to do what he does. It may be a while before we have all the data on Mekkes, since the Cubs probably aren't revealing the proprietary findings from their Pitch Lab any time soon.
In the meantime, just watch how Mekkes goes out there and fools with hitters who don't quite know what to make of a 6-foot-7 dude swooping down on them from the mound like a damn condor. Like Maples, the key here will be limiting the walks and keeping extra runners off base. Mekkes is a major longshot to break camp with the Cubs, but he could provide a little support this season.
There are scads of other little stories to dig into, some of which I probably have rattling around in my brain somewhere. So if you've got one you were thinking of and would like to see covered here, please let me know,