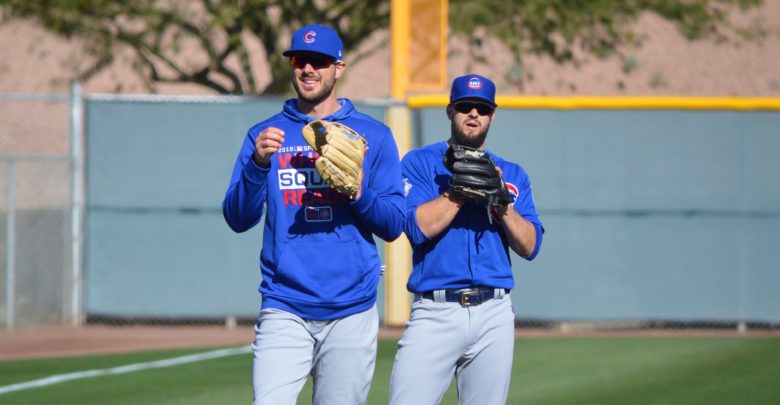 The Rundown: Kimbrel Still Available, Hendricks and Bryant Open to Extensions, Roster Expansion Possible in 2020
If you were Theo Epstein, wouldn't you at least be considering Craig Kimbrel right now? The free agent closer is might be the best of this generation, someone who can be a difference maker even though he throws just one inning per night. He could close, push Pedro Strop and Brandon Morrow to pitch the 7th and 8th innings when needed, and allow Steve Cishek to be used in favorable matchup situations.
But that quickly dies at the hands of Epstein's most important variable: lack of spending money. What the market for Kimbrel is, exactly, is hard to measure. He entered free agency looking for $100 million over six years. That's not going to happen. A shorter term deal with a decent AAV seems more likely. If I had to guess, I'd say three years at somewhere from $17-20 million per season seems amenable. Kimbrel may have been better off accepting the qualifying offer from the Red Sox and hitting free agency next season.
More than likely, the closer will end up with the Phillies or Nationals in what is quickly becoming the toughest division in baseball. I know the Cubs have said they just won't spend any money this year, but I would hope they are at least kicking the tires on Kimbrel. I love that he would significantly lengthen Chicago's bullpen. My guess, however, is that Brad Brach is the only significant add to the relief corps this year, at least until the trade deadline.
Cubs News & Notes
https://twitter.com/MLBastian/status/1103066654152450048
Spring Training Notes
Bryce Harper has lobbied for Trout to join him in Philadelphia when the Angels outfielder hits free agency, and that might not sit well with MLB. The Angels aren't very happy with Harper right now.
ESPN's Jessica Mendoza was hired as a baseball operations advisor by the Mets, but will still keep her position as color analyst on Sunday Night Baseball telecasts.
MLB and the the MLBPA are nearing a deal that will expand big league rosters to 26 players starting with the 2020 season. According to the Associated Press, this agreement would be part of a deal that includes a commitment to discuss larger economic issues after Opening Day.
Royals catcher Salvador Perez will opt to undergo Tommy John surgery and is officially out for the season. Perez suffered an undisclosed injury to his right elbow last Wednesday and according to an initial report, surgery was on the table but wasn't necessary.
Drew Smyly looked strong for the Rangers yesterday, pitching two scoreless innings against the A's.
New Giants outfielder Cameron Maybin was arrested on suspicion of driving under the influence in Arizona. Police confirmed Tuesday the 31-year-old was stopped last week in Scottsdale, which is the team's home during spring training.
It looks as though newly acquired Marwin Gonzalez will serve as the Twins starting third baseman.
Cardinals pitcher Jack Flaherty struck out seven consecutive Phillies batters yesterday, all of whom are expected to be regulars for Philadelphia this season.
The big league debut of White Sox pitcher Dylan Cease may take place a little later than necessary, but the pitching prospect still should be an integral part of the 2019 season.
Yankees pitcher Luis Severino has been shut down for at least two weeks due to elbow inflammation.
Extra Innings
Baseball has been an evolving game through its storied history, but at no time have we seen radical change like the proposals that MLB is considering during Rob Manfred's tenure as baseball's commissioner. Other than the deployment of the DH in the American league starting with the 1973 season, baseball is, for the most part, the same game as it has been since the start of the live ball era.
One of the changes that MLB is considering is to move the pitcher's mound back a foot or two from its current distance of 60 feet, 6 inches.
The Atlantic League, in a deal struck with the commissioner's office, will reportedly move the mound back an undisclosed distance starting this season. A number of veteran pitchers play in the independent league, so the goal is to allow MLB to monitor the rather significant change as higher-caliber players attempt to adjust.
Good for baseball or bad? Or perhaps disastrous? What are your thoughts?
Wednesday Walk Up Song
Drunken Lullabies by Flogging Molly. Seems like a good day for day drinking, especially if you are lucky enough to be in Arizona watching the Cubs. For those of you stuck at home, like me, you can tune into this month's walk up songs on Spotify.