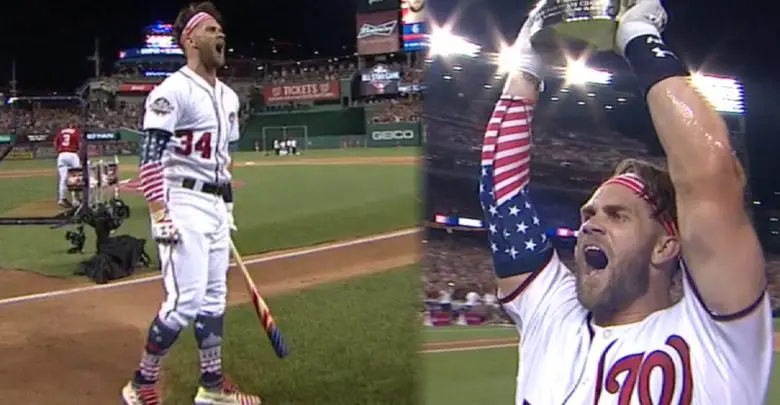 MLB and Union Agree to Several Changes, Plan to Discuss Labor Issues Ahead of CBA Expiration
According to a report from ESPN's Jeff Passan, MLB the MLB Players Association have agreed to a number of changes that include a $1 million Home Run Derby bonus and the move to a single trade deadline in 2019. The agreement also includes the implementation of a three-batter minimum — previous reports listed injury or finishing an inning as exemptions — and minimal roster expansions in 2020.
Even more important than any of that, however, is the two sides continuing to work together on more pressing labor issues affecting the game. Players have become more and more outspoken when it comes to free agency and service-time manipulation, to the point that many believe a work stoppage is inevitable following the expiration of the current collective bargaining agreement at the conclusion of the 2021 season.
Wishing Eloy the best of luck as he goes to AAA to work on…defense? baserunning? creating excess value for a $1.5 billion franchise that hasn't made the playoffs in a decade? bunting? https://t.co/qJsFq6FpFC

— Collin McHugh (@Collin_McHugh) March 14, 2019
But this last news offers hope that several of these issues can be addressed ahead of time, without the pressure of a deadline that would result in either a strike or a lockout.
Those discussions, sources told ESPN, will center on the game's most fundamental economic tenets — not only free agency but other macro issues with deep consequences. The bargaining over distribution of revenue could be the most difficult gap to bridge, with teams clearly paring back spending on aging players while players chafe at the notion that those 30 and older are no longer worthy of the deals they received in the past. While a compromise could be reached in distributing more money to the younger players whom the current system underpays, the complications of doing so warrant a long runway for discussions.
The complications are many, so this isn't a guarantee of a solution by any means. And owners aren't likely to just hand over a bigger portion of the record $10.3 billion in revenues they pulled down last year, especially when their percentage of that take has grown over each of the last several seasons. But if giving up a little money means a better, healthier product, they'd be wise to think into the future.
So we know for sure that we'll be seeing a single trade deadline on July 31, a bigger bonus for the Derby, 26-man rosters (moving to 28 in September), and a three-batter minimum coming to MLB over the next two seasons. Not on the table for the immediate future are a 20-second pitch clock, restrictions on defensive shifts or a move to the universal DH, both of which seemed at points to have generated significant momentum.
As for how this will impact the Cubs specifically, well, that's really a matter of guesswork at this point. You do have to wonder, however, whether the elimination of August trades and the imminent change to the deployment of relievers will have Theo Epstein's gears turning. The bullpen is a shambles and, while things could work out just fine in the end, you can imagine how adding an elite arm would solidify things.
If only a player like that was out there, someone who had proven himself to be one of the best closers of all time. And imagine if it was late enough in the game that he might be willing to take something less than the $100 million he was seeking. Sources (and for the record, I always feel weird saying that) have told Cubs Insider that the Cubs have indeed run the numbers on Craig Kimbrel, and it's reasonable to assume they've continued to monitor his market.
Speaking to members of the media Wednesday in Mesa, Joe Maddon said the plan was to look at deals — presumably of a more minor nature — and waiver moves to augment the bullpen. That'd be cool if everything was status quo, but the combination of injuries and inconsistent performance from their current pitchers is going to be difficult to patch over with castoffs. And they can't depend on the inevitable late-season sell-off to provide them with a waiver-wire steal going forward.
Or they can just hope Brandon Morrow's recovery stays on track and that he remains healthy for the rest of the season once he returns in May. And that Pedro Strop's hamstrings are healed. Brad Brach throwing harder than the high 90's would be good, as would Brian Duensing and Brandon Kintzler pitching like it's 2017.
But never mind all of that, the bigger Home Run Derby bonus may draw the big names backbackbackbackbackbackback to that event. And isn't that what really matters?
Ed. note: Another bit of info worth noting is that MLB is moving to a 2-minute limit on commercial breaks, which should improve things for fans at home and at the game. Might mean more picture-in-picture ads at times, but better than stretching the game out unnaturally.
They're shortening commercial breaks to 2 minutes — even in national games — and have the option to shorten them even more in 2020. Wouldn't surprise me to see the split-screen ad model become commonplace in baseball. https://t.co/QQSQrhIBsD

— Jeff Passan (@JeffPassan) March 14, 2019
https://twitter.com/mlbastian/status/1106213635410391041?s=11
https://twitter.com/mlbastian/status/1106214062860296192?s=11