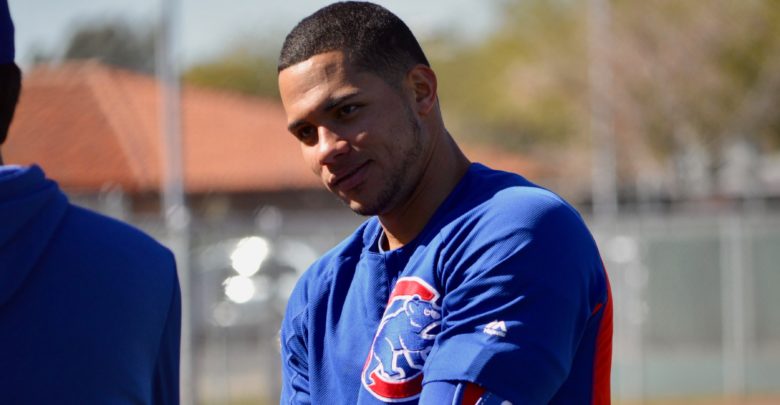 Willson Contreras Sheds Light on Flaws Cubs Sought to Correct This Winter
Willson Contreras recently sat down with NBC Sports Chicago's Kelly Crull to discuss how he's working to avoid a repeat of last season's disappointing performance. He talked about having more fun and getting back into the routine he'd had in 2017, which typically included pre-game cardio or weightlifting sessions.
"I used to get to the ballpark, like I did in 2017, and I'd usually get on the elliptical or bike or stretch or lift," Contreras explained in the interview. "To be honest, I didn't lift at all [as 2018 went on]. I came out of my routine completely. I didn't deserve to have a good year last year. That's what I told myself. I've learned from it, I took it as inspiration and now I'm here."
The first and most important thing I take from this is Contreras's contrition, which is a sign that he is truly willing and able to learn from past mistakes. He seemed sincere and his play so far this spring has been excellent, even if we discount the results from these early exhibitions. But something about this whole situation was kind of nagging at me when I first wrote about it and I couldn't quite put my finger on it until hearing it discussed Friday morning on 670 The Score.
Specifically, it was the way Contreras discussed both his past behavior and the way it needed to change moving forward.
"I didn't do my best on my routine because the season before, I hit 21 homers and I told myself, 'OK, if you hit 21 homers one year, you can do it again next year,'" Contreras admitted. "But it doesn't work like that.
"This game taught me that you have to keep working hard like you did the last year and don't get too comfortable because you're gonna fail and fail and fail. We learn and we move on."
With all due allowance for leeway in the semantics, I was struck by how Contreras talked about coming to this realization of his own accord. Or, more accurately, how he said the game showed him the error of his ways. Now, it's possible that he's simply aggregating a series of influences that include his teammates, Joe Maddon, and the front office, though it doesn't come across that way.
On that front, I can't help but think back the game on September 16 last season when Contreras pimped what he thought was a pinch-hit home run, only to be forced to bust ass just to get a double. The catcher hadn't homered in his previous 104 plate appearances — and wouldn't for another 34 — so it's hard to blame him for being a little shocked by the power display.
That said, the Cubs were down 2-0 at the time and you've got to act like you've been there before. Contreras not hustling out of the box didn't end up costing his team, since Addison Russell was only able to advance to third anyway, but his failure to respect 90 did not go unnoticed.
"Horrible," Maddon told the media after the loss. "I did not like that at all. That will be addressed. The whole team didn't like it."
The normally ebullient Contreras was reserved after the game, expressing embarrassment with himself and apologizing to the pitcher and his teammates. But you have to wonder whether and how Maddon really held his catcher accountable. Contreras was right back in the starting lineup the next day and for two games after that, so there certainly wasn't any sort of punishment involved.
Beyond that, there appears to have been a lack of awareness when it came to Contreras's decreased production and what was causing it. He had been hitting .180 with a .250 wOBA, a 52 wRC+, and just four extra-base hits in those 104 PAs we referenced earlier and it was clear to outside observers that he was gassed. To wit, his next 24 PAs produced two hits with no walks and six strikeouts.
And this was taking place down the stretch, at a time when the Cubs were in the midst of a brutal schedule that afforded them precious little downtime. That Contreras stopped lifting before games isn't a surprise, since he was probably dog tired. But not working on his strength and cardio no doubt exacerbated those problems, something a manger should be expected to notice.
But Maddon seemed completely oblivious when he said earlier this spring that Contreras had only caught four consecutive games once last season and that his poor second half was the result of mental fatigue rather than physical. Even if Maddon was unable to prove a point by benching Contreras for failing to hustle, or just felt it was unnecessary given mea culpas, the manager had a responsibility to both player and team to give the guy a little rest.
And what about the other Cubs, who you'd think would've spotted a difference in their teammate's routine as the season wore on? Baseball players are such creatures of habit that they may have all been too absorbed in their own prep work to recognize anything amiss with Contreras. And even if anyone had noticed, the roster lacked any real in-your-face types. Which brings us to the leadership void the Cubs have openly admitted has been there since David Ross retired.
A leader like Grandpa Rossy isn't just someone who gets on you when you screw up, he's someone who does what he can to prevent you from making mistakes in the first place. Having tenure and additional time to observe things as a backup catcher gave Ross the perspective to provide salient advice and ensured that he commanded enough respect from younger players to heed it.
It's entirely possible that, just as Contreras took his home-run hitting for granted, Cubs players — even Maddon and the front office — took that leadership for granted. Perhaps they just assumed someone else would take the mantle from Ross, or that the younger players would have absorbed enough that having a vocal veteran presence wasn't as integral.
Judging from what we've heard and seen from the Cubs this offseason, that's exactly how they viewed the situation in the clubhouse.
They paid a premium to retain Cole Hamels and swapped the jocular Tommy La Stella for the grittier Daniel Descalso. Maddon has committed to a more hands-on approach and players like Jon Lester and Ben Zobrist have been asked to take more active leadership roles. The organization even brought in Aussie Adam Beard was brought in to oversee "all aspects of training, conditioning, mental skills, nutrition, sport science and beyond" as Director of High Performance.
For as much grief as they've gotten over the paucity of impact moves in free agency, the Cubs have been very active on the baseball operations front. Most of that has come in the form of coaching changes and behavioral adjustments, but the hope is that it will pay dividends on the field.
"The environment surrounding the team, we can have a little more structure and a little more structured work…which is what you need to develop," Theo Epstein told 670 The Score in January. "You need routine, you need consistent work, you need a structure around you that puts you in the best position to get better every day. And so we've made some subtle adjustments behind the scenes just to make sure we're putting that type of environment in place."
We've heard a lot about the lack of urgency last season, one of the more detrimental manifestations of which seems to have been a lack of proper communication. That could be Contreras not telling Maddon that he needed more of a break or a teammate not asking Contreras why he hadn't been on the elliptical as often. We could probably come up with any number of additional situations in which something went unsaid prior to the end-of-season venting sessions that served as exit interviews and led to extensive changes.
Epstein told the world that something "broke somewhere along the lines," and he wasn't wrong. But the Cubs made precious few changes to their roster for 2019, which means the only way to prevent future breakage is to be more vigilant about catching small problems before they become irreparable.
Contreras acknowledging his own flaws and talking about how he plans to correct them is a great start, it really is. But if anyone on this Cubs team is talking next March about how they fell out of a routine and had to learn about it the hard way, something has gone very wrong.