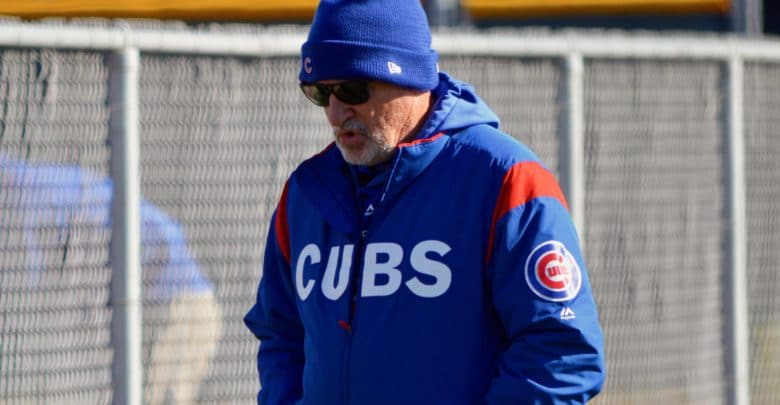 Pedro Strop Should Be Ready for Opening Day, Bullpen 'Not Nailed Down Yet'
The Cubs' murky bullpen situation got a little more clear Friday, but there are still a few questions left to answer. Pedro Strop, out since March 12 with mild hamstring strain, has resumed throwing and had a successful bullpen session Friday afternoon. He's expected to return to live action during one of the games against the Red Sox next week and Joe Maddon told reporters Strop wouldn't need much runway to be good to go.
https://twitter.com/MLBastian/status/1109166002489548800
"One [outing] is fine," Maddon explained. "He's not been sitting on the sideline not throwing the baseball because his leg hurts. He's been throwing the whole time. And that's the difference-maker. If you keep the arm moving, then you could absorb just maybe one or two — maybe two outings — and feel good. Relief pitchers are different, especially veteran relief pitchers. They know what they're doing."
Not that Strop's return was ever really in question, but having him active to start the season means one less spot at the end of the roster. And while it's possible the Cubs could see that as a way to continue feeding out slack to veterans Brian Duensing and Brandon Kintzler, neither should feel safe about his position.
Though Maddon obviously declined to offer any specifics on individual players, he did indicate very clearly that some of those bullpen spots are still up for grabs.
"We're talking about that," Maddon told reporters. "There's still, honestly, there's a couple little tweaks that are possible. So that's not been nailed down yet. We're still discussing some stuff. Some guys have made some really good impressions here and, of course, we've got some guys coming off of injury, too, that you have to be mindful of moving forward.
"So, there's little things going on, but I promise you, it's not nailed down yet."
One of the pitchers making a really good impression is Junichi Tazawa, who appears to have recaptured the form that make him an excellent relief option for the Red Sox several years ago. His velocity and splitter usage have dropped off, but his solid performance in limited usage this spring has engendered more confidence that anything we've seen from Kintzler or Duensing.
And when you consider the minimal cost required to add Tazawa or one of either Dillon Maples or Allen Webster to the roster, keeping one of the more expensive veterans around is almost unconscionable. Those MLB salaries are already guaranteed, so the Cubs are on the hook one way or the other. That means the decision on who to roster should be purely pragmatic.
The bullpen is going to be in constant flux throughout the season, too, so it's not as though any of these decisions are being chiseled in stone. And since the final rosters aren't due until the season starts, we may be waiting a few more days to find out exactly where the Cubs go.