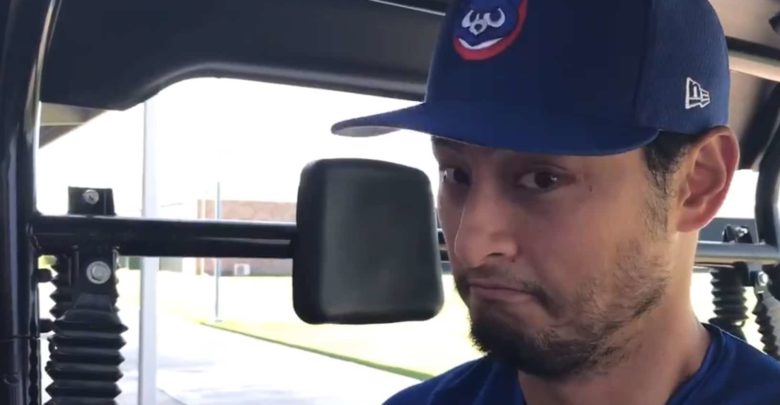 10 Bold Predictions for Cubs in 2019
With the season upon us, it's time again to jump aboard the Click Bait Express and ride the rails to the Land of Bold Predictions. But as much as stuff like this is more or less frivolous filler, I really do enjoy putting these lists together and then following them throughout the season to see how well they do. Or more accurately, how epically they fail.
Since I'm pretty sure you all understand the drill, let's get right to it.
1. Ian Happ is promoted by May 1
News of Ian Happ being optioned to Triple-A to start the season was received in pretty much two distinctly different manners. One was that he really does need everyday plate appearances to patch in the holes in his swing and cut down on the strikeouts. The other was that he's still an above-average run producer despite his noted flaws and should remain with the big club.
I actually think it's easy to land somewhere in the middle and say that Happ has been — and will probably continue to be — a square peg/round hole player who will never have a true position. As such, he's more expendable to the Cubs for the time being. The "talent over production" mantra doesn't mean Happ is worse than, say, Albert Almora Jr. or Jason Heyward.
It means the current version of Happ falls so far short of his Platonic ideal that the Cubs believe time in the minors will do him good. If he's able to display a improved strikeout rate at Triple-A — remember, he only had 116 PAs there in 2017 and has only had 390 total above high-A — there's no reason to keep him down very long.
2. Kris Bryant will have 1:1 K/BB ratio and exceed the production of his 2016 MVP season
Prior to sustaining a shoulder injury that derailed his season, Bryant was slashing .305/.427/.583 with a .424 wOB and 169 wRC+ that was more than nice. Those numbers are better than he put up in 2016 and surpassed those of Christian Yelich during his MVP run last season. Bryant was also on pace to at least come close to a 1:1 K/BB ratio, something he'd targeted last winter.
Fully recovered and displaying both power and patience this spring, Bryant will return to his MVP form and send the Cubs scrambling to extend him. If, that is, they suddenly find the money that apparently dried up last fall.
3. Pedro Strop leads the team with 23 saves
Pretty simple, really. Despite Joe Maddon's decision not to name a closer in Brandon Morrow's stead, Strop figures to take a lion's share of those opportunities through at least April. And even after Morrow returns, the manager is likely to be much more judicious with him. That means very few back-to-back appearances and definitely no going three straight games.
Strop showed no ill effects from time off to rest his balky hamstring, striking out two Red Sox while cruising through his first inning back on just nine pitches. Filthy.
Stropy's back. 🔥 pic.twitter.com/vrV2WTTGUe

— Chicago Cubs (@Cubs) March 26, 2019
4. Addison Russell is traded
The Cubs chose to keep Russell in the fold even after his domestic violence suspension, vowing to be part of the solution. The organization has put all of its employees though mandatory DV training and has supposedly been pleased with Russell's participation in his own treatment.
Perhaps the smartest thing the Cubs have done in this whole thing is stop talking much about it. Russell's scripted press conference was awkward and subsequent claims from both Maddon and the team that it was the most difficult thing the shortstop has ever done were disingenuous at best. Keeping him in Arizona during the remainder of the suspension should tamp down questions for a few more weeks.
Once Russell returns to the active roster, however, that stuff will all be brought back up. If the team is playing well and Javy Baez mans short with his typical aplomb, the narrative becomes about more than just Russell as a person. Should he be able to establish enough value to merit a trade, the Cubs may well move him.
5. Brad Brach recovers fastball velocity, averages 94 mph
The concerns started early with Brach, who didn't officially sign with the Cubs until about three weeks after the two sides originally agreed to terms. His physical revealed a diagnosis of mono, which led to the Cubs restructure the deal to reduce guaranteed money and shift a good portion of it to roster bonuses.
Brach has done little to allay fears that the energy-sapping ailment is behind him, topping out at only 91 mph on the radar gun this spring. But the pitcher has said that's common for him this time of year, and his previous numbers bear out his claim. It'll take him a while to ramp up, but he'll be back to a 94 mph average by the time the season ends.
6. Yu Darvish ascends to staff ace, named Cy Young candidate
Dude is gonna shove and fans are going to love how funny and affable he is.
7. Albert Almora Jr. hits 18 home runs, 3 as leadoff hitter
Almora has only hit 16 home runs in 919 career plate appearances, but that is about to change in a big way. He's moved to a wider stance and has brought back a more pronounced leg kick evocative of his prospect days. Hitting 18 homers would double his production from any previous professional season and his role as a leadoff hitter is suspect, so this one is way out there.
With three homers in 49 spring plate appearances and a firm grasp on the starting role in center now that Happ is in the minors, though, Almora will shatter his previous career marks and establish himself as the everyday option he has not been to this point. He led the league in percentage of non-routine plays made last season, but now his bat will speak as loudly as his glove.
8. Kyle Schwarber exceeds .260 batting average and hits 38 home runs
Not sure how close this is to "bold," but Schwarber's never hit above .246 and topped out at 30 homers in 2017. With more experience in left and Happ out of the picture for at least a little while, the big bopper will settle into an early rhythm that sees him overcome what may have been the worst clutch performance of all time last season.
9. Ben Zobrist leads team in leadoff plate appearances
This seems go against the earlier prediction about Almora's production, so maybe I'm just hedging my bets. But it appears as though Maddon is going to split time at the top spot, with Zobrist primarily handling those duties against righties. Since there are far fewer left-handed pitchers, the numbers are in Zobrist's favor and could make this more blah than bold.
Then again, the aging utility man won't get nearly as much playing time if he doesn't hit like he did last season. So call this one the semi-safe bet with potential to still be wildly wrong if things break a certain way.
10. Dillon Maples and Dakota Mekkes each log at least 20 IP
Maples has notched only 5.1 innings with the Cubs in each of the last two seasons and Mekkes has yet to pitch above Triple-A, so just one of them exceeding 20 innings would double their aggregate total. And given their respective roles, having them hit the predicted total would mean at least 15 appearances apiece. That's more than routine Iowa Shuttle work.
It would also mean one of three things has taken place: Either the young relievers have established themselves as viable options; the primary options have failed miserably or gotten hurt; or the Cubs have flopped so miserably that they have turned to prospects. Let's hope this the first is true.
So there you have it, this season's definitive list of predictions. Which do you like? Which do you hate? Got any hot takes of your own to preserve for posterity in the comments below? Have at it.