David Bote Made Noticeable Swing Change to Hit High Heat
Listening to David Bote speak makes me feel like I can run through a brick wall. He just has that "it" quality, ya know? When asked about his weaknesses against high heat last year, Bote wasted no time explaining what he's doing to improve.
"I got on the [pitching machine], cranked it up with a good spin rate at the chest," Bote said recently. "'What does it take for me to hit [high fastballs]? Do I have to make a smaller move? Is it less of a leg kick? And if it is, can I do the lesser leg kick on a low-ball pitch and drive it?'"
Bote opted to change his hand depth in order to catch up to high heat. When the utility slugger was called up to the bigs last year, his hands sat just above his belt. But during Spring Training, Bote raised his hands up to a starting point just below his ear.
Look at his hands in stills below, courtesy of my Cubs Related podcast co-host, Corey Freedman. The left is from his spring training homer on March 25, while the image on the right is his legendary walk-off grand slam.
Need another look at Bote's hand depth from the face view? Okay, here you go. The first photo is from 2018 and the second is from spring training, which was pulled from YouTube.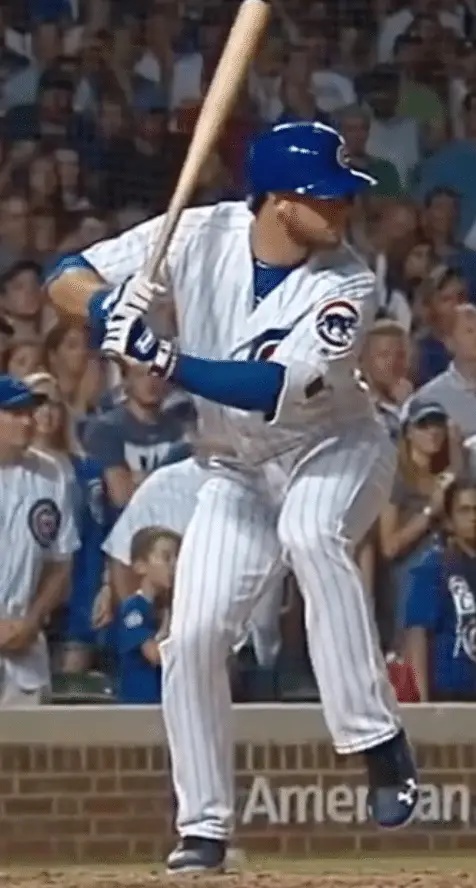 [Insert Len Kasper, "Woaahhh baby!"]
Bote made this mechanical change because high fastballs unquestionably sunk his value later in 2018 after a power barrage had him pegged as a breakout star. After the clutch rookie hit to a .370+ wOBA in his first half of the season, his excessive whiff rate contributed to a ~.270 wOBA in his last 150 or so plate appearances (figure below). Oof.
Not only was Bote whiffing against more than 60 percent of the high fastballs he face, but he also failed to generate any sort of value even when making contact. He basically never recorded hits against high pitches.
But even though Bote struggled against fastballs up in the zone, he still finished the season with a respectable .314 wOBA, .239 BA, and six homers in 213 plate appearances. So imagine his value if he has really improved and is suddenly able to conquer the demon of high pitches. And if you'd rather watch rather than just imagining, here ya go:
A familiar swing, same result. BOTE BOMB! #Cubs pic.twitter.com/1mcowRBgvy

— Cubs Insider (@realcubsinsider) March 26, 2019
I remember when I first saw Bote play. I was sitting next to Evan Altman, your very own Cubs Insider EIC, in Sloan Park when this sort of scrawny dude (compared to the 2019 version, anyway) blasted a homer during a brisk 2017 Spring Training game. I'm 'bout to throw Evan under the bus here, but whatever. "I run a Cubs blog and I don't know who David Bote is," Evan said to me as we foolishly golf clapped for Bote, who had then never gotten more than 60 plate appearances above A+ ball as a 23-year-old.  Admittedly, I didn't know who he was either.
Ed. note: I knew of David Bote and was aware that he indeed existed as a prospect, a fact I pointed out upon seeing his name on the scoreboard as he rounded third. But Brendan was yapping my ear off and I didn't hear the name of the hitter, who was wearing a number in the 70's or 80's as a pinch-hitter against Japan's WBC team.
But little did Evan and I know that Bote would eventually change his contact point, transform into a bodybuilder, mold himself into a multi-positional player, and completely change the course of his career arc. Now I'm rooting hard for him to adjust against high heat so that he can combine exceptional glove work with quality offensive value. And it sure looks as if the 25-year-old has already made steps to address last season's glaring flaw.