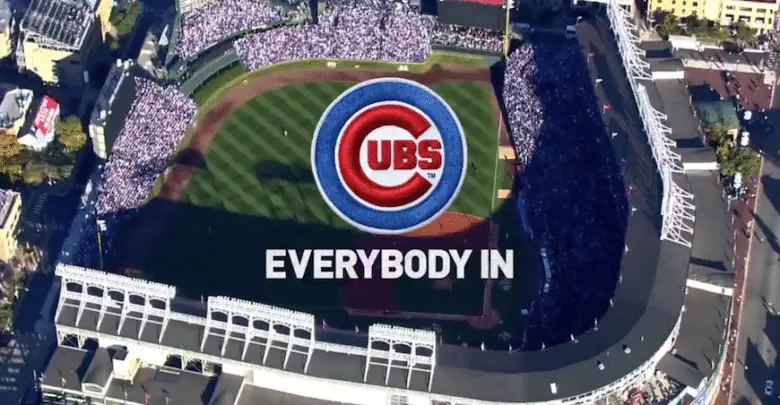 The Rundown: Opening Day Arrives, Jumping on Prediction Train, Officially Adopting Wally Dogger to Start Season
Holy Crap – it's Opening day. Where did the time go? Is winter really over? Wasn't I just shoveling my car out of two feet of snow?  Anyone excited for the grandiose small-sample predictions sure to follow today's game recaps? Imagine if Tuffy Rhodes really hit 486 home runs in 1994? And what in the name of Bob Scanlan do we think the Cubs will do this season?
All the feels for #OpeningDay! Whether home or away, we want #EverybodyIn.https://t.co/3vIMAaTkFe pic.twitter.com/4jCdaOUnIL

— Chicago Cubs (@Cubs) March 27, 2019
Evan Altman climbed out on a limb yesterday with some Cubs predictions for this season so I thought I would add a few of my own.
David Bote will get 400 ABs this season and assume an everyday spot in the lineup after Addison Russell is traded.
Kyle Hendricks will lead the NL in victories but will not get a single first-place Cy Young vote.
Tyler Chatwood will emerge as a lights-out middle reliever, just like Collin McHugh did last season for the Astros.
Javier Báez will lead the league in RBI but lose the MVP Award to Kris Bryant. Christian Yelich will finish third, as will the Brewers.
The Cubs will acquire a relief pitcher in June who will become Joe Maddon's anointed closer. If I am really going out on a limb, it will be Drew Steckinrider of the Marlins. He will cost the Cubs Brailyn Marquez and Dillon Maples.
Maddon will sign a contract extension before the All-Star break.
The Cubs will have an 8-game lead in the division and the best record in the NL at the break.
Kyle Schwarber signs his extension in April and then will win the Home Run Derby in July.
Jason Heyward hits more than 20 home runs.
The Cubs will reach the 2019 World Series, squaring off against the Yankees.
A couple more: The NL Central will be a tight race but will finish, in order:
Cubs
Cardinals
Brewers
Reds
Pirates
One final forecast: The owners and players will agree to a new CBA before the end of the season.
Cubs News & Notes
How About That!
Here's why the Dodgers will win the NL West again this season.
Rob Manfred doesn't seem very concerned with the health of the players in the independent Atlantic League.
If you are a regular reader of this column who lives in England, ESPN has an exciting new baseball program for you called Caps Off.
Bryce Harper jerseys are a hot ticket in Philadelphia and everywhere else, apparently.
The Blue Jays have traded Kendrys Morales to the A's. Morales seems perfect for Oakland.
Here's a handy guide to all of baseball's rules changes for this year, and…
Here's an equally handy Opening Day TV schedule.
The NY Post offers tips on how to bet the 2019 season.
On Deck
This is a great post from CI's Moshe Wilensky, celebrating Opening Day by looking back at a World Series prediction in the form of MLB '12 The Show.
Extra Innings
DAZN is a fledgling, England-based OTT platform that intends to take ESPN head on for viewers.
Today, timed perfectly to Opening Day, the streaming service will  debut its nightly baseball "whip-around" show called ChangeUp. DAZN doesn't have the rights to show full MLB games, but can cut in live to any exciting moment for a few minutes at a time.
The show should appeal to baseball fans who don't care to watch full games, but would rather catch the highlights and analysis. It is a direct shot at ESPN's Baseball Tonight and MLBTV's Quick Pitch Live. It is also anchored by former ESPN host Adnan Virk, with former ESPN president John Skipper running DAZN's entire U.S. business interests.
An interesting note about the platform: Jake Mintz and Jordan Shusterman, the millennials behind the popular baseball Twitter account Cespedes Family Barbecue, will host from 10 p.m. to midnight on Saturdays and Sundays. The show is based out of a studio in Secaucus, N.J.
They Said It
"I would take 95 [wins] every year. That's going to be more difficult, even with a perfectly healthy roster all season and everybody pretty much playing up to their capabilities. I just think that the rest of the division (has) gotten better. I think the National League's gotten better. So taking all those things into consideration, to get to that number is going to be not easy." – Joe Maddon
"'Complacency' is a tough word.  'Exhaustion' is probably the word I would have used more. But think that some of that could have been maybe helped if we had been a little more diligent earlier in the season. We got ourselves in a tough spot, and we were playing 42 out of 43 days in a row or at least going to the field to work on stuff. Then you have a hot team on your heels and the next thing you know, you're losing the lead. I think that we realized that this is never something to take for granted." – Ben Zobrist
"Cubs baseball is on the air!" – Pat Hughes
Thursday Walk Up Song
Drunk in the Day by Chicago's own Wally Dogger. Let's make this our annual Opening Day tradition, shall we? See you at Murphy's Bleachers this summer.