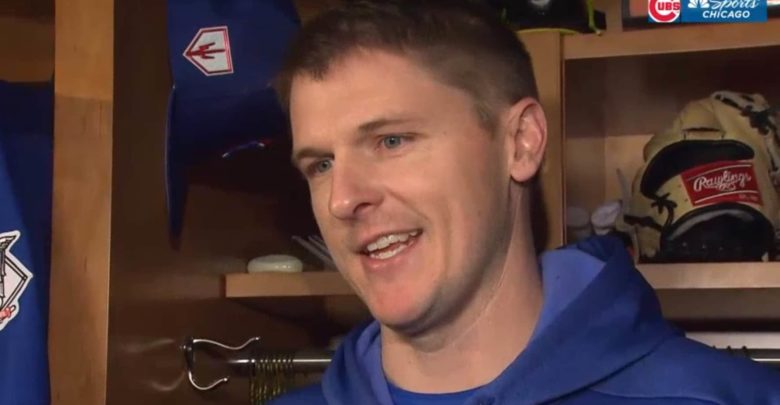 Brad Brach's Fastball Velocity Actually Ahead of Last Year's Trend
Brad Brach's brief Cubs tenure has already been marked by a disproportionate amount of concern, even relative to a team that spent the winter in an Instant Pot. Not only was a heavier load of expectation foisted on him as the only significant bullpen signing of the offseason, Brach's contract was restructured when it was discovered during his physical that he had mono.
Rather than alleviating worries with his first action of the spring, the 32-year-old righty raised even more when he wasn't touching 90 mph with his fastball. Were lingering effects from his illness sapping his strength or was this a sign of general irreversible decline? Velocity issues had marked his first half with Baltimore last season, after all.
"It's always been down," Brach said dismissively in mid-March. "It's just kind of those things that people notice. It would be a normal spring, and people would ask, 'Are you all right?' with a week before the end."
"I don't know why it happens, but it takes awhile for the velocity to get there, and then it goes up and keeps climbing as the season goes along."
His previous numbers bear that out, as Brach has indeed displayed increasing velocity across the first few months at the beginning of nearly every season. But since none of those previous seasons came with the Cubs, and because spring velocity data is spotty at best, there was really no choice but to place cautious faith in the reliever.
It's still very early, two appearances to be exact, but Brach's results so far lend credence to his claims. While his 93.1 mph average velocity on 19 four-seamers is 1-2 mph below his season averages from the past five years, it's slightly higher than what he posted in April last year.
We'll obviously want to see more data to have firmer ground upon which to walk, but fastball velocity stabilizes almost instantly from a statistical standpoint. That means we can be pretty confident that Brach is indeed following pretty much the same trend as in previous seasons, which could mean his fastball will pick up another tick or so as the season goes on.
If we really wanted to get wild in our search for something, anything, positive to say about the Cubs' bullpen, we might even spin this as being far better than expected in term's of Brach's mono. Not only is he showing no deleterious effects from the energy-sapping ailment, but he's actually ahead of pace. And that's despite a bit of late start to the spring.
There's additional room for hope in last year's results, which look a little lower due to some release-point issues Brach dealt with during the first half. He averaged over 94.5 mph from July on after dropping his arm slot a little bit, so he could yet end up back there this year. He may also get a similar springboard effect from pitching for the Cubs as he did with the Braves after escaping the tire fire in Baltimore.
And yes, I realize that what we've seen from the Cubs so far gives little reason to expect an emotional boost. But with Carl Edwards Jr. working through some of his own mechanical changes and velocity dips, Brach could see more time in high-leverage situations. That could mean a little more adrenaline and bigger numbers on the radar gun.
The only numbers that really matter, though, are zeroes on the scoreboard during the time Brach is on the mound. And staying on his current trajectory should yield those desirable results far more often than not.