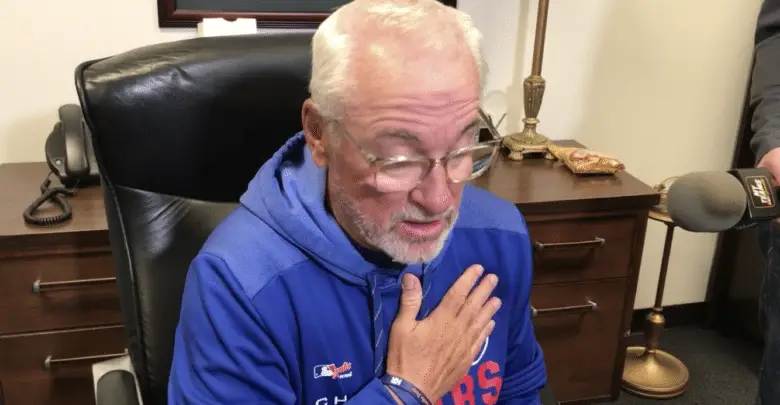 The Rundown: Cubs Bullpen Tough to Stomach, Umpires Taking Center Stage This Season, Crowdfunding Minor Leaguers
Let me start by saying I am more than just an average fan and, not coincidentally, a big chunk of my incidentals budget goes toward being a Cubs fan.  The Cubs bullpen is bringing new meaning to the Rolaids Relief Man of the Year.
Question to Theo about the bullpen in regards to the "avg Cubs fan" thinking its a concern: "The average fan of every major league team is worried about the bullpen."

— Jesse Rogers (@JesseRogersESPN) April 3, 2019
To counter what Theo Epstein said, I am no longer worried about the relief corps. I've given up. Frankly speaking, the bullpen is a shitshow. The Cubs have played five games this season, and unless drastic changes are made, every time I see Joe Maddon pull a starter I will expect one reliever after another to give each game away to the opposition. Last night's poor excuse of a ballgame is exhibit A, but the bullpen has yet to garner my confidence in any of the preceding games, either.
Even ESPN commentator Tim Kurkjian was in a state of confounded disbelief during last night's game, as was David Ross.
This is nothing new. Average fans and professional baseball analysts alike have been down on the Cubs bullpen since at least the end of last season. A great shot by the ESPN camera crew showed Brad Brach in the dugout after he was pulled from the game yesterday evening, and seemed to indicate he was just as puzzled as I was with his inability to put the ball over the plate. So maybe Epstein should change his statement to, "The average Cubs starting pitcher is worried about the Cubs bullpen and its inability to protect leads." Oh, and thank you for Brach, by the way.
"You don't usually notice a pen when they're getting outs on a consistent basis," Epstein said to ESPN's Jesse Rogers before yesterday's game. "You notice them when they're giving it up. And giving it up is a natural part of the game. It's just disproportionately noticeable when it happens early."
Talk about a self-fulfilling prophecy.
A lot of "rational" Cubs fans will say that it's way too early to panic about the bullpen's current state of affairs, or the team's woeful start. But there is not a reliever on this team that looks confident on the mound. I don't think any of them have a single wipeout pitch that instills fear into opposing hitters. My fear is that we will hear the world culpable a lot more than capable this season unless changes are made soon.
Cubs News & Notes
Is Joe Maddon on the hot seat? @LGRed and @TonyLuftman discuss. 😤#ChangeUp pic.twitter.com/YnakLpTRrf

— DAZN Boxing (@DAZNBoxing) April 4, 2019
How About That!
The umpires have surely grabbed there share of attention this season, as Cubs pitchers who have seen the strike zone shrink to the tiniest of planes can attest. But last night, MLB umpire Ron Kulpa kicked it up a notch. In a bizarre exchange with Astros catcher Max Stassi, he shoved the backstop and allegedly screamed "I can do anything I want!"
Mets' starter Jacob deGrom is very good at baseball.
Brewers' starter Freddy Peralta isn't too bad, either.
Christian Yelich has joined Mike Trout and Mookie Betts as the top players in baseball. It's a small sample size, but the reigning NL MVP has a .375/.531/1.000 batting line and an NL-best 0.8 wins above replacement, according to FanGraphs, as of Wednesday.
Diamondbacks outfielder Adam Jones had a fan removed from San Diego's Petco Park for profane and abusive language during yesterday's game.
Today is Opening Day for most minor league baseball teams.
Wednesday's Three Stars
Jacob deGrom – On the mound, the Mets' ace overwhelmed the Marlins by tossing seven scoreless innings while striking out a career-high 14 batters. DeGrom allowed just three hits and one walk and extended his streak of quality starts to 26, tying Bob Gibson for the major league record. He also homered in New York's 6-4 victory.
Freddy Peralta – The Brewers starter had a career night in Milwaukee's 1-0 win over the Reds. He struck out 11 Cincinnati hitters while allowing just two hits. The 6-1 Brewers are off today and host the Cubs for three games this weekend.
Dodgers Batters – For the first time in franchise history, Los Angeles has hit at least one home run in the first seven games of the season. In L.A.'s 5-3 win over the Giants last night, Kiké Hernández led off the bottom of the first inning with a homer off lefty Derek Holland.
Extra Innings
This is a great story about one man trying to make a huge difference.
Minor leaguers at the lowest levels make as little as $1,100 per month despite spending 50-to-70 hours per week at the ballpark. Once players are assigned to minor league camps in spring training, they stop getting paid until their regular season starts. A lawsuit alleging MLB violated minimum wage and overtime requirements was pre-empted last year when congress passed the "Save America's Pastime Act," which stripped minor leaguers of the protection of federal minimum wage laws.
Former Mets prospect Jeremy Wolf is helping minor league players use online crowdfunding platforms to ask fans to provide money for meals, rent, cleats and other essentials. Wolf founded More Than Baseball to help address those needs.
The group uses online donations — it's raised over $2,000 so far this spring — to help fund meals, rent and other necessities. Fans can make a one-time donation or enter into an agreement to provide a monthly contribution.
They Said It
"What we're doing a little bit right now is just trying to press and do too much. Everyone is trying to come in, whether it be a hitting situation or pitching situation, and be the guy. That's hard to do over 162 games. We put such an emphasis [on] getting off to a good start, I think it's hanging over our heads a little bit." – Jon Lester
"It's still baseball. Nothing we were talking about this offseason will become this narrative that I hope will really die very soon when we get into the flow of the season as it relates to outcome on a particular night. We've had one of the best bullpens in baseball the last four years and there's probably been a grand total of three days that people haven't been worried about the bullpen. It's 162 games and things are going to happen. That's just the way it works." – Theo Epstein
Thursday Walk Up Song
Crazy by Seal. I suppose we should just let the season play itself out, but honestly, who thought things would be so out of whack to start the season?