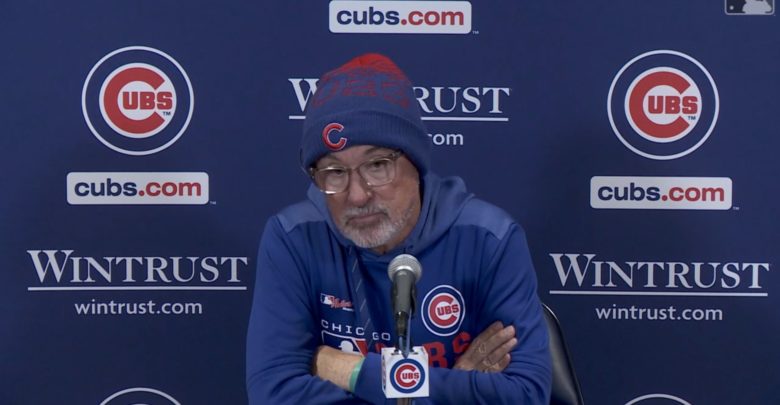 The Rundown: Cubs Bats Frigid, Jason Heyward Stays Hot, Chris Davis Remains Hitless, Whit Merrified Does Not
Digging on that Seuss-like title?
One of my biggest pet peeves with the Cubs last year was how they made mediocre pitchers look like Cy Young contenders. Last night it was more of the same as Pirates' starter Jordan Lyles and his changeup/curve combination made Cubs hitters look like bush leaguers in a 5-2 victory for the visitors. Yes, it was cold and bitter at Wrigley Field, but the weather was just as bad for both teams.
The Cubs countered with Yu Darvish, who's seemingly pedestrian performance was better than his final stats indicate, at least if you believe Joe Maddon.
"He knew where the ball as going and he had really good stuff tonight," Maddon said after the game. "It seemed like he may have found some things tonight regarding his delivery, the way the ball was coming out of his hand."
Darvish allowed home runs to Staling Marte and notorious Cubs killer Francisco Cervelli. Marte's dinger came one batter after Darvish hit Lyles with a pitch in the 3rd inning.
J-Hey's hitting rockets! #EverybodyIn pic.twitter.com/Pzzu98emUz

— Chicago Cubs (@Cubs) April 11, 2019
Jason Heyward was the lone bright spot on a night when Lyles tied his career high in strikeouts with 10 on just 87 pitches. It's not often that you'll see the Cubs' right fielder garnering such rarified accolades, but he has been the team's best hitter of the season. The middle of Chicago's order has really been ice cold so far and could stand to pick up a thing or two from Heyward. Kris Bryant, Anthony Rizzo, and Kyle Schwarber are batting a combined .228 with six home runs and 20 RBI for the 3-8 Cubs. That's about as frigid as last night's gametime temperature.
One would think that last night would have been a perfect time for some of the team's big boppers to break out. Entering this season, Lyles owned a career record of 31-52 with a 5.28 ERA, splitting time between starting rotations and bullpens for a handful of teams since being drafted 38th overall by the Astros in 2008.
For whatever reason, the Cubs will often play down to the level of the opposing starting pitcher and last night was no exception. Lyles will likely never be an All-Star or Cy Young candidate, but you couldn't tell by watching the Cubs offense struggle yesterday.
Cubs News & Notes
How About That!
It took until his fifth outing of the season, but Nationals' reliever Trevor Rosenthal finally recorded an out, lowering his ERA from infinity.
The search for a single, measly hit by Orioles' slugger Chris Davis is a modern-day baseball tragedy.
Meanwhile, Whit Merrifield extended his hitting streak to 31 games with a bunt single that drove in the tying run in yesterday's Royals-Mariners game. Seattle eventually prevailed, winning 6-5. Whitfield now holds the Royals' record for longest hitting streak, surpassing George Brett.
Rays outfielder Tommy Pham has reached base in 45 consecutive games, covering every single game he has played since being traded to Tampa Bay by the Cardinals last year. He's good at baseball. And that's how you win a trade.
In a single night, in the 68th regular-season game of his MLB career, Royals' OF Terrance Gore raised his lifetime batting average more than 100 points and more than doubled his career hit total. He also stole two bases to put an exclamation point on his career day.
Matt Carpenter and the Cardinals have agreed on a two-year, $39 million extension that includes a performance option that guarantees the infielder a third year at $18.5 million if he makes 1,100 plate appearances across the 2021-22 seasons. He also gets no-trade protection starting in 2020.
Fact or Fiction: making sense of baseball's 10 most surprising starts.
Jorge Soler can hit a baseball very, very far.
Jorge Soler hit a home run in Kansas City that might have landed in Seattle 😲

(Via @Royals)pic.twitter.com/ZeHEeBySr0

— Yahoo Sports MLB (@MLByahoosports) April 11, 2019
Wednesday's Three Stars
Tyler Glasnow – The Rays hurler is off to the best start in team history, and mowed down the White Sox over six innings in yesterday's 9-1 win. Glasnow finished with 11 strikeouts against just one walk and two hits and did not allow a run. He's 3-0 on the season with an ERA of 0.53.
Khris Davis – The A's OF is baseball's most prolific slugger over the last 3+ seasons and walloped two more taters last night. He finished 3-for-5 with four RBI as the A's beat down the Orioles 10-3.
Jose Altuve – The diminutive second baseman annihilated Yankees starter James Paxton with two home runs in the Astros' 8-6 victory. Altuve is slugging a Ruthian .647 on the young season.
Honorable Mention: Pham – the Rays outfielder also hit two home runs yesterday.
Extra Innings
The baseball articles by the Houston Chronicle are my favorite reads every morning. It's as if Vin Scully himself ghostwrites the Astros' game recaps. For example:
"[Yankees starter] James Paxton left a beleaguered bullpen the next victim of the Astros' ambushing lineup. For the last two days, the pricey and pristine plethora of Yankee relievers could not neutralize the lineup. A third time was not the charm."
They Said It
"The curveball and changeup were there for me early on, the curveball was there for me throughout the game. Just looking at the numbers, that's what I have most of my success with — and least damage against — my curveball." – Jordan Lyles
"It's tough. [Jon Lester] is our main guy here. He's in good spirits. He feels good. I'm sure he'll be pushing to get back on the field sooner rather than later." – Anthony Rizzo
Thursday Walk Up Song
Jesus Built My Hotrod by Ministry. I have no baseball correlation here, but it fits this month's theme of songs released on the Sire Records label, and it's one of my favorite music videos to boot. If you need a good song to motivate you in the gym, this is it. For grits and shins, I like refer to this song as "hillbilly speed metal."