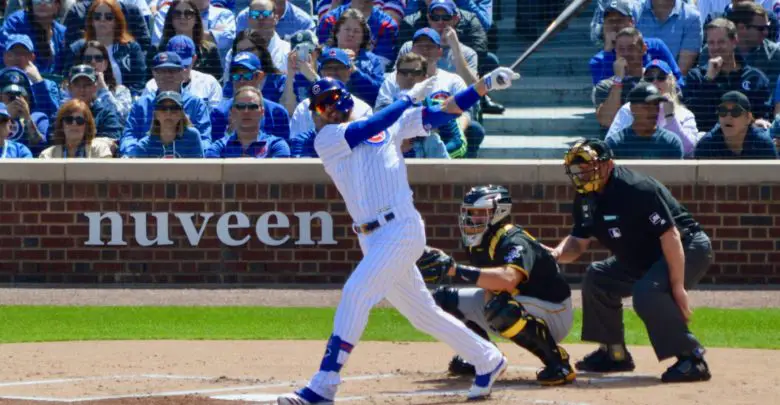 The Rundown Lite: PPD Game Sets Rotation, Kris Bryant's Timing Struggles, CI Has Some Other Ventures
If Casey Kasem were still around, I'd be asking all of the loyal Rundown readers to send in messages of goodwill to Mike Canter. He's all good, nothing to fear, but just a little medical maintenance that'll have him out for a couple days. But since I know that means he'll be playing DJ and spinning even more tunes than usual, maybe we can light up the request line for him.
Mike's surely going to be watching as the Cubs take on the Marlins Monday night in the land of the Golden Girls, where the weather will be slightly better than in Chicago. The postponement offered welcome reprieve for fans who wanted to take in history at The Masters, as well as those who just wanted an afternoon free of Tyler Chatwood-induced anxiety.
A planned spot-start/bullpen game being wiped off the board allows Joe Maddon to stick with his standard rotation, and having Thursday off means staying with it until Jon Lester returns. Well, assuming the hamstring issue is as minor as everyone has indicated it is. Even if it's slightly worse, another scheduled break next Monday means the Cubs shouldn't need a fifth starter until April 27 in Arizona.
Then they've got off days sandwiching a two-game set in Seattle at the turn of the month, neither of which will be impacted by Sunday's postponement. The next mutual break for the Cubs and Angels comes on June 3, with only August 26 and September 23 lining up after that. For the Cubs' sake, I hope it's the middle of those.
An early June makeup would see them playing 33 games in 34 days and the September date would have them finishing the season with 25 straight games and 33 in 34 days. An August makeup would be 15 straight games and 21 in 22 days. Except, crap, that's only if you count the schedule prior to the rescheduled game. Because of the packed September slate, the Cubs would actually have 34 games in 35 days from August 20-September 22.
So, like, super awesome that they have a boatload of rest days here early in the season when they're all fresh, huh? Then again, the early struggles by some would seem to indicate that they're not all on point.
What's up with KB's struggles?
Kris Bryant in particular has gotten off to a sluggish start that led Maddon to rest him Saturday in an attempt to shake something loose. Unlike his injury-induced results last season, Bryant's current funk seems to be a matter of timing and mechanics. He's sort of lunging at pitches and is just completely missing the kind of mistake fastballs he'd normally deposit into the bleachers.
That's different from last season, when he was making contact but just wasn't able to drive the ball. As weird as it sounds, I'll take what's going on this season because at least there's a sense that he can snap out of it. We've see similar slumps from Anthony Rizzo over the years, periods of days or weeks in which his swing is just trash. Then he comes to and carries the team for a week.
Sahadev Sharma came to similar conclusions ($) at The Athletic, citing scouts who've noticed Bryant "lunging" or "falling over the plate." The linked piece has some GIFs and additional explanation, but it can be distilled pretty easily by saying that Bryant isn't staying tall in the box.
He's getting caught leaning with his upper body, which results in poor weight distribution and an inability to adjust to pitches. What makes that harder is an apparent lack of pitch recognition, something Bryant has worked on diligently over the last few winters (links here, here, and here). But whether he's incorrectly anticipating pitch type and location or is simply pressing too much, the early results are disappointing.
All that said, you can see that some of the foundational aspects of a good process are there.
"Early in the season, he's able to eke out a hit or a walk almost every night," hitting coach Anthony Iapoce told Sharma. "It's not the 4-for-5 yet or the homers or anything like that. But he's still competing at the plate, putting the ball in play, going the other way with two strikes — which was awesome, fought off — getting some walks here and there. Those are things that keep guys going until they really start to feel comfortable in the box and start getting bigger and broader hits."
You get the sense that one bit hit or explosive game could set things to rights, as might have been the case had Melky Cabrera not snowconed an opposite-field liner in Thursday's game against the Pirates. Bryant's lone homer this season was a unique oppo taco, the kind of hit he's been aiming for over the last few seasons.
There's a perfect GIF in Sharma's post to illustrate how KB stayed tall in the box and rode the pitch out to right, something he'll need to do more of if umps continue to call an irresponsibly wide zone. But that'll mean nothing if he keeps helping pitchers out way too much by swinging through meatball sinkers over the heart of the plate.
I have no doubt that more than a few pessimists have foolishly given up on Bryant already or believe he's hiding an injury. Given the way the Cubs have flubbed out of the gate, it's hard to remain positive about much. But it feels as if just a little mechanical change clicking into place for Bryant could have him back to normal in no time.
Cubs News & Notes
MLB.com's Jordan Bastian has 3 positives and 3 negatives as Cubs head to Miami.
The bullpen looked like poo again Saturday, and Brad Brach was a big part of that. The righty reliever got no whiffs on 25 pitches and got just one total swing on the 17 fastballs he through. Eleven of those four-seams were called balls.
Mike Trout missed the abbreviated series with a sore groin, but a makeup game means Cubs fans might get to see him anyway.
Kyle Hendricks escaped the First Inning of Death, but apparently leveled up to the Second Inning of Doom.
Kyle Schwarber was super pissed about a check swing called third strike, but it sure looks like his bat crossed the plate. Did you know MLB has no official guidelines for what constitutes a swing? The umpires' calls are purely subjective, though using the plane of the plate as a guideline for whether a hitter offered is common practice.
Javy Baez is a natural lefty and was a switch-hitter in high school until his lefty swing began to cause hip pain. As such, his prowess had remained largely mythical before a brief BP display Saturday.
Other Notes
Norman Avocado got just as mad as Schwarber and when he was rung up on a called third strike. Is anyone calling him a thug?
Nolan Arenado was HEATED after this pitch was called a strike. pic.twitter.com/CgRTur6r2Z

— FOX Sports: MLB (@MLBONFOX) April 13, 2019
The Ozzie Albies extension could be detrimental to smaller agencies like SportsMeter, which reps him and also Craig Kimbrel. Though any agent in any agency could have done something similar, it's possible that the union could see smaller agencies as more willing to lock in a payday with a quick extension. Had a fun Twitter exchange with ESPN's Jeff Passan on this topic (linked in piece).
There's more going on, but I need to get moving.
CI Notes
This isn't a staple of Mike's format, but I'm breaking from tradition to point out a few things we've got going with new writers and our other ventures. I'm really proud of what we're doing here and it's been really cool to get some different voices in here. I know I probably hog the mic a little too often, but the backup singers are the ones that really make us sound good.
You've probably noticed some new bylines lately, whether in the recaps or featured posts. Bill Quinn has put together a series of Letters to Rob Manfred, in which he lays out ways for baseball to better promote itself.
Laura Messer dug into the early stats on Jason Heyward's resurgent hitting.
Ryan Thomure used his expertise as an occupational therapist to explain what exactly is going on with Victor Caratini's hamate fracture and what the catcher can expect in terms of rehab and recovery.
We're not in this to get rich, as my last-minute tax return proves, but this site isn't merely an extension of our collective altruistic nature. No one at Cubs Insider does this for a living, not even the owners, though we do want to make it a worthwhile hobby for our writers. And that means generating revenue. Shoot, does that make me Tom Ricketts?
If you like what we do here, which some of you undoubtedly do in spite of what I read on Facebook, maybe consider helping us out. Some of that comes from simply visiting the site frequently, since ad revenue comprises a vast majority of our income. But there are other ways you can show support and perhaps reap some benefit for yourself.
We have a T-shirt shop with designs like "Boring" that uses the Gateway Arch as the "n" or "Own It Now," the new Joe Maddon saying in a design that looks like the nWo shirts from WCW back in the day. We get a portion of the sales as a commission.
After seeing Hex Head Art's products, I reached out and set up an affiliate partnership that nets us a commission while giving you 10% off. They make high-quality metal signs — not the flimsy replicas you normally see — with three Cubs designs, along with several other colleges and other collections. They're not cheap, but these are truly centerpiece items for your den or office or whatever.
Cubs Insider has a YouTube channel that we had previously used as little more than a dumping ground for spring training video clips and the occasional interviews we've conducted. We've been expanding lately, though, with various podcasts like Cubs Related, Ivy Envy, and the Son Ranto Show, and regular video shows like Talking Cubs and Inside Corner. Please mash that "Subscribe" button and check out our stuff.
Monday Walk Up Music
Wrote a Song for Everyone – John Fogerty and Various Artists. This is the legendary rocker's ninth studio album, but it wasn't recorded in just one studio. He reached out to huge stars throughout the music industry and had them choose which CCR or Fogerty song they wanted to do a duet with him on. From Foo Fighters to Miranda Lambert to Jennifer Hudson, it's a fantastic listen.