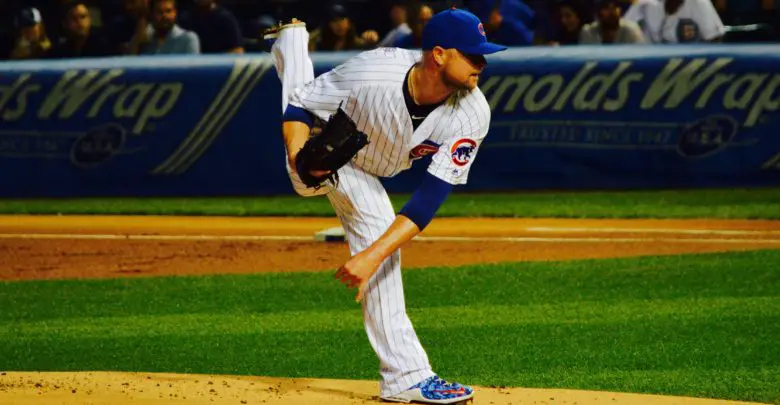 Jon Lester to Start Thursday vs Dodgers, Cubs Set Rotation for Weekend in Arizona
The Cubs announced Wednesday afternoon that Jon Lester will make his return to the rotation on Thursday afternoon against the Dodgers, a move anticipated by his recent sim start. He has been on the injured list (hamstring) since hurting himself sliding into home against the Pirates on April 8 at Wrigley Field. Naturally, he had a sense of humor about the injury:
Sometimes when you have elite speed these things can happen. Great to get the W in front of the home crowd though, here's to many, many, many more! #NVRQT

— Jon Lester (@JLester34) April 9, 2019
After that game, Lester told reporters he intended to make his next start, but that's to be expected with the grizzled veteran. The Cubs took a smarter, conservative approach to dealing with the injury and let him rest up on the IL. It sounds like he will be on somewhat of a pitch count Thursday just to ease him back into game action, and Tyler Chatwood could potentially follow Lester after his quality start this past Sunday.
Maddon: Lester 75-80 pitches a goal for Thursday, Chatwood could follow him depending on course of game

— Mark Gonzales (@MDGonzales) April 24, 2019
In addition to the Lester news, the Cubs also laid out their rotation plans for the weekend series in Arizona. Kyle Hendricks, Yu Darvish, and José Quintana will oppose the Diamondbacks, in that order.
Jon Lester starts tomorrow. Hendricks, Darvish, Quintana in the Diamondbacks series this weekend in Arizona.

— Sahadev Sharma (@sahadevsharma) April 24, 2019