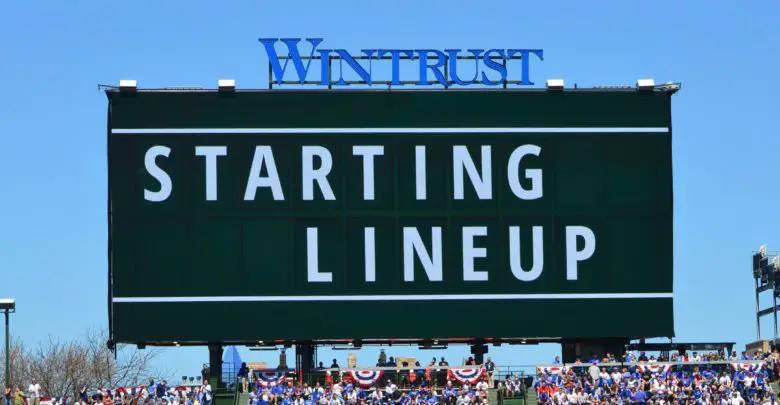 Chicago Cubs Lineup (5/10/19): Almora Leads Off, Russell at 2B, Quintana Pitching
The two hottest teams in the division are facing off this weekend as the Brewers visit Wrigley for a three-game set. Albert Almora Jr. will start things off of the Cubs in center, followed by Kris Bryant in left and Anthony Rizzo at first. Then it's Javy Báez at short and Willson Contreras catching.
David Bote is at third, Jason Heyward is in right, and Addison Russell will try to play second base with his foot still firmly entrenched in his mouth.
"I'm one of the dudes in this clubhouse," Russell told Steve Greenberg of the Sun-Times. "I'm one of the guys who goes out there and puts his [body] on the line. We do it because we love it. We want to win, and we want to bring another championship to Chicago. And if hometown fans want to boo someone that's trying to help bring the team a World Series again, then that's on them."
Being a better person doesn't mean being more self-centered, it means being more self-aware. Shouldn't be a difficult concept, yet here we are. And I'm reasonably sure the Giants and Tigers scouts at the game are taking in more than just what happens on the field. Anyway…
Opposing the Cubs will be Gio Gonzalez, who's making just his third start of the season after being released from his initial minor league deal with the Yankees. Now back in Milwaukee, the 33-year-old southpaw has looked really good in limited action.
He's struck out nine against just one walk, going with a heavy fastball/changeup combo and dialing back the curve just a bit. Never much of a fireballer, Gonzalez tops out in the low 90's and will sit 88-89 with the four-seam. It's all about location, though he has gotten a decent number of whiffs so far.
Not much to say about this one other than the Cubs just need to jump on Gonzalez and not let him settle into a rhythm. He's throwing more first-pitch strikes than in most previous seasons, yet he's working in the zone less than usual. That means staying patient and not just jumping at the first decent pitch.
Going for the Cubs is Jose Quintana, who's looking to avenge that early-season disaster in his first start over a month ago. Pitching in Milwaukee, the lefty allowed eight earned runs on eight hits, three of which left the yard. He struck out three against only three walks, just a rough effort all the way around.
Q has only struck out four combined in his last two starts and has fallen off the pace of a magnificent run he put together right after that earlier Brewers game, but he can easily turn that around. Actually, the key to this one may just be avoiding Ryan Braun. If you think it's odd that I didn't say Christian Yelich, just remember: He's playing on the road.
First pitch from Wrigley is at 1:20pm CT and can be seen on NBC Sports Chicago or MLB Network (out-of-market only). As always, you can also listen on 670 The Score.
Here is today's #Cubs starting lineup.

Stream on @NBCSChicago: https://t.co/rGCuW1XI7C pic.twitter.com/9Y8UNgrOG6

— Chicago Cubs (@Cubs) May 10, 2019