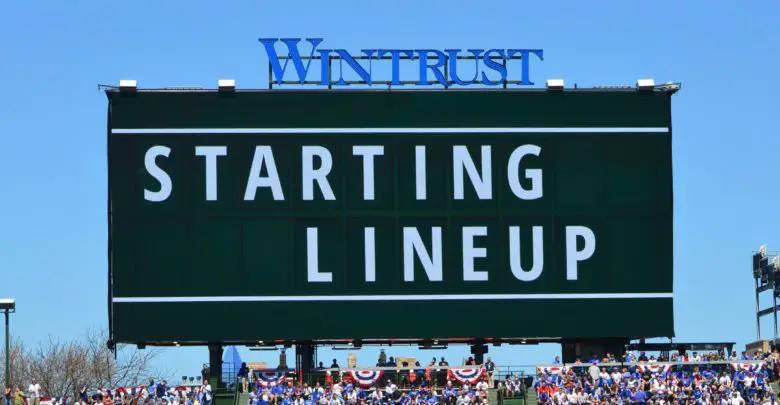 Chicago Cubs Lineup (5/20/19): Schwarber Leadoff, Caratini Catching, Russell SS, Darvish Faces Arrieta
It's happening about a year later than everyone had hoped, but Jake Arrieta is finally making his return to the mound at Wrigley Field. As as fate would have it, he's pitching against Yu Darvish. You'll be forgiven if you choose to avoid the comments.
Kyle Schwarber has established himself as the flavor of the [insert time period here] at the top of the order due to his keen batting eye and power potential, so he's back in there playing left. Kris Bryant is at third, Anthony Rizzo is across the diamond, and Victor Caratini is cleaning up behind the plate. That's a tall order, but Darvish had been working with Taylor Davis in Caratini's stead and Caratini was raking before his injury.
Jason Heyward is in right, Albert Almora Jr. will try to continue his hot hitting in center, Daniel Descalso is at second, and Addison Russell becomes the first Cub not named Javy Báez to start at short this season. Somewhere, Karl Ravech is smiling. Javy is nursing a heel contusion suffered Sunday and had started every game prior to this, so a day off is a good idea all around.
Arrieta is striking out fewer and walking more men than he ever did in Chicago, plus he's giving up more homers on more hard contact for a higher BABIP. This isn't the same guy who was easily the best pitcher on the planet in 2015, but you knew that already. The question is whether he's the same guy who's given up at least three runs in each of his last five starts or whether the old magic comes back for the evening.
His velocity is actually up a little from that last season in Chicago and his pitch mix has shifted a bit as well. Arrieta is relying less on the sinker and slider/cutter, opting for a lot more changeups as his electric stuff has lost a little juice. Though he only went offspeed about 5-6% of the time with the Cubs, he's using the change about 18% with Philly.
The fastball still has life and he'll throw it to get ahead or even, then he'll come back to it to put hitters away. The change has become his preferred out-pitch among secondaries, though, and it's thrown far more than the slutter and curve combined in two-strike counts. That said, the change has generated negative value so far and isn't a very dangerous pitch.
Neither is that wicked slider that once stood as the nastiest pitch in the game, leading a dominant repertoire (yo, peep that SI byline) that earned him the Cubs' first Cy Young nod since 1992. During that 2015 season, each of Arrieta's four main pitches ranked among the top seven in all of MLB in terms of runs saved per 100 pitches. Only two of them — sinker, curve — are even positive this season.
Lefties have contributed to that, hitting five of the eight homers Arrieta has allowed while walking more and striking out half as frequently has their right-handed counterparts. That's because they're seeing him better, obviously, but Arrieta's stuff just isn't quite what it was. We saw that in Chicago when hitters started spitting on his wipeout breaking ball.
That's part of the reason the Cubs let him walk, but let's not pretend as though this was solely the team's decision. Arrieta had made up his mind after the 2015 season that he was going to test free agency and he had one foot out the door heading into 2017. The Cubs didn't simply opt for Darvish over Arrieta, and Jake the Snake being in Philly was a lot more mutual than some would like to believe.
Of course, Darvish not being the ace the Cubs thought they were getting has led to a lot of revisionist history, understandably so. A continuation of his performance in Cincy the other day may further revise things, though, as Darvish struck out 11 with no walks in that one. He's up to 55 strikeouts in 42 innings (11.79 K/9), but has 33 walks in that same time (7.07 BB/9) and really needs to be more consistently efficient.
I'm really interested to see how Darvish matches up with Bryce Harper, who's got his own feast-or-famine thing going on. Harper puts up big walk and strikeout numbers and has huge power, but he's been much worse against right-handed pitching. That's weird as a lefty batter and it's contrary to his career splits, but let's hope it keeps up tonight.
First pitch from Wrigley is at 7:05pm CT on NBC Sports Chicago, MLB Network (out-of-market), and 670 The Score.
Here is tonight's #Cubs starting lineup.

Stream on @NBCSChicago: https://t.co/rGCuW1XI7C pic.twitter.com/WFYrhE9jEP

— Chicago Cubs (@Cubs) May 20, 2019