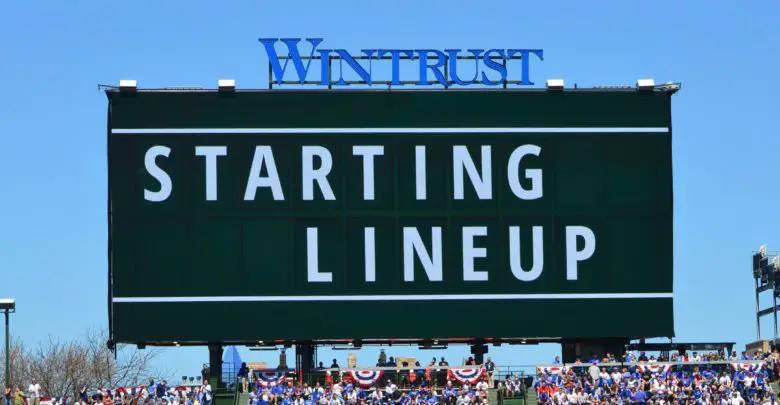 Chicago Cubs Lineup (5/21/19): Schwarber Leads Off, Javy Sits Again, Quintana Pitching
Even though it was just one game, the Cubs are clearly a different team without Javy Báez in the lineup. They'll be without him again tonight as he rests a heel contusion suffered Sunday evening against the Nationals, but it doesn't sound like anything serious.
Kyle Schwarber is leading off again, followed by Kris Bryant and Anthony Rizzo in their traditional spots. Willson Contreras bats cleanup in Javy's absence, Jason Heyward bats fifth in right, and Albert Almora Jr. is in center. Daniel Descalso at second and Addison Russell make up the middle of the infield and bottom of the order.
Opposing them will be 25-year-old righty Zach Eflin, who seems to be putting it together after three mediocre campaigns to open his career. Though he's not going to blow hitters away or get a ton of swinging strikes with eye-popping stuff, Eflin is a high-end strike thrower who doesn't hurt himself by letting runners reach base for free.
He has walked only nine batters in as many starts and has two complete games under his belt this season, working efficiently and keeping his bullpen fresh. And though he's given up eight homers so far, three of those came in one game. The good news for the Cubs is that they should see plenty of hittable pitches.
Eflin's fastball sits 94 mph and he loves to throw it either up or away to lefties, especially as an out-pitch. One weird little wrinkle for lefty batters to watch for when they get ahead in the count is the changeup. Though it only comprises about 5-6% of his total pitches, lefties will see the offspeed pitch over a quarter of the time when they are ahead.
If you're looking for a blanket strategy, Cubs hitters should be going up there looking to take their hacks right out of the gate. Only three qualified pitchers throw more than Eflin's 69.6% first-pitch strikes, which could mean lots of nice opportunities to do damage early in the count. Righties can expect either fastball (47%) or slider (38%) on first pitch, lefties will get fastball (48%), slider (18%), or sinker (16%).
Because Eflin prefers to back-door that slider while also throwing his fastball away to lefties, those hitters have been able to sit on a spot and take advantage. Left-handed batters have an .800 OPS and a .338 wOBA with five homers this season, compared to .574, .249, and three for righties. I can almost smell the oppo tacos cooking now.
Going for the home team is José Quintana, who has been serviceable in his last few starts after a brief stretch of dominance earlier in the season. He may not to be at his best against a Phillies team that sits in the bottom half of the league with a 98 wRC+ against southpaws, though Bryce Harper has actually pounded them to the tune of a 164 mark this season.
While Quintana will want to avoid that threat, he needs to be aggressive with his fastball early to get ahead in the count and work efficiently. He threw a lot of curveballs with fewer changeups his last time out, but he's at his best when he's working that offspeed pitch in there a little more frequently.
First pitch from Wrigley is at 6:05pm CT because the game is on ESPN, but regional viewers may end up a little peeved because it's also on WGN. So if you live in the Cubs' in-market territory but don't get WGN, you may be hosed. Hey, there's always 670 The Score.
Here is tonight's #Cubs starting lineup.

Game preview: https://t.co/1MwtSGVS7G pic.twitter.com/6c0aeFwVSE

— Chicago Cubs (@Cubs) May 21, 2019