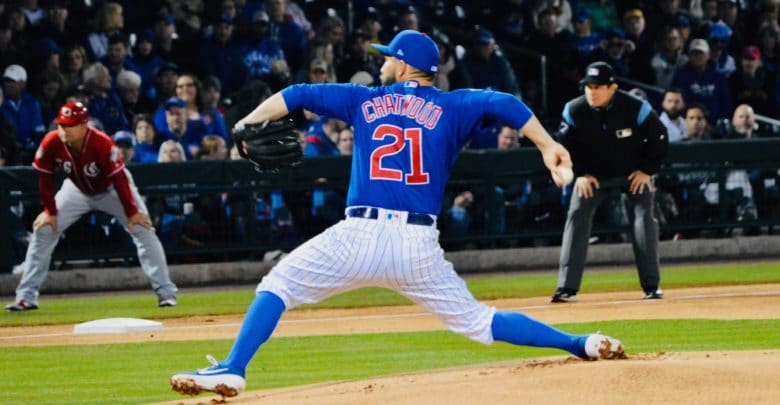 Despite Elite Velocity and Electric Stuff, Tyler Chatwood Isn't Closer Material
Tyler Chatwood came on in relief of Cole Hamels and effectively shut the Phillies down with mid-90's heat and breaking stuff that led to outs even when he wasn't missing bats. He touched 98 mph, pulled the string on the change, and lowered his season ERA to 2.86 over 13 appearances (one start). Given his elite velocity and ability to get strikeouts, some have wondered aloud whether Chatwood should be considered for the closer role.
After all, that spot has been vacant so long Theo Epstein is considering turning it into an AirBnB.
But even as much as the Cubs need some hard-throwing, bat-missing arms in that 'pen, Chatwood should not be out there trying to slam the door in the 9th inning. In fact, I'd go so far as to say that making him the closer would significantly reduce his value to the team.
To understand why it would be a bad idea to move Chatwood to the end of the 'pen, we need to understand what a closer has to be. Or rather, what he shouldn't be. Though the bearded righty has experienced a significant decrease in walks this season, his 5.72 BB/9 is 32% higher than the league average for relievers. And that's with him getting a little extra leeway due to his multi-inning role.
That's why the Cubs were so reluctant to move him out of the rotation last year despite ginormous walk numbers. It's much easier to overcome free passes when you're spreading them out over multiple frames, and a walk in the early innings isn't as damaging as it would be later in the game. Walk a leadoff batter with a one-run lead late and you're ratcheting the leverage up even further.
Then there's the matter of those whiffs, which Chatwood doesn't generate at nearly as high a frequency as you'd think given his stuff. The average swinging-strike rate for MLB relievers is 11.7%, a little higher than the 10.6% posted by starters. Anyone wanna guess what Chatwood has put up this season?
He's at 8.8% right now, which is actually up a tick from last year (7.8%) and higher than his career mark (7.4%). Among Cubs relievers with at least 10 innings pitched this season, that puts him ahead of only Brandon Kintzler (7.9%), which isn't great. Combine that with the walks and Chatwood doesn't have the profile to be a closer.
But more than what he doesn't bring to the table, the real reason not to have Chatwood close games is what he does offer. Namely, the ability to go long as a de facto piggyback starter like we saw Wednesday night. Holding the Phillies scoreless after a subpar outing by Hamels allowed the Cubs to pad their lead in the second half of the game.
The ability to reinforce the rotation or just to go multiple innings in relief when the 'pen has been taxed is far more valuable than anything Chatwood brings in a stopgap closer role. Maybe I'll change my tune if another couple of relievers go down with injuries over the next week or two, but for now I'm all aboard the Tyler Chatwood Long Man Express.