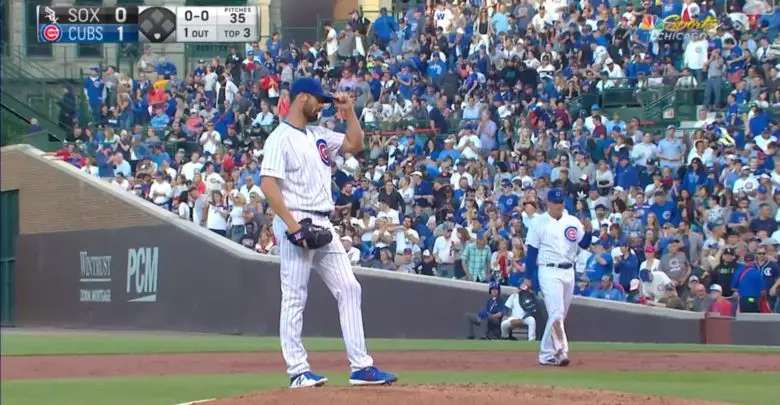 The Rundown: ChiSox Win First Battle, Enough of Eloy Already, Hamels Joins Elite Club
Last night turned out to be everything I hoped would not happen: Another wasted pitching performance due to a lack of offense. Meanwhile, Eloy Jiménez made the most of his opportunity to take advantage of the Cubs' flailing bullpen. Pedro Strop missed his spot by about 15 inches and Jiménez tattooed a fastball. There's your ballgame, kids.
THIS IS WHAT YOU'RE MISSING, @Cubs.

Eloy Jimenez off the team that traded him!pic.twitter.com/vzDI52hS8z

— Sporting News MLB (@sn_mlb) June 19, 2019
As I feared yesterday, I woke up to a deluge of what could have been articles infiltrating my inbox, including one from Jon Greenberg of the Athletic that posted so quickly after the game ($) it almost seemed like he willed the White Sox to victory.
Including yesterday's 3-1 loss, the Cubs have now managed to score just 11 runs in the five games since they plastered the Rockies 10-1 on June 11. That type of feast-or-famine offense has defined this team for the last 20 months. It won't get any easier tonight as Lucas Giolito will take the mound for the South Siders. He has been just about the hottest pitcher in baseball over the past six weeks.
Yesterday's highlights were few and far between, but those silver linings do deserve to be mentioned:
Other than that, it was a crap day all around in Wrigleyville. Hopefully the home team can salvage a split tonight. It ticks me off that I even have to hope for that kind of consolation.
Cubs News & Notes
How About That!
The White Sox will become the first MLB franchise to extend protective netting from foul pole to foul pole.
Turns out that Angel Hernandez and Joe West aren't the only whiny umpires in the bigs. The umpires union's attack on Manny Machado is as bizarre as it is unfounded.
Nationals ace Max Scherzer was injured during batting practice yesterday. The starter broke his nose while bunting, but isn't expected to miss a start. In full disclosure, he'd probably still take the bump in a body cast.
Phillies fans are of the belief that Bryce Harper needs to start earning his keep. Still upset the Cubs didn't sign the perfectly-coiffed outfielder?
Per Marly Rivera of ESPN, Dominican Attorney General Jean Alain Rodríguez said that he will offer the most recent findings about the investigation on the attempt on David Ortiz's life in a joint press conference with the Dominican Police later this afternoon in Santo Domingo.
Tuesday's Three Stars
Jordan Yamamoto – The Marlins' rookie hurler blanked the Cardinals with a seven-inning seven strikeout performance for his second career win. He allowed just two hits.
Charlie Blackmon – Last night the Rockies outfielder became the first player in Colorado franchise history to get at least three hits in five consecutive games. Blackmon has 18 hits over his last five games, one shy of the modern major-league record for most hits over a five-game span, which is held by Jimmy Johnston of the Brooklyn Dodgers in 1923.
Whit Merrifield – Taking a cue from Tommy La Stella, the diminutive second baseman slugged two home runs with a career-high six RBI as the Royals blanked the Mariners 9-0.
Extra Innings
Fan Buzz reported on a 2018 study that indicated which umpires are truly the worst MLB has to offer. One alarming statistic: There were 34,294 pitches incorrectly called during the 2018 MLB season, about 14 per game on average.
"Joe West is one of baseball's most unpopular home plate umpires and for good reason; West made 21 incorrect calls per game in 2018 despite working over 5,000 games in his career. During Game 4 of last year's ALDS between the Yankees and Red Sox, veteran umpire Angel Hernandez blew three calls at first base in a four-inning span, all of which were overturned using video replay."
They Said It
Wednesday Walk Up Song
Gimme Shelter (from all of the Eloy email, please and thank you) by the Rolling Stones. This version from the is Rock & Roll Hall of Fame 25th Anniversary Concert and features Bono of U2 and Fergie of Black Eyed Peas, and Fergie owns it. By the way, I will be at the Stones show Friday night so hit me up if you'd like to meet for a beer or a patented Chicago Cubs Malt Cup before or after the show.