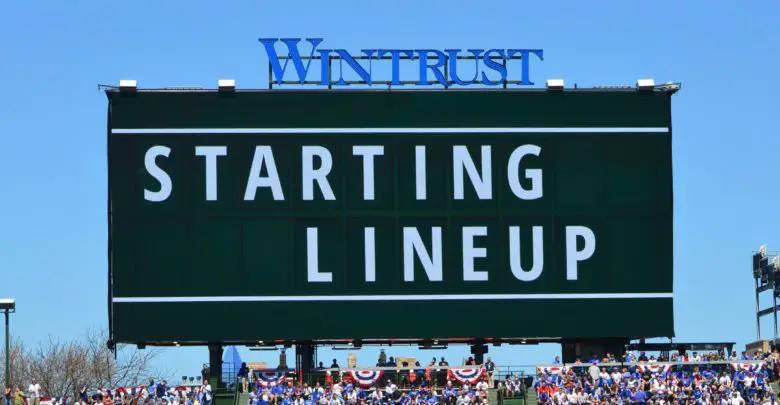 Chicago Cubs Lineup (6/24/19): Bote at 2B, CarGo in RF, Lester Batting Last and Pitching
Joe Maddon is switching things up again, though he didn't turn it upside down in honor of Stranger Things Night. Kyle Schwarber is leading off in left, Kris Bryant is at third, Anthony Rizzo mans first, and Javy Báez cleans up at short. Willson Contreras is catching, Jason Heyward plays center, David Bote is at second, and Carlos González is batting eighth in right.
This is the first time in a while we've seen the pitcher batting last, which could be a move to once again put a better hitter in front of the leadoff man. Yes, I just said the pitchers are better hitters than the guys the Cubs have had hitting in the bottom third of the order.
Julio Teheran more or less shut the Cubs down when he faced them in Atlanta back in early April, though giving up six hits and walking three batters is far from great. That's been the story for the soft-tossing righty this year, as he's posted a 1.26 WHIP with 67 hits allowed and 43 walks issued to just 79 strikeouts. He's walked at least three batters in six of his last seven starts, though he's limited hits to four or fewer in six of those as well.
A big fastball/slider guy, Teheran will mix his 90 mph four-seam and sinker to great effect, following up with a changeup that sits around 84 mph. He actually throws the slider more than twice as much as the change, but that breaking pitch has been his worst this season by far. His curve isn't great, either, but he doesn't throw it often.
Teheran's platoon splits are pretty even, though opposing hitters have arrived at them in decidedly different manners. Lefties get on base at a much higher clip (.342 to .282) while righties slug more (.378 to .311), so it feels like the key is to get the 1-2 punch going and keep the pitcher off his game.
This doesn't figure to be a game in which the Cubs can slug their way to victory, as Teheran has allowed just one homer in his last 10 starts. He's only gone past six innings once this season, though, which is a product of working inefficiently. Unlike other recent games, this one could hinge on patience.
Jon Lester has not been great over the last month or so and he'll have his hands full with a Braves offense that has compiled a 108 wRC+ with an .815 OPS against lefties this season. Both of those marks rank fifth in the NL, which is what I'll plead if I'm ever questioned in court about my dad jokes.
Lester may want to avoid pitching to Ozzie Albies, who is 5-for-5 with a homer and a walk against the southpaw in his young career. And Freddie Freeman has a .996 OPS in 22 plate appearances, so maybe exercise caution there as well.
First pitch is set for 7:05pm CT and can be consumed via NBC Sports Chicago and 670 The Score.
Here is tonight's #Cubs starting lineup. #EverybodyIn

Stream on @NBCSChicago: https://t.co/rGCuW1XI7C pic.twitter.com/Lcz6duleak

— Chicago Cubs (@Cubs) June 24, 2019