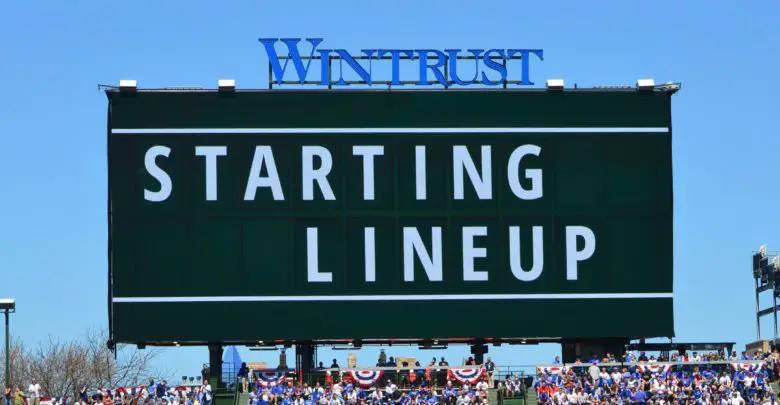 Chicago Cubs Lineup (6/29/19): Schwarber Leads Off, Russell at 2B, Almora in CF, Quintana Pitching
The Cubs were so pleased with their results in yesterday's loss that they've opted for the exact same lineup this afternoon. I suppose if you flip tails once, you figure you'll get heads the next time. Kyle Schwarber is in left, Kris Bryant at third, Anthony Rizzo at first, and Javy Báez plays short.
Willson Contreras catches, Jason Heyward is in right, Addison Russell is at second. and Albert Almora Jr. is in center. David Bote, who apparently kicked Joe Maddon's dog, is out of the lineup again. Maybe Bote went to his manager and offered to give up his spot after Russell recorded his second extra-base hit of the month and first non-homer XBH since May 10.
Yes, you saw that correctly. Russell hit a double in his second game back from suspension, so his triple last night was just his second non-single in 122 plate appearances that didn't leave the yard. Almora had a pair of hits last night and Heyward has been on a tear this month, so maybe the lower third will do something.
Luis Castillo has exploded onto the scene this year with a big fastball and some big strikeout numbers, though he's fallen back to earth just a bit since facing the Cubs in mid-May. We looked at Castillo's weird Cubs ties ahead of that last game, so we'll avoid that this time, but just know that he's been traded multiple times for North Side alums.
The 26-year-old righty's four-seam/sinker combo sits about 95 and can touch a few ticks higher, then he wipes hitters out with a decent slider and an absolutely filthy changeup. The change is part of the reason for Castillo's plateau, though, as its overall value now sits at 11.8 runs saved, a tenth of a run below where it was seven starts ago. That all stems from a stretch against the Cubs, Brewers, and Pirates, but it's been better since.
Castillo fires from a low arm slot, making it hard for hitters to pick the ball up out of his hand. Righties have just a .504 OPS with a paltry .232 wOBA, both of which are actually up quite a bit over the last few weeks. Lefties are at .667 and .300, so there's a little more room for damage there.
For the Cubs to get over on Castillo, they're going to need to be patient and sit back on that change. It makes up a third of his pitches and he's sometimes thrown it as much as 43% of the time, particularly to lefties, so maybe it's just about guessing correctly. Righties will see a lot of fastballs early in the count, but he'll use all four of his pitches with nearly equal frequency after that.
Though Castillo has struck out 33 batters over his last six starts (10.01 K/9), he has walked 24 (7.3 BB/9) in a display of serious control issues. If that continues, the Cubs can clog the bases and tire the righty out in the warm conditions.
The visitors send Jose Quintana to the mound in an attempt to put his last start way, way behind him. You know what? Let's not even bother thinking about that and just focus on what Q is capable of, in a good way. Keep it low, throw early strikes, keep the Cubs in the game.
First pitch is at 3:10pm CT and can be consumed via ABC-7 (or your local affiliate, if you have one) and 670 The Score.
Here is today's #Cubs starting lineup against the Reds.

Game preview: https://t.co/r1tlN3V6Qj pic.twitter.com/LhwRvF6Yj4

— Chicago Cubs (@Cubs) June 29, 2019