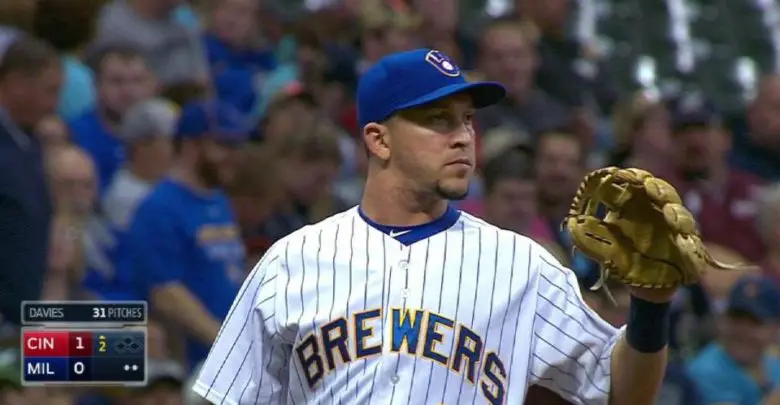 Should Cubs Take Flyer on Hernán Pérez Following DFA by Brewers?
For a while now, it has been clear the Cubs are getting little to no production from the second base position. Only David Bote owns a wRC+ above league average (104), with Addison Russell and Daniel Descalso ranging from 15% to 48% below that threshold.
After a quick start to the season, Descalso has fallen on hard times in year one of a two-year deal. Russell, on the other hand, never found his groove after spending the entirety of April suspended for a domestic violence violation. So with Bote splitting his time roughly evenly between second and third base and Ben Zobrist still absent, Russell and Descalso have formed something of a production black hole at the keystone in 2019.
Enter super-utilityman Hernán Pérez, a 28-year-old veteran who was recently designated for assignment by the Milwaukee Brewers. Pérez, who would be owed roughly $1.15 million by any club that claims him off waivers, has struggled this season to the tune of a .235/.277/.383/.659 slash line over 160 plate appearances.
While those numbers are less than impressive, Pérez possesses a certain skillset that could make him an attractive target for a team like the Cubs. He stole 34 bases in 2016, racked up double digits in both '17 and '18, and has swiped four bags in 2019. That doesn't seem like much, but it would tie him with Bote for third on the current Cubs roster.
Pérez has also banged out 41 home runs in the last four seasons, just two behind Russell across the same time span. Those two factors culminate in a 49.4 power-speed number for Pérez, suggesting he can impact clubs with both his bat and legs.
Maddon has said the collective lack of success from Bote and Russell against left-handed pitching "really stands out," which suggests the Cubs could prioritize players who hit southpaws well at the trade deadline. With Pérez out of a job and costing nothing but money, he represents a solid option as the Cubs seek external help.
While a .724 OPS against lefties this season is actually below Russell's mark, Pérez boasts a superior batting average. And with his 76% contact rate since 2016, he is hitting .257 off lefties with a .432 slugging percentage to boot. He would also own the lowest strikeout rate (17.5%) against lefties from among the Cubs' second base options this season, complimenting his 16.7% HR/FB nicely.
Pérez makes a living on putting the ball in play and his career .284 OBP is indicative of a 4.2% walk rate while a strikeout rate steadily on the rise could be cause for concern. Even with that red flags that include his lackluster numbers thus far in 2019, Pérez is sitting on an average exit velocity of 88.6 mph. If that holds, it would represent a career-best for the veteran, with his 36.2% hard-hit rate constituting the second best of his career.
The Cubs have had issues making consistent contact, particularly with their hitters at the bottom of the lineup. With a 73.1% contact rate in 2019, Pérez bests both of Chicago's All-Star starters in that by a hefty margin. The North Siders have also lacked speed at the top of their order.
Pérez's combination of contact skills and speed on the basepaths, not to mention his sneaky pop and league-average defense all around the diamond, make him a solid option for the Cubs. Throw in his relative cheap contract and he quickly becomes more valuable to the Cubs roster that either Russell or Descalso.