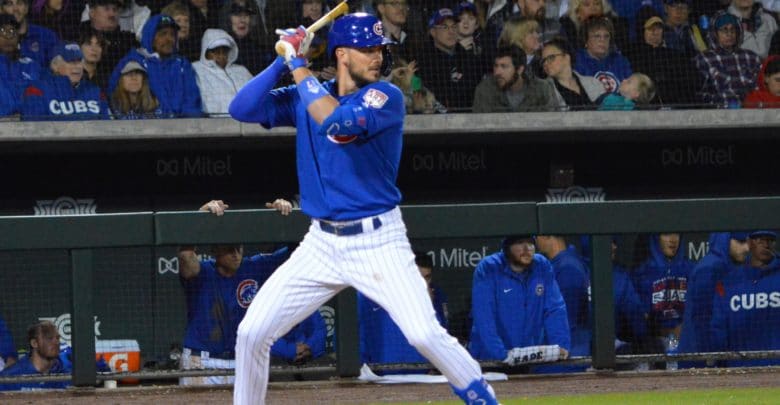 Cubs Not Taking Advantage of Kris Bryant's Strengths
Half of the Cubs' games this season have now been led off by slugging outfielder Kyle Schwarber. Early on, the former World Series hero was making the most of his second chance atop the order, doing his best Dexter Fowler impersonation and posting a .990 OPS.
Since May 25, however, Schwarber's OBP out of the leadoff spot has dropped 65 points, falling to .307. That has resulted in the lefty being just 8% better than league average across his last 150 plate appearances batting first. While that's not the worst production in the world, the Cubs are fresh off their first losing month in more than a calendar year and look more and more like a team in need of a jump-start.
Some have speculated that spark could come from the minor leagues in the form of infielder Robel Garcia or perhaps from a bat at the trade deadline. While those options are valid, the most obvious way to spark this offense is much simpler.
Thus far, the Cubs are sporting the 24th-worst OBP from the leadoff spot (.311) in the game. It would seem to make sense, then, that the best way to generate more offense would be to replace Schwarber with the club's best on-base guy, an idea that has been kicked around before.
That means bumping Kris Bryant and his .393 OBP to the top of the order. He's flirted with a .400 mark throughout his time in Chicago turning in a .386 career mark, and he's got the baserunning chops to make subsequent hits count for more.
Bryant is rivaling his MVP-caliber numbers of 2016 by slashing .285/.393/.528/.921, good enough for a 140 wRC+ that makes him the Cubs' best run-creator. Since May 14 (the date the above linked article was written), Bryant has been one of the lone contributors to a team struggling to win baseball games, slashing .308/.387/.527 (.914 OPS).
In that time, we have seen him post a solid, albeit not spectacular, walk rate of 8.4% and a respectable 22% strikeout rate. His eight home runs and 13 doubles across 191 plate appearances have produced a .219 ISO and helped the former MVP maintain a lofty 138 wRC+ that's right in line with his season average.
Most of us agree Bryant deserved his third All-Star Game nod, but there is still a glaring hole in his game that could use closing. On the season, he is slashing .208/.338/.415/ (.754 OPS) with runners in scoring position, which equates to a 96 wRC+ (4% below league average). And those numbers have somehow trended downward since May 14, resulting in a slash line of .148/.258/.148 (9 wRC+) with runners in scoring position.
Conversely, Schwarber has picked up some of that slack in this important split since late May. Known for his struggles in clutch-hitting situations, Schwarber owns a career .692 OPS with RISP and it's at .652 this season. However, that mark that has risen to .918 in 26 plate appearances since May 25.
Sporting a 124 wRC+ with RISP over that period, Schwarber may very well provide more value deeper in the lineup. Bryant might likewise benefit from a move to the top of the order, a role he's filled with the Cubs in the past and that he's familiar with from his college days as well.
Given Bryant's particular skillset for reaching base and Schwarber's newfound approach with runners in scoring position, can the Cubs really afford not to make this move as they limp into the break? With the trade deadline approaching and the North Siders looking for a spark, a shakeup at the top could unlock untapped potential in both Bryant and the Cubs.
Even if it's just another of Joe Maddon's attempts to use the top spot as a means to jump-start an individual, or it's just a placeholder until the Cubs trade for a legit leadoff hitter, it's an option they need to consider.