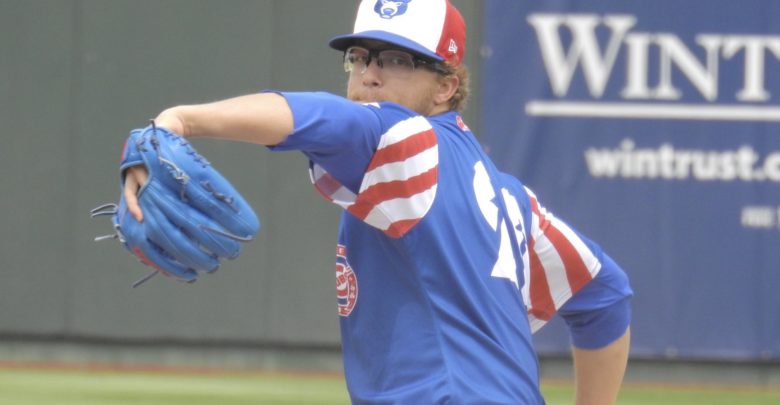 Chicago Cubs Weekly Farm Report (7/9/19): Cam Sanders Shines, Nico Hoerner Officially Back
Last week was big as far as roster construction goes throughout the entire system. By my count, there were a total of 38 transactions, including 25 promotions. Some of the big highlights included Robel Garcia making his MLB debut, Tyson Miller getting the call to Triple-A Iowa, and a slew of 2019 draftees making their way up to Eugene.
Nico Hoerner and Zack Short finally made their way up to the affiliates they started the season with after they both returned from being hit by pitches in the hand/wrist area. Hoerner is now back at Double-A while Short is in Triple-A. It may take some time for both to get rolling again, or maybe it won't, but their respective futures remain very bright.
The MLB Futures Game took place on Sunday night with Miguel Amaya and Adbert Alzolay getting the call from the Cubs. Amaya started behind the plate for the National League squad and went 0-for-1 in his lone at-bat. 
The draft might be over, but the front office is still injecting new talent into the organization by way of the July 2 international signing period. The Cubs signed 16-year-olds Ronnier Quintero, Brayan Altuve, and Kevin Made for a combined total that initially went over their bonus pool allotment. Quintero was the top catch and sixth-ranked overall international prospect according to MLB.com while Altuve was the second-best catcher and 30th-ranked overall. Made was positioned at number 11 on the top 30 list.
Finally, don't forget to check out the new Growing Cubs Podcast. We come out with a new episode every week and the most recent featured several new segments including a TBT with a former top prospect and Dudes and Duds of the week.
Triple-A Iowa Cubs
The I-Cubs hit the All-Star break with a 10-game lead in the division after going 5-2 last week. Their 52 wins are the most the team has had at the break since the 2008 season.

It was probably the best week of the season for Ian Happ as he smacked a couple of homers, a couple of doubles, and added a triple while also walking in 20.6% of his plate appearances. He has been one of the streakiest hitters the system has seen this year.

James Norwood looked terrific in his 3.2 innings of relief work last week. He only gave up a hit and a walk while striking out eight of the 14 batters he faced.

Craig Brooks had a nice bounceback week after a rough one in his first taste of Iowa. He managed to go 3.2 innings with six strikeouts and two walks without giving up a run on two hits.
Double-A Tennessee Smokies
It was a 2-5 record for the Smokies last week, continuing their rough start to the second half. The bats have gone cold for the most part. This week, they wrap up their series with the Montgomery Biscuits before heading home to face off with Mobile for a long six game series.

This Hoerner guy picked up right where he left off, 

crushing a home run and a triple in his second game.

Thomas Hatch got killed by the longball in his start last week. He gave up a two-run bomb that led to three earned runs on the night, but looked really good besides that, striking out 10 without walking a single batter.

Ben Hecht continued to do his thing post-promotion, striking out four in as many innings giving up no runs while only allowing two men to reach base via hit.
High-A Myrtle Beach Pelicans
The week got off to a hot start with four straight wins before the birds dropped their next three over the weekend. They are still off to a much better start compared to the first half of the season and they have big series against the Down East Wood Ducks and the Lynchburg Hillcats this week.

Four pitchers put together starts without giving up a run last week. Ryan Kellogg gave up two hits and struck out two, Erich Uelmen gave up four hits and struck out four, Erick Leal gave up three hits and struck out eight, and Jack Patterson gave up one hit and struck out four in his High-A debut in the rotation.

Paul Richan had an interesting start on Monday, going seven innings and striking out nine batters while only giving up one run. Nothing really wild there, until you see 

that he only threw 52 pitches. That comes out to just under two pitches per batter, but he struck out nine. I don't know, man, you do the math.

Don't let Jimmy Herron get hot. The 2018 draftee put up a slash line of .385/.407/.577 with a triple and three doubles last week.
Low-A South Bend Cubs
It was another week above .500 for South Bend as they went 4-3. They will be home all week this week as they play host to Kane County and the Quad Cities.

The big bat for the week was Chris Morel, but this kid has been the hottest bat in the organization. Last week he slashed a wicked .462/.500/.846 with two doubles, two homers, and a triple.

Riley Thompson started twice and threw 10.1 total innings, giving up a combined three runs on eight hits with an 8:2 K:BB ratio.

Faustino Carrera went six innings, giving up a run on five hits and struck out seven without walking anyone.

Cam Sanders looked the best I have seen him all year. He went five innings and only gave up one hit while striking out five and walking no one as his fastball had some extra life.
Short Season Eugene Emeralds
It was a tough week with a 3-4 record for the Emeralds last week, but not because of the bats. They averaged almost seven runs per game and now face off against Salem-Keizer and start off a series with Boise in this upcoming week's matchups.

Short-season ball can be weird sometimes. Darius Hill made his Eugene debut on Saturday and did not register an official at-bat even though he strolled to the plate on five different occasions. He walked three times and hit two sacrifice flies.

The inexperienced international signings that were taking up roster spots were replaced last week with recently drafted college hitters, and what a difference it made for the Ems offense. They had 11 guys with an OPS over .800.

Fernando Kelli was the best of them all last week with five doubles and a triple in just 25 at-bats.

Second-round pick Chase Strumpf made quite the debut week with three doubles and an .871 OPS.

The 2019 reliever draftees Chris Clarke and Josh Burgmann both debuted on Sunday, making clean appearances out of the pen.