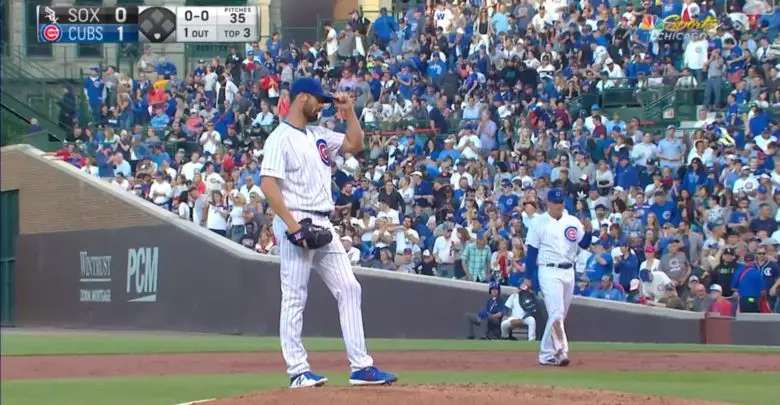 Cole Hamels 'Feeling Really Good,' Beginning Throwing Program Friday
Cubdom held its collective breath when Colbert Michael Hamels exited after one warmup pitch ahead of the 2nd inning back on June 28 in Cincinnati. He'd been the Cubs' most consistent starter to that point and his absence from a rotation that was already missing Kyle Hendricks at the time conjured some dark thoughts.
And when it was revealed that that he had suffered an oblique strain, the worry increased. Both ubiquitous and amorphous, oblique issues seem to be the injury du jour in baseball and can vary wildly in terms of recovery time. A similar issue with Hamels' right side cost him two months back in 2017.
But the lefty claimed this one didn't feel as bad and it certainly appeared as though it was a minor matter at the time he left the game. That seems to be bearing out as the Cubs are getting him back into a throwing program starting Friday afternoon.
"The plan was kind of to give him a few days in the break and then get back and hopefully be ready to start a throwing program going forward here coming out of the break," pitching coach Tommy Hottovy told 670 The Score's Mully & Haugh Show this week. "One good thing with Cole is that he's so far stretched out and he's in a good place. As soon as he starts throwing, we could rush this thing.
"It shouldn't be long before he gets on the mound. And once he kind of hit that milestone and start setting different things we want to hit — pitches off the mound or number of bullpens in a week, that sort of thing — then we can get him back."
That sounds very similar to the plan for Kyle Hendricks, who missed less than three weeks with a shoulder impingement. Hamels will only be throwing from flat ground in this first session, but could be back by the end of the month if he hits all the right milestones.
Stay tuned for more as the Cubs see how the veteran bounces back from his initial steps.