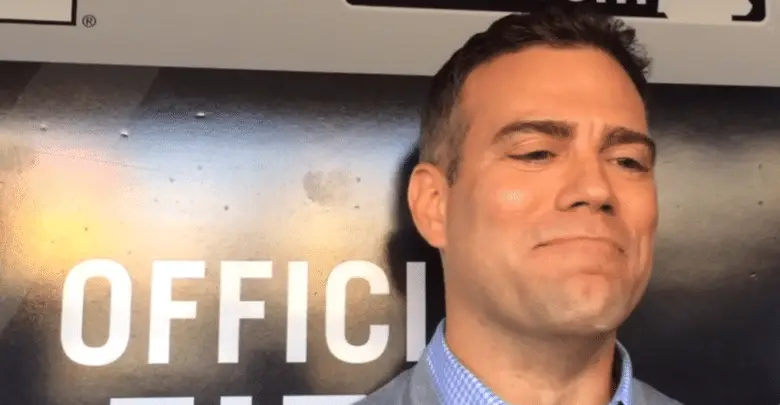 The Rundown: NL Central Epstein's to Win or Lose, Bryant Launches Bombs into Chicago River, Team Bryzzo Solves Caper, Astros Pitcher Blasts MLB
Theo Epstein has never had a problem pointing the first finger at himself when the Cubs have struggled. For a season and half he has told us what is wrong with the team and what needs to be done to fix it, always indicating that the bulk of any remediation efforts lies squarely on his shoulders. Now he will get a chance to show his mettle.
"I don't think sitting on our hands is really a viable option," Epstein said recently on 670 The Score's McNeil & Parkins Show. "We want to to be in a position to have enough belief that we're looking to aggressively add and sort of polish up what we think can be a championship team. If we're not, that means this stretch of bad play has continued. And if this stretch of bad play continues, then certainly … a ton of change is in order."
With just 4.5 games separating the first place Cubs and the last place Reds in the NL Central, there's a great chance that the division title will come down to the front office that best navigates the waters of this month's trade deadline. There's no waiver period to reconcile missed opportunities, so July holds all the marbles, so to speak. All five teams will have to decide if they are buying, selling, or sitting this one out.
With the trade deadline approaching, the Cubs need Theo to go on a hot streak: https://t.co/LGQbc9LHzO

— Patrick Mooney (@PJ_Mooney) July 11, 2019
For Epstein, it's do or die. He promised us a reckoning and so far we've seen a team that at times struggles to fight its way out of a wet paper bag. In his defense, the Cubs should have 50 wins based on a +55 run differential, making them a legitimate 90-win team. But things have gone afoul in a really bad way when the North Siders leave the Friendly Confines.
The Cubs are a division-best 29-16 at home and a division-worst 18-27 on the road. So their president of baseball operations is in a position where he probably has to make a significant move or two.
Here's a mid-season temperature check on the Cubs and their division opponents:
The Cubs are definitely buyers, at least as of today. They need someone to balance their lineup and a shut-down left-handed reliever. Players they could be looking at should include Whit Merrifield, Joe Panik, Will Smith, and Brad Hand. Don't be surprised if Epstein makes a play for Tigers starter Matthew Boyd.
The Brewers are also buyers and they need starting pitching. They signed Shelby Miller yesterday, who is 1-3 with an 8.59 ERA. But if they don't get a top of rotation starter, David Stearns might be run out of Milwaukee on a pedal tavern.Their wish list should include Madison Bumgarner, Robbie Ray, Marcus Stroman, and Boyd. Trevor Bauer would be a nice fit, but the Indians have a chance to catch the Twins and I don't think Stearns can hold off to see how that plays out. Zack Greinke is a sleeper here.
The Cardinals are unlikely to do anything and that's just because team president Jon Mozeliak hordes his prospects like a sugar junkie hordes his Twinkies. They also have a lot of injuries, a manager who isn't very good, and a crap-ton of lineup mediocrity. Either Greinke or Bumgarner would be a great fit here. If you're a St. Louis fan, however, it ain't happening. If they face the deadline realistically, and if Marcell Ozuna is healthy, the Cards should consider moving him for some young pitching. I'd bet the Braves would be interested. Mozeliak would love to sell high on Dexter Fowler as well.
The Reds are sellers. I know the run differential combined with their strong pitching staff indicates they should be buyers, but a large percentage of Cincinnati's players are in their walk years. You don't decimate the farm system for a one-off chance at the brass ring (somewhere Roland Hemond is flipping me off). I get that the Reds are a sexy pick, but if they start buying assets instead of selling them they will become the Mets faster than you can say Brodie Van Wagenen.
The Pirates…does anybody really care? They have a ton of assets they could sell off, including Cubs killer Adam Frazier and closer Felipe Vázquez, and they need a good, young catcher to replace Francisco Cervelli, whose bouts with concussions forced him to give up the position. Were this the the old days, Jim Hendry would send Miguel Amaya to Pittsburgh for Frazier and Vazquez and the Cubs would run away with the division. Food for thought.
Cubs News & Notes
How About That!
How about this: Here's 30 bold predictions for baseball's second half, one for each team, division by division. Spoiler alert: Mike Trout remains the best player in baseball. Wait, is that really a bold prediction?
As far as television ratings go, this week's All-Star Game hit a record low. I'm going to say this for the last time and then keep my mouth shut: Rob Manfred is bad for baseball. Wait…do you really believe I'll never say that again?
All of SI's baseball experts believes the Yankees, Astros, or Dodgers will win the World Series. Because most of you who read this are Cubs fans, here's a bit of good news: each predicts a Central Division title or NL Wild Card berth for the Cubbies.
Astros' starter Gerrit Cole called out teams that are tanking, saying that half of baseball doesn't care about winning.
Which starting pitcher has the most wins in the majors right now? Would you believe me if I told you it was the Rangers' Lance Lynn?
Extra Innings
If you haven't had a chance to check out the Cubs YouTube Channel lately, their digital content team has released five new series, updated two of their existing short-form shows, and posted a recap of Sesame Street's Cookie Monster trip to Wrigley Field.
One of the new series is a fanfic animation, which is user-generated and created in partnership with renowned production company Sarofsky. Another one is a "How To" series where Cubs players tackle some of the top searched YouTube questions. A third new series is called Cubs Basics and Beyond, which is a fan-forward primer for all things baseball, Wrigley Field and team history.
Don't forget, the award-winning media staff releases new videos every Thursday, so be sure to stop by and visit. This is some fantastic stuff.
They Said It
"Front offices can go in slumps. Sometimes you go through Murphy's law period — everything that can go wrong does go wrong. The same thing can happen with front offices. I believe in this group. I believe in this organization. I think good times are ahead. There are cycles that come and go. The key is not to let the down periods cut at the fabric of the organization." – Theo Epstein
"You have to circle the wagons at some point. Because today's world, the way the speed of information and the way it's generated and the vitriol that's carried with it and the promotion of vitriol, you've got to get beyond that at some point and you have to insulate yourself." – Joe Maddon
Friday Walk Up Song
This is Radio Clash by The Clash. Cubs-Pirates and Maddon-Hurdle. Meaningful baseball is back.