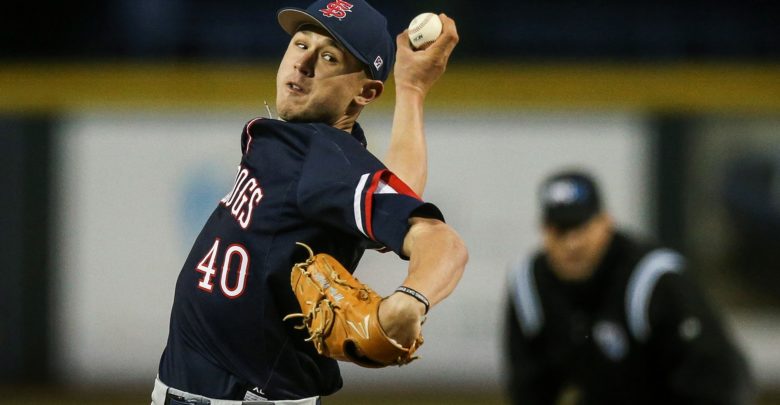 Top Cubs Draft Pick Ryan Jensen Should Forget His Debut Performance Quickly
During Thursday night's radio broadcast of the Eugene Emeralds' game in Salem-Keizer, announcer Pat Zajac announced that Ryan Jensen, the Cubs' No. 1 pick in the 2019 draft, would make his debut the following night. There would be no MiLB.TV service because that particular ballpark isn't set up for it, so radio and some imagination would have to do.
As a short-season low-A affiliate, Eugene is many draft picks' first taste of pro ball and it's the first place many Cub fans can actually set eyes on a prospect. Eloy Jiménez, Dylan Cease, and Ian Happ all got started there in 2015. Jose Albertos, Miguel Amaya, and Aramis Ademan showed up two years later. And this year we have already seen Chase Strumpf, Kohl Franklin, and Jeremiah Estrada take part in the annual rite of passage.
My expectations for Jensen's debut were tamped down quite a bit by the knowledge that he'd already thrown a full season (92 IP) at Fresno State and might only get 20 innings of work this summer. That means 1-2 inning stints that could stretch a little longer over the remainder of the season.
Still, it's hard not to be excited about a guy who can reach the upper 90's with his fastball since the Cubs haven't had too many of those who stuck around in the system. In preparation for the debut, I went back to MLB Pipeline to refresh some thoughts on what Jensen might be bringing to the table Friday night.
Jensen has arm strength to spare, with a fastball that sits from 94-98 mph. He's able to maintain his velocity deep into his starts, showing plenty of 97-98 mph heaters in the seventh and eighth inning of his starts. When he finds his arm slot, it can have plus life, but he often loses it, causing it to be flat and very hittable. His slider will show flashes of being an above-average pitch, but it's not consistent. He does have an upper-80s changeup with some fade that might be average, but he doesn't use it much. Jensen has a tendency to over stride at times, which makes it tougher for him to repeat his delivery and command the baseball.
Though Jensen's delivery is nowhere near as extreme as Tim Lincecum's, the comparison has been made because he's not a big guy (6-foot, 180 pounds) and gets high velocity from maximum effort. 
.@FresnoStateBSB RHP Ryan Jensen has only allowed one run through 7IP. Fast arm and holding 93-96 w/ very good arm side life, couple of 7s too. CH has been the superior secondary shown here @ 85-86 and works in a short slider @ 82-85. #mlbdraft pic.twitter.com/c0R7ypQCZe

— Vinnie Cervino (@vcervinoPG) March 30, 2019
Jensen's debut was, how should I say this…memorable but hopefully forgettable. He recorded only two outs as he issued three walks and allowed a single in his debut. He got two groundouts but gave up one run over 29 pitches, only 13 of which were strikes.
Jensen had a hard time finding the plate, something he did not have a problem doing in college as he had a 4:1 K/BB ratio. For the entire 2019 season, he walked less than two batters per start. Nerves and not pitching for two months probably contributed to the wildness, but there's plenty of time to get him back on track.
A such, there's no need to put too much stock into this outing unless it's to see how Jensen bounces back. It helps to have a short memory in this sport and the Cubs have said many times that they like to see how players respond to adversity. Once upon a time, another No. 1 pick debuted with five strikeouts in his first game. I think he turned out okay.