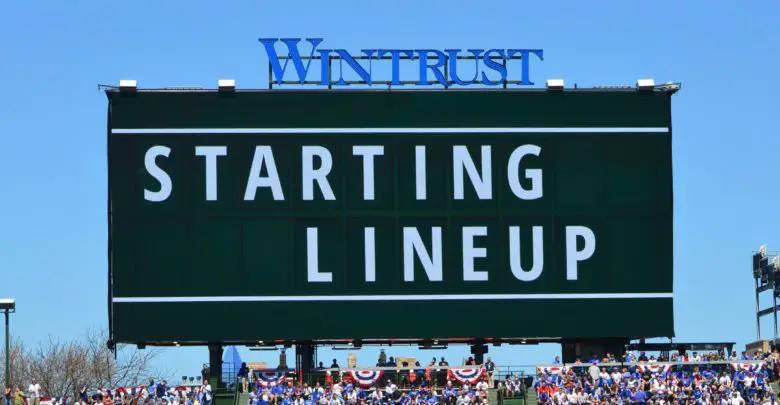 Chicago Cubs Lineup (7/16/19): García Bats 5, Maldonado Catching, Mills Makes 2019 Debut
As you might have expected, the Cubs are wasting no time throwing their new catcher into the fray. Martin Maldonado will form a battery with the recalled Alec Mills tonight, which makes sense on several levels. Not only does Mills not have a rapport with Victor Caratini, who has already started three of four games in the second half as Willson Contreras battled a foot issue, but it's also good to give the new guy a little run right away.
Kyle Schwarber leads off in left, Javy Báez is at short, Kris Bryant is at third, and Anthony Rizzo is at first. Robel Garcia is back in the lineup at second base, Jason Heyward is in center, Albert Almora Jr. is in center, and Maldonado rounds things out.
They'll be facing Anthony DeSclafani, against whom they have gone all Jekyll and Hyde in two previous games. After banging three homers and striking out just three times at Wrigley back in late May, the Cubs were shut down to the tune of no runs and seven strikeouts at the end of June. The Reds won both games, but DeSclafani is far from an ace and the Cubs should be able to get to him again.
As those starts indicate, he 29-year-old righty has been really streaky and is capable of excellent performances. That first game against the Cubs was the fourth straight in which he'd allowed four earned runs, prior to which he'd only allowed one earned over three starts. And he's given up just two runs — both on solo shots — with 13 strikeouts and three walks over his last two starts.
DeSclafani can get strikeouts with his big fastball and wipeout slider, but he's made plenty of mistakes over the plate this season and has given up a ton of hard contact in the air. A lot of that has come from lefties, who have compiled a .994 OPS and .408 wOBA against him, largely because he goes so heavy with the heater and uses his get-me-over curve as a backup.
Righties haven't fared nearly as well against a more varied pitch mix, but Bryant, Rizzo, and Schwarber all went yard in that first game and they all feel like good picks to do so again.
Mills is making his 2019 Cubs debut in place of Cole Hamels, who is rapidly working toward a return. The 27-year-old righty made two starts for the Cubs last season and appeared in seven total games, posting a 4.00 ERA that looked much worse than his 2.49 FIP in that time.
Though Mills hasn't looked great all season at Triple-A Iowa, he's capable of missing a bat or three and his 6-2 record is an indication that he's at least kept his team in most games. He's given up at least four earned in four of his last 10 starts, but he's allowed two or fewer in five more, so let's pull for the latter.
Mainly a fastball/sinker/change guy, Mills mixes in a slider and curve to change eye level and get swinging strikes. The slider and change worked really well for him last season in Chicago and he'll find success if he gets those going against a Reds team that hasn't really hit all that well this season. And hey, it won't matter if the Cubs' bats get hot. If.
First pitch is at 7:05pm CT on WGN and 670 The Score.
Here is tonight's #Cubs starting lineup. #EverybodyIn

Game preview: https://t.co/39tW21rNDW pic.twitter.com/2aLwH4bXfc

— Chicago Cubs (@Cubs) July 16, 2019