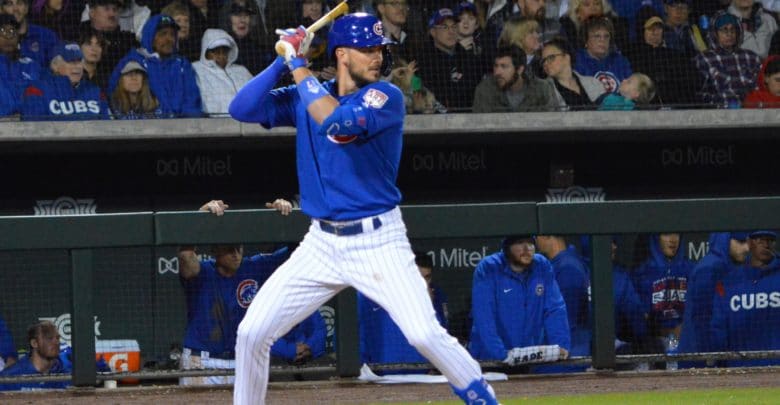 Kris Bryant Posting Freakish Numbers Over Last Month
Anyone can get hot over a series or even a week's worth of games, but it takes a really special player to post extraordinary numbers over the course of month or more. Kris Bryant is just such a player and we've pointed out on more than one occasion how he had made some adjustments and was getting ready to blow up in the second half.
He's done exactly that so far, hitting three homers and walking twice as frequently as he's struck out in the six games since his third All-Star appearance. But the monster production really started long before that.
Kris Bryant has a .462 OBP over his last 31 games.

— Christopher Kamka (@ckamka) July 17, 2019
Since June 9, a span of 132 plate appearances, Bryant is slashing .360/.462/.631 with a 184 wRC+ and a .455 wOBA. Every single one of his full-season numbers is better than during his MVP season, with only his .408 OBP lagging behind his career-best of .409 set in 2017. And remember, this is after he slashed .225/.335/.412 with a 105 wRC+ and .334 wOBA through his first 124 plate appearances.
We might also add in that he leads the majors in going first-to-third on singles, which is pretty cool. "But what about his numbers with RISP?" ask the folks who want to trade the Cubs' best hitter away or prove that he's somehow not an incredibly dynamic hitter. Seriously, though, I get it and so does KB. He knows he needs to be better in those situations.
The real problem is that he simply hasn't gotten many, as only 19 of his plate appearances during this current scorching stretch (14.4%) have come with runners in scoring position. That was largely a function of batting second behind Kyle Schwarber, who had barely been reaching at a .300 clip as the leadoff hitter.
Not only has Schwarber's OBP jumped up lately (.375 in second half), but Bryant has produced much better since being moved to the third spot in the order. Though it's far too small a sample to mean anything yet, Bryant is hitting .424/.537/.909 with a 259 wRC+ and .570 wOBA over 41 plate appearances in the three-hold, including a 151 wRC+ and .405 wOBA in six PAs with RISP.
You don't trade that, folks, not if you plan to compete.