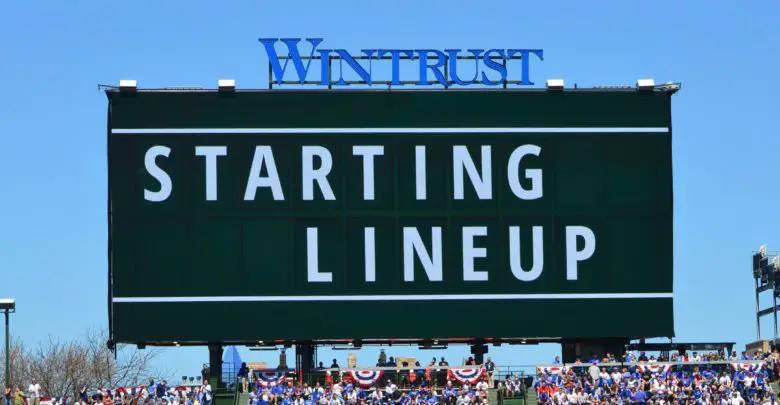 Chicago Cubs Lineup (7/23/19): Schwarber Leads Off, Almora Bats Fifth(?!), Garcia at 2B, Darvish Starting
Kyle Schwarber is leading off in left, followed by Javy Báez at short, Kris Bryant at third, and Anthony Rizzo cleaning up at first. Then, and this may have been a clerical error, Joe Maddon has Albert Almora Jr. batting fifth. Maybe he comes around, but Almora has been one of the worst offensive producers in the game over the last calendar year.
Jason Heyward is in right, Robel Garcia has taken control of the second base gig In part due to his monster home run last night, and Victor Caratini is catching.
They'll be facing Madison Bumgarner, who I was shocked to realize is still a week away from his 30th birthday. You could have told me the red-assed MadBum was 35 and I'd still have thought you were off by a year or more. It's probably because he was anchoring those Giants' World Series rotations from the jump and has the burly frame and surly demeanor more closely associated with a bygone era.
It also seemed as though the big southpaw was slipping a little as he approaches the end of his contract, though he's turned things on in a big way over the last month. After pitching to a 4.28 ERA with remarkably consistent 4.26 FIP and 4.23 xFIP marks that included 8.66 K/9, 1.96 BB/9 and 1.49 HR/9 over his first 16 starts, Bumgarner has been lights-out.
It looked as though things were heading in the opposite direction, especially after the grudge match with the Dodgers that saw MadBum surrender six runs on two homers over 3.2 innings. With the shame of having to fish Max Muncy's homer out of the ocean faded, the lefty has taken off. He's allowed a total of six runs (five earned) over his last five starts, posting a 1.55 ERA with 10.55 K/9 and 1.55 BB/9 in 29 innings.
Bumgarner's repertoire has remained remarkably consistent over the years and his use of the fastball, cutter, curve and change are all within 2% of his career averages. The same is true of his velocity, which has hardly changed at all, so the pitcher the Cubs will see tonight is nearly the same guy they have seen over the last decade. He's just a damn good pitcher who will force you to beat him.
As you might imagine from his extremely low walk numbers, Bumgarner throws a ton of strikes. But it's when and how he throws them that makes him successful, as he likes to jump ahead early before running and hiding, so to speak. Though Bumgarner's 68.7% first-pitch strike rate is higher than all but three other qualified starters, his 42.2% in-zone percentage ranks 40th. The moral of the story: Attack early strikes.
The righty batters may have to carry the load in this one since lefties have a .533 OPS and .227 wOBA against MadBum this season. Of course, no one has hit him well over the last several starts, so maybe we just toss out the splits and hope the Cubs can do that thing where they beat up on an established veteran ace.
Yu Darvish is on the bump for the visitors coming off of his first win at Wrigley and riding a wave of really competent pitching. Darvish has gotten the walks under control and is locating much better, avoiding the home runs that had plagued him throughout June. Lefty batters have pounded Darvish this season, so he'll need to avoid that bugaboo to keep the Cubs in this one.
First pitch is once again set for 8:45pm CT and will be broadcast by ABC-7 and 670 The Score.
Here is tonight's #Cubs starting lineup. #EverybodyIn

Game preview: https://t.co/RIbHWJ0orx pic.twitter.com/o8xS1e8kfH

— Chicago Cubs (@Cubs) July 23, 2019