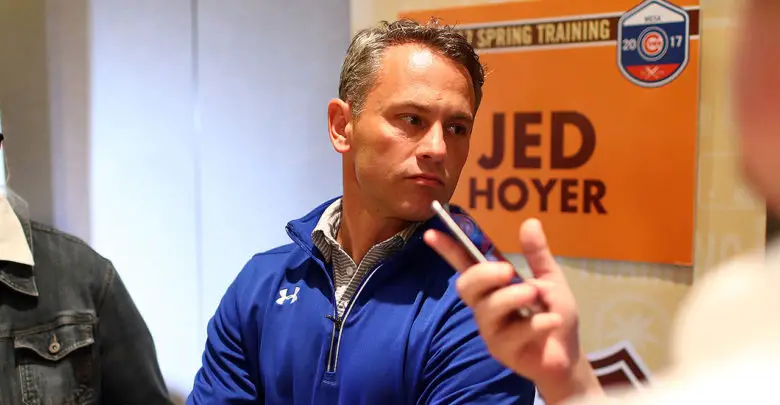 Hoyer on Happ's Role, Russell's Demotion, Bryant's Health, Zobrist's Return
Gosh, it's been kinda busy for day with no baseball, huh? Jed Hoyer joined 670 The Score's McNeil & Parkins to give the skinny on everything that's going on with the team and I transcribed the entire interview for those who missed. it.
Okay, that's a lie. All I did was embed a bunch of tweets below because transcription is torture reserved for one of lower rings of hell. Unless you're MLB.com Cubs beat writer Jordan Bastian, for whom it's a pleasurable endeavor. What a weirdo.
See below for tweets on the finer points of Hoyer's interview, along with a little commentary on some of the various topics covered.
Ian Happ
The news of Happ's promotion broke before the Cubs had expected, so Hoyer was not willing to announce the corresponding move on the air. Initial speculation was that one of David Bote, Albert Almora Jr., or Daniel Descalso would lose a roster spot, with Almora looking like a likely candidate when Hoyer said Bote could back up shortstop.
It's likely to be a reliever, though, probably Tim Collins. Happ will play primarily center field with the possibility of manning second base, depending on the matchup. So pretty much what he's always done.
Jed Hoyer is proud of Ian Happ's attitude, demeanor and the work he put in at Triple-A Iowa: "I give him a lot of credit for staying patient and true to what we talked about."

— 670 The Score (@670TheScore) July 25, 2019
Ian Happ will play the outfield and "potentially second base" depending on the matchup for the #Cubs, Jed Hoyer says.

He will primarily play in the outfield.

— 670 The Score (@670TheScore) July 25, 2019
Addison Russell
Hoyer didn't feel like driving a bus over the guy, so this is pretty much what you could expect. Nothing to see here.
Jed Hoyer pushes back at the theory that Addison Russell doesn't care enough but adds, "The mental mistakes, we can't have. Not knowing signs, we can't have."

— 670 The Score (@670TheScore) July 25, 2019
#Cubs fans should expect Addison Russell back at the big league level at some point?

Jed Hoyer: "Yeah, that's certainly the plan."

— 670 The Score (@670TheScore) July 25, 2019
Kris Bryant's health
There were some fears that Happ's promotion was related to an impending IL stint for Bryant, but that's not the case. Just as the slugger told reporters after leaving Wednesday's game early, the knee is fine and he expects to be right back in there Friday.
Kris Bryant (knee soreness) "should be fine" and the #Cubs expect him to play at Brewers tomorrow, Jed Hoyer says.

"We shouldn't be ringing the alarm bells," he adds.

— 670 The Score (@670TheScore) July 25, 2019
Ben Zobrist
Hoyer echoed Joe Maddon's thoughts on Zobrist, saying that he was "cautiously optimistic" about a return. An earlier report said the Cubs were targeting September 1 roster expansions, so we'll see.
Jed Hoyer with the latest on the absent Ben Zobrist: "We're cautiously optimistic that he will come back."

— 670 The Score (@670TheScore) July 25, 2019
Brandon Morrow
A potential x-factor down the stretch, Brandon Morrow has been working his way back for months. Hoyer remains hopeful, but only to a certain extent.
Do #Cubs expect Brandon Morrow to pitch for them this season?

Jed Hoyer: "I hope. And I understand that hope is not a plan."

— 670 The Score (@670TheScore) July 25, 2019
I was going to include something on Daniel Descalso, but that has now earned a whole post all to itself. Enjoy.