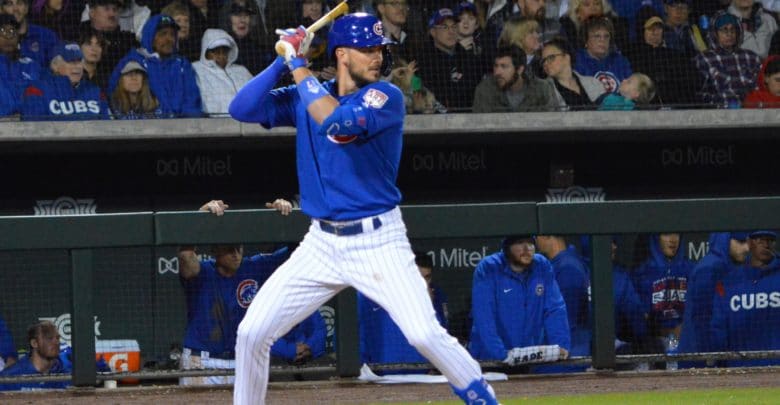 Kris Bryant Not Concerned About Knee That's Been Bugging Him Since ASG
The wince said it all. After going down on strikes in the 5th inning of Wednesday's game, Kris Bryant made the kind of face normally reserved for when he loses at his favorite board game. It wasn't just the strikeout causing the sour look, either. Bryant had banged his right knee on a diving attempt earlier in the game, but explained that the discomfort has actually been there for a little while.
"It's just been something since the All-Star break that's been kind of bugging me," Bryant told reporters after the game. "Way back then, I think I was just sliding a bunch and I jammed it into the ground but now it's just lingering. I was just taking some swings in the cage and my cleat got stuck on one of the turf mats down there.
"We did a lot of treatment after I came out and it's not something I'm concerned about, just something I'm going to battle through and be fine."
You know you're talking to a Millennial when he refers to two weeks ago as "way back then," amirite? In all likelihood, it's one of those things Bryant was actually dealing with even before the break, it's just that he only noticed it when he got the chance to slow down a little.
If his numbers are any indication, he's serious about the knee not being an issue moving forward. Since moving to the third spot in the order, Bryant has slashed .375/.470/.750 with a .494 wOBA and 210 wRC+ that includes five home runs in 66 plate appearances. The numbers look less supernatural in 52 plate appearances since the break, but they're still well ahead of his 2016 MVP levels.
Yeah, but what about his hitting with RISP? Glad you asked. Over that same 66-PA sample, Bryant has a 1.727 OPS and 332 wRC+ when batting with runners on second and/or third. And though we're only talking 11 such plate appearances, his full-season marks of an .887 OPS, .373 wOBA, and 130 wRC+ should be enough to quiet the peanut gallery.
Yeah, you're right, nothing will ever be good enough for that crowd.
Anyway, the point is that Bryant has been hitting better than ever even while dealing with the knee issue, so there's no reason to believe he can't continue to do so moving forward. The Cubs are going to need him to perform at or near that otherworldly level over the next few series too, since they face the Brewers and Cardinals for nine straight starting Friday.