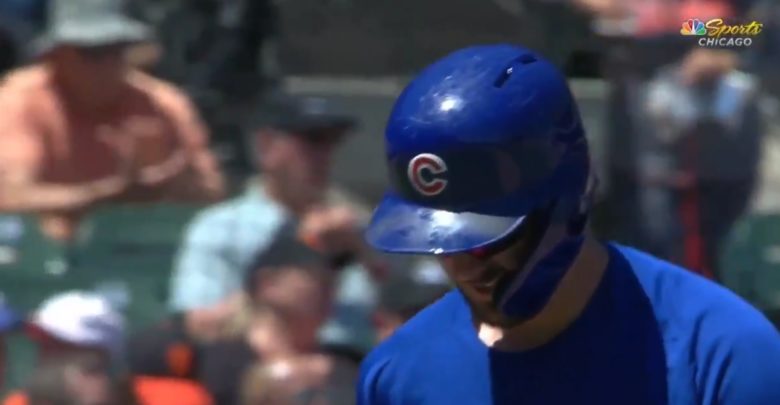 Are We Worried About Kris Bryant's Knee or Nah?
Remember when we thought the trade deadline would produce all kinds of excitement as contenders made moves to strengthen their respective cases? Maybe that still happens, but with a few hours to go we're looking at the Mets and Reds as the splashiest teams around. Which, yeah.
So with little else to discuss and the Cubs playing like a sun-backed cocktail of bird crap and bug goo on your windshield that all the washer fluid on Earth only serves to smear around, I turn to Kris Bryant's recent performance. Or maybe I should have just left it to Brett Taylor, who appears to have nailed it with this this headline: Kris Bryant's "Looked Bad" Since the Knee Tweak, But, It's Like, Dude, It's Four Games, Chill Out.
On second thought, I'm going to go ahead and add my two cents to the ante anyway. It's easy to look at his last few games and freak out a little at 2-for-17 with just two singles and a walk against seven strikeouts (38.9%), but Bryant wasn't necessarily scorching to start the second half. His .888 OPS, while quite solid, was buoyed by a .500 BABIP that was way too high for even his above-average career mark there.
And striking out 10 times over his first 25 plate appearances (40%) in the second half tells us something was amiss out of the gate. Bryant admitted as much, telling reporters in San Francisco that the knee trouble actually started during the All-Star break and that it was exacerbated when he caught a cleat on a turf mat prior the Giants game on July 24.
So is Bryan't right knee the new left shoulder? On one hand, we could look at the Robel Garcia-esque strikeout rate and start worrying about what it means for the rest of the season. On the other, we could say that there simply isn't enough data from which to draw conclusions. And while it does appear that the knee is bothering him a bit, it's not enough to keep him out of the lineup.
This is another one of those things that comes up over the course of the season, whether it's Bryant or anyone else, so the hope is that treatment and time serve to get it right as quickly as possible. One hot week will ensure no one will remember this knee thing at all, and Bryant is certainly capable of that at any point.
I know some of you are naturally jumping to the alternative, but we're going to leave this off on a confidently hopeful note.