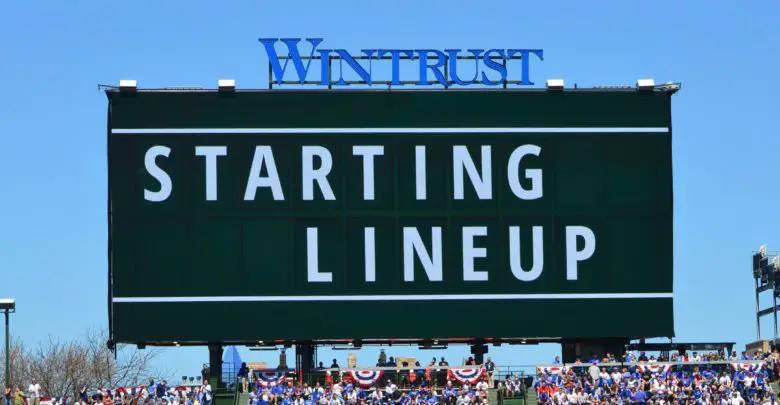 Chicago Cubs Lineup (8/1/19): Castellanos in RF, Kemp at 2B, Lester Goes for Series Win
With all the new toys waiting for him, this must've felt like Christmas morning for Joe Maddon. Jason Heyward is back in the leadoff spot with a righty on the mound, followed by Nicholas Castellanos batting second and playing right in his Cubs debut. He's better against lefties, but you gotta get him some run right away.
Kris Bryant bats and plays third, Anthony Rizzo is at first, Javy Báez is at short, and Willson Contreras is catching. Then it's Kyle Schwarber in left and contact specialist Tony Kemp rounding things out at second base. This looks like a more balanced lineup, so we'll see if it can close this roadie with a W.
The Cubs are facing righty Jack Flaherty for the fourth time, the first three of which have been a mixed bag. They've scored nine runs on three homers and have failed to allow Flaherty to complete six innings, but they struck out 17 times over the first two games and not at all in the third. That inconsistency has marked his season, though he appears to be settling in lately.
Flaherty's repertoire features a mid-90's heater and a biting slider, with a sinker that has been really good despite relatively limited use. A strike-thrower with solid control, Flaherty is prone to fits of wildness and can rack up walks in bunches if he falls out of rhythm.
He's also given up 21 homers in just over 114 innings, so his mistakes have been punished. The Cubs have employed a good approach against Flaherty to this point, jumping on early strikes and taking their walks when they can, but they'll really need to be on point tonight because he's been much better at home this season.
That is particularly true against right-handed batters, who've posted just a .538 OPS and .231 wOBA against Flaherty at Busch Stadium. Lefties are at .761 and .312, so it may be on Rizzo and Schwarber to bring the thunder in this one. It'd be nice to get that going early since, despite a win last night, the offense was once again held in check.
Jon Lester is on the mound with a chance to earn a road series win for what feels like the first time in forever. He should be fully recovered from the illness that kept him out of a scheduled start in San Francisco and then led to his early departure in Milwaukee, so expect him to stay out as long as he's sharp. He was anything but in his last start against St. Louis, allowing four earned and giving up a pair of homers.
That just means he'll be nails in this one, right? He may want to make sure he keeps the ball on the ground, because that outfield configuration could make things interesting.
First pitch from St. Louis is at 6:15pm CT on NBC Sports Chicago and MLB Network (out-of-market) with 670 The Score on the radio call.
Here is tonight's #Cubs starting lineup in St. Louis. #EverybodyIn

Stream on @NBCSChicago: https://t.co/rGCuW1XI7C pic.twitter.com/uUHZIjKua1

— Chicago Cubs (@Cubs) August 1, 2019