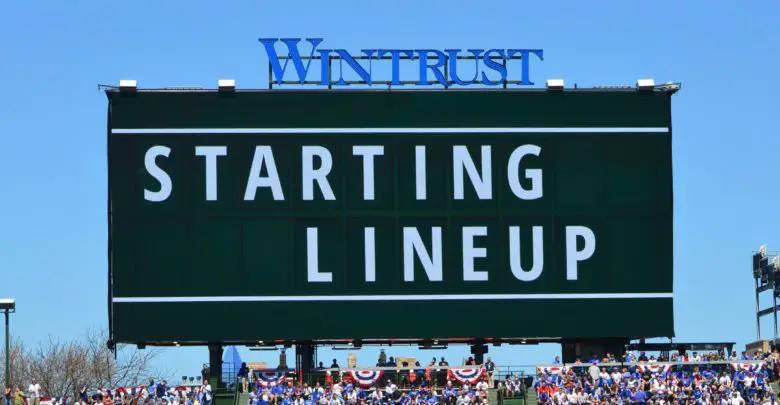 Chicago Cubs Lineup (8/6/19): Big Nick Energy in LF, Big Vic Energy Catching, Lester Pitching
Jason Heyward is leading off again, this time in right field, with Nicholas Castellanos in left, Kris Bryant at third, and Anthony Rizzo at first. Javy Báez is at short, Albert Almora Jr. is in center, David Bote is at second, and Victor Caratini rounds things out behind the plate.
They'll be facing former Cub Brett Anderson, who's having his best season since 2015 with the Dodgers. A big part of that is lighting several citronella candles to ward off the injury bugs that have bitten him pretty regularly over the past few seasons. After making a total of 33 starts since 2016, Anderson is making his 23rd of this season and has gotten decent results.
His game is all about getting grounders, since he misses very few bats. Like, fewer than pretty much every other pitcher in the game. Among 74 qualified pitchers, Anderson's 4.54 K/9 is more than a full strikeout less than the next-lowest (Zach Davies, 5.72). And while his 7.6% swinging-strike rate is slightly better than Davies' 7.5%, it's still among the five lowest in the game.
Anyone wanna guess which other former Cub is dead last with a 7.0% mark? You can find the answer below the lineup tweet.
Back to Anderson, whose whole game is getting grounders with a sinker-heavy repertoire that also features a slider, change, cutter, four-seam, and curve. Interestingly enough, the pitch that makes up 40% of his offerings actually grades out the worst of those, with the change, four-seam, and cutter all producing the most value.
A lot of that is because Anderson's whole game is getting contact where he wants it rather than trying to get strikeouts. As such, he works pretty efficiently because he's not working many deep counts. Since the start of June, Anderson has a minuscule 1.49 BB/9 rate that includes just two walks in his last five starts.
This is either going to be one of those games in which the Cubs absolutely go off and make Anderson look silly or he does the opposite to them. And based on their struggles against soft-tossing contact pitchers, there's a strong possibility of feeling major frustration while watching this. Even if the Cubs get over on Anderson, it may not be entirely fun.
With Big Nick Energy and Big Vic Energy in the lineup, it's only fitting that Jon Lester would be on the mound for this one. His performance has been a mixed bag over the last few starts, so maybe he'll bounce back with a solid start tonight.
First pitch is at 7:05pm CT on NBC Sports Chicago+ and MLB Network (out-of-market), with 670 The Score on the radio call.
Here is tonight's #Cubs starting lineup. #EverybodyIn

Stream on @NBCSChicago: https://t.co/rGCuW1XI7C pic.twitter.com/OpKfkjUxBE

— Chicago Cubs (@Cubs) August 6, 2019
For those of you wondering, the lowest swinging-strike percentage in MLB this season belongs to Jake Arrieta.