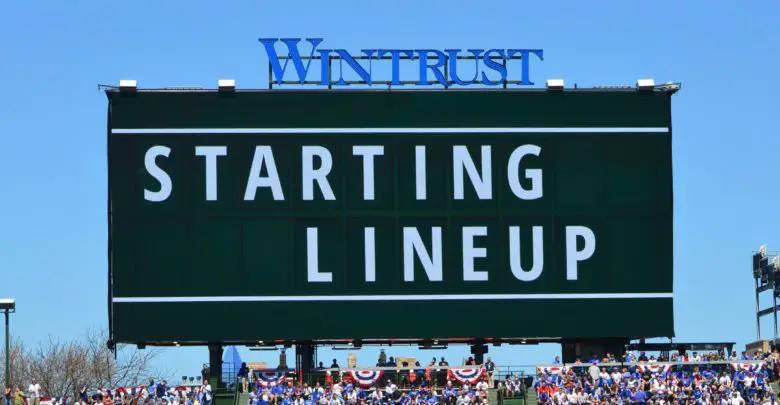 Chicago Cubs Lineup (8/10/19): Almora Leads Off, Lucroy Catching, Hendricks Pitching
Albert Almora Jr. is leading off in center as Jason Heyward gets a rest, followed by Nicholas Castellanos in right, Kris Bryant at third, and Anthony Rizzo at first. Javy Báez is at short, Jonathan Lucroy is catching, and Kyle Schwarber is in left, and David Bote is at second.
While there are probably better ways to scream "Big boy time!" than batting Almora first, the outfielder has been hitting better over the last two weeks or so. That includes a 1.375 OPS and 231 wRC+ in his last 17 plate appearances against righties (small sample alert!), but he hasn't walked in that time and leadoff isn't a good spot for him beyond fill-in duty.
They're going up against Sonny Gray for the fourth time this season, but that doesn't necessarily mean they're familiar with him. The 29-year-old righty manipulates his pitches to create different variations, much like we saw with Trevor Bauer last night. Not only that, but Gray has altered his pitch mix a great deal in the three previous games.
Part of that could be due to the nature of pitch tracking and the way throws, but he threw the slider only 9% back on June 28 after going to it 34% on May 15. His curveball frequency was nearly the opposite in each game, so, again, could just be tracking. The slider was back up to 40% when he faced the Cubs on July 17, with the curve back at moderate usage, but Gray had ditched the changeup entirely.
That ability to change his style has allowed him to achieve really consistent results against the Cubs despite facing them somewhat frequently. But the issue for Gray has been costly mistakes that have led to the Cubs hitting five homers despite a .175 average and .188 OBP over 17.1 innings. He hasn't really been able to go deep, either, so that's led to the Reds' meh bullpen getting a lot of run.
After a really poor showing last night, the Cubs should be primed to break out in this one. At the very least, they need to go into it looking to punish those mistakes Gray is bound to make. There may not be many, though, so limiting the Reds will be key.
Enter Kyle Hendricks, who has really hit his stride after struggling a bit when he returned from the IL near the end of the first half. The soft-tossing righty has changed his tactics up this season, favoring more high fastballs to combat big swingers and generating better numbers as a result. Watch for that against a lineup that features a few big swingers.
First pitch is set for 6:10pm CT and can be seen on WGN or heard on 670 The Score.
Here is tonight's #Cubs lineup in Cincinnati. #EverybodyIn

Game preview: https://t.co/WAvoSuEUVB pic.twitter.com/7mdDljMD51

— Chicago Cubs (@Cubs) August 10, 2019