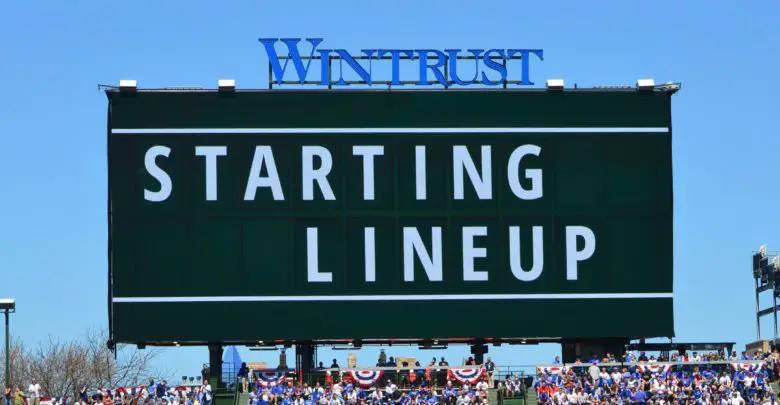 Chicago Cubs Lineup (8/14/19): Kemp Leads Off, Happ in CF, Hamels Makes First Philly Start as Visitor
The Cubs were initially going with a more familiar lineup that saw Jason Heyward leading off in center, but had to change when he was scratched due to left knee inflammation. Tony Kemp has taken over in the leadoff spot and will be at second base, Nicholas Castallanos is in right, and Kris Bryant is at third.
Anthony Rizzo is at first, Javy Báez plays short, and Kyle Schwarber is in left. Then it's Ian Happ, who moved from second to center, with Victor Caratini catching to round out the order.
You know what's fun? When the Cubs get absolutely nothing going against a mediocre junk-ball pitcher and then have to face the staff ace. Then again, we've seen with Iván Nova and Lucas Giolito that it can work out pretty well. So maybe that means the Cubs have a big easy time when they face Aaron Nola tonight.
The 26-year-old righty is not having as good a season as in either of the last two years, largely due to command and control issues. Not only is he walking significantly more batters than at any point in his career, he's also got a lower strikeout percentage. Oh, he's also giving up more homers.
That could have something to do with lower seams or a more centered "pill" at the core of the ball, but it may simply be a matter of Nola's pitch mix and location. He's drastically reduced the use of his sinker since 2016, shifting it from his most-thrown pitch to his least as he opts instead for far more curveballs.
Always a staple of his repertoire, the curve has accounted for nearly 36% of Nola's total offerings and currently stands as his only pitch to generate positive value. What's interesting about his overall usage of the curve, and really all of his pitches, is that it remains nearly the same regardless of batter handedness or count.
Though Nola's always been pretty consistent in that regard, the numbers are surprisingly static this year. That could be why he's not generating as many swings and misses, despite a career-high 10.14 K/9 that might make you think otherwise. His 10% swinging-strike rate is his lowest since 2016, as his his 61.2% first-pitch strike rate. What's more, his 40.1% zone rate is far lower than at any point in his career.
As a result, he's pitching less efficiently and is lasting about half an inning less per game on average than he did last season. With all that in mind, every Cubs MUST work patient plate appearances and force Nola to execute at a high level.
Lefties boast 91 more OPS points (.763 to .672) than righties, but the overall splits aren't very dramatic and his K/BB rate is almost identical based on batter handedness. He's better at home too, which isn't really good news for a Cubs team that has been so bad on the road. Again, they need to stay with a solid approach and trust that it will work for them.
Cole Hamels has only faced his former team once, back on May 22 at Wrigley, which means this is the first time he'll take the mound in Philly since being traded away at the 2015 deadline. That's sure to be a heady experience for the former ace, but let's hope it's not enough to throw him off his game. After an excellent effort against the Brewers in his first start back from the IL, Hamels looked lost in Cincy last week.
The Cubs managed to win despite the southpaw's poor effort, but they can't afford for him to be as dull this time around. He's facing an offense ranked in the bottom half of MLB when it comes to hitting lefties, so it's just a matter of keeping his pitches off the heart of the plate and getting into a groove early.
First pitch from Citizens Bank Park is set for 6:05pm CT, but things could get dicey with scattered thunderstorms forecast from the late afternoon through the evening. That Always Sunny show is full of crap, huh? NBC Sports Chicago has the TV coverage, so prepare yourselves for reruns of Beer Money should the rains come. Or you can tune in 670 The Score for the radio broadcast.
Jason Heyward has been scratched from the #Cubs lineup due to left knee inflammation.

He is day-to-day. pic.twitter.com/ARWat93BXf

— Chicago Cubs (@Cubs) August 14, 2019