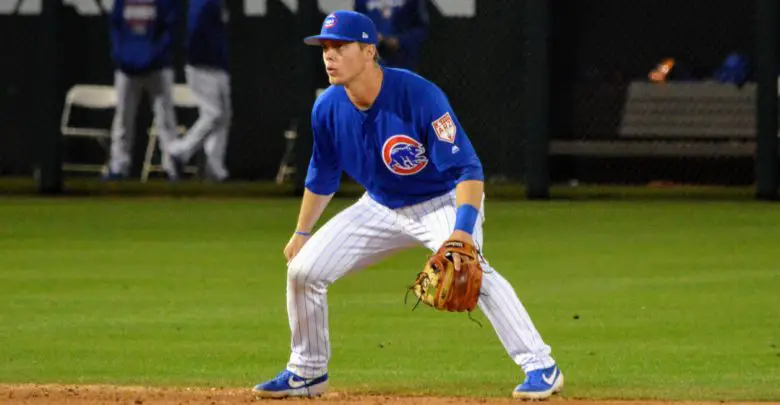 Cubs Farm System Ranked No. 29 in MLB, Still Better than Brewers
The Cubs' farm system, once the envy of nearly every organization, has seen its prowess tumble in recent years as elite talent has either matriculated to Wrigley Field or been traded away. That attrition thinned out the upper echelon of prospects to the extent that the latest rankings from Baseball America ($) list the Cubs at No. 29, ahead of only the Brewers.
The bottom 5 farm systems in baseball:

26. Rockies
27. Rangers
28. Mets
29. Cubs
30. Brewershttps://t.co/OA6AVrsYAA

— Baseball America (@BaseballAmerica) August 19, 2019
Your first instinct may be to indict the organization's scouting and development staff, and they'll be the first to tell you their strategies have failed to produce big-league talent at an acceptable rate. More specifically, the Cubs have admitted to changing tack when it became obvious that their more cautious approach with pitching prospects wasn't paying off.
The BA rankings could be seen as proof that the changes aren't paying off, but that such an assessment is short-sighted. While the upper reaches of the farm are clearly devoid of the type of impact talent the Cubs seemed to be promoting or trading away every other week, a groundswell of pitchers and position players is starting to make some noise. Those of you who read Greg Huss's weekly farm reports are no doubt aware of that already.
Players like Nico Hoerner, Miguel Amaya, Brailyn Marquez, Jack Patterson, and Brennen Davis, among others, are leading the charge to once again litter various top-100 lists with Cubs prospects. Given their respective talent levels and current development paths, it's not at all inconceivable that some of them will be in Chicago next season. At the very least, the next wave should start hitting the shores of Lake Michigan in 2021 when the Cubs will need to make some big decisions.
As those players get closer, we'll see that system ranking begin to rise accordingly. It should probably be a little higher than already is anyway, which is why having the Cubs so low feels almost like a strategic play. Not that subjective rankings have ever been manipulated to generate buzz or anything.
Even if this list was made with zero ulterior motives, it really doesn't matter until the prospects who fuel the rankings end up making it to the show. It's been a couple years since Theo Epstein first started having to address questions about the farm, but his comments from July of 2017 still ring true.
"I kind of laugh when people start to criticize the state of the farm system because the entire goal of a farm system is not to win Midwest League championships or Southern League championships or PCL championships," Epstein explained. "The goal of the farm system is to get your players to the big league level so that they can win a world championship and take some of your prospects and trade them for big league players so you can win championships."
Then he pointed to the scoreboard before dropping the mic.
"The best part of our farm system right now is at the lower levels, where the talent is emerging, and at the big leagues, where they're all wearing rings."