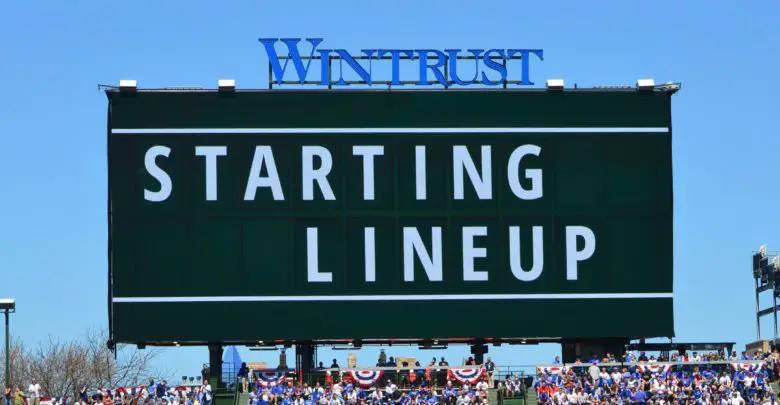 Chicago Cubs Lineup (8/20/19): Heyward Leads Off, Lucroy Catching, Kemp at 2B, Hamels Starting
Jason Heyward leads off in center, the no-longer-drowning Nicholas Castellanos plays right, Kris Bryant is at third, and Anthony Rizzo is at first. Then it's Javy Báez at short, Kyle Schwarber in left, Jonathan Lucroy behind the plate, and Tony Kemp at second.
Those hitters' eyes will be anything but little when they face Tyler Beede tonight. The 26-year-old righty has given up 17 homers in just 82.2 innings and his 5.77 ERA doesn't appear to be a fluke, so the Cubs should be able to tee off. And after generally failing to do much against a string of soft-tossers, facing a guy with a touch more velo is a good thing.
Beede will sit 94-95 with the fastball, which he's throwing more since abandoning the sinker. Not that it's really helped much, since his four-seam has been tagged this season. Same goes for his changeup and cutter/slider, both of which have produced negative value. The curve has been his best pitch by far, but it makes up less than 14% of his offerings.
Though he does pitch to moderate platoon splits, Beede isn't exactly fooling anyone. As such, the Cubs may want to jump on the first-pitch strikes he throws about 66% of the time. That would put him among the top 15 in MLB if he had pitched enough to qualify, though he'd rank only 46th by working in the zone 41% of the time. So he'll try to get ahead early and nibble from there.
That would explain the high home run total and the 3.92 BB/9, both trends the Cubs should be able to exploit tonight. This one has all the markings of a vintage offensive performance for Joe Maddon's squad, at least on offense.
Cole Hamels has not looked good at all over his past two starts, leading to plenty of questions about whether he's truly recovered from a left oblique injury that sidelined him for a little over a month. Some of that was informed by his similarly rocky return from a right oblique issue when he was with the Rangers.
But Hamels didn't push himself back this time like he did in the earlier instance, so poor health doesn't seem to be the issue. It's obvious there are some mechanical flaws dragging his performance down, as he's leaving way too many pitches over the plate. Hamels admitted as much ($) to Sahadev Sharma of The Athletic while discussing how he and the pitching coaches are working to get his proper form back.
"It's just getting back to the right type of extension, release point and everything will kind of follow," Hamels said. "There's timing. When you get into a load position, you have to have the right timing so your hands can come out of the glove and stay behind the ball. And I think I just have a lot of moving parts that are just a little bit behind what I'm normally accustomed to. It obviously adds up by the time the ball gets to the plate. It's a big difference."
Ideally, he'll have some things figured out by the time he throws the first pitch at 7:05pm CT on NBC Sports Chicago+ and 670 The Score.
Here is tonight's #Cubs starting lineup at Wrigley Field. #EverybodyIn

Stream on @NBCSChicago: https://t.co/rGCuW1XI7C pic.twitter.com/kd6CaAvEfJ

— Chicago Cubs (@Cubs) August 20, 2019