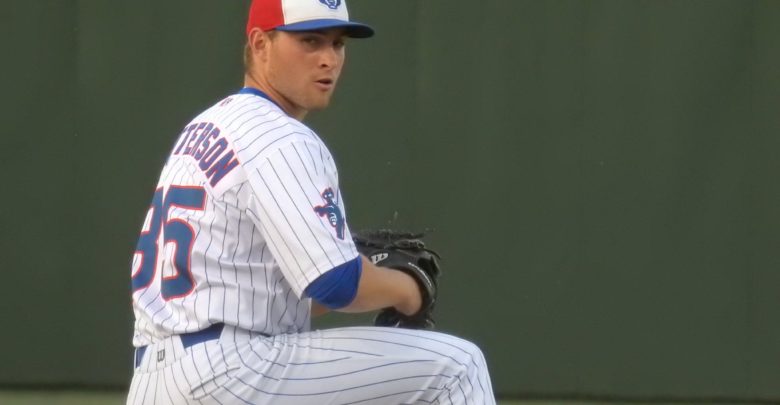 Chicago Cubs Weekly Farm Report (8/20/19): Iowa Has Chicago Feel, Top Pitchers Shine
There is quite a bit of craziness in the system these days, from the playoff races in South Bend and Myrtle Beach to the big time names playing in Iowa to the high-profile prospects getting promoted at the lower levels. Rather than waste time setting it up, let's get right into what happened down on the farm over the last week.
News in the System
It was a big week for some of the top prospects in the system, with four of the biggest arms all throwing on Tuesday. Adbert Alzolay, Jack Patterson, Brailyn Marquez, and Kohl Franklin all got the ball for their respective teams and threw a combined 17.2 innings, giving up just one earned run on 12 total hits. They struck out 19 while only walking three.

Chase Strumpf was the first 2019 draft pick to make it to Eugene and now he has finally made his way to South Bend the finish off the year. He promptly homered in his second game in the Midwest League.

We found out last week that 2017 draft pick and teenager Jeremiah Estrada will miss the remainder of this season with elbow problems. The righty will look to bounce back next year, assuming he will be healthy and ready to start the season in Eugene after being eased into things in Arizona.

Baseball America released their list of the top farm systems in Major League Baseball and unfortunately they ranked the Cubs system at number 29. I would argue all day against that, as I haven't seen too many organizations with four top-100 level players and plenty of depth to boot that have been ranked 29 in the past.
The Growing Cubs podcast crossed over into some MLB territory this week as Greg and Jimmy discussed potential September call-ups as we sit just a couple weeks out from that time of the year.
Triple-A Iowa Cubs
It was a rough one for the I-Cubs a week ago, as they went 2-4. That brings their division lead down to seven games, but that lead over Memphis seems to be perfectly safe with a couple weeks to go. They'll be home all week this week as they take on San Antonio and Nashville.

Colin Rea is good at baseball. The vet made another terrific start last week, going seven innings and not giving up a run over five hits. His 3.50 ERA this season leads the entire Pacific Coast League.

Between rehabbers and underperformers at the major league level, the Iowa lineup has featured some bigger names recently. Ben Zobrist made a few appearances last week as he continues to get into baseball shape. Daniel Descalso joined him in his rehab, homering in back-to-back days. Albert Almora Jr and David Bote also recently sent down to Des Moines so there sure are plenty of impressive names manager Marty Pevey gets to pencil in each day. 
Double-A Tennessee Smokies
The Smokies did not fare any better than Iowa last week as they also went 2-4. Unlike the Triple-A affiliate, Tennessee is way out of any sort of playoff hunt. On the bright side, they are just one game out of no longer being in last place in the division. They hit the road to take on Jackson before coming back home for a set with the Birmingham Barons.

Cory Abbott followed his 10-strikeout performances a couple of games ago with an absolute gem this past week. He struck out a career high 12 batters in his 6.2 innings. He only gave up one hit and no runs crossed the plate on his watch.

Michael Rucker continued to turn his season around with an impressive 4.1 innings out of the pen. Opponents hit just .133 off of him last week and he struck out 33.3% of the batters he faced without giving up a run.

It was good to see Jared Young turn in a good looking week after a rather disappointing season. He slashed .357/.471/.429 with a double.
High-A Myrtle Beach Pelicans
The Birds turned in another impressive week in the middle of an intense playoff race. They went 4-2, pulling to within two games of the Wild Card spot. The are at home against Carolina before hitting the road to face off with Salem to end this week.

Bryan Hudson made his way back from the IL and tossed three innings of one-hit, one-run ball. He might be an interesting choice for the Arizona Fall League this year.

Chad Hockin is another guy who might find himself in Mesa after the regular season is over to make up for some lost time this year. He struck out three and did not allow a run on a hit in his 2.2 innings out of the bullpen.

Stay hot, Miguel Amaya! In addition to his two doubles and .858 OPS, the backstop only struck out once in 19 plate appearances while walking 31.6% of the time.

Cam Balego played in six games last week and was hit by a pitch in four of those games. He leads the organization in that category, as he has been hit by a pitch 18 times this year.
Low-A South Bend Cubs
South Bend also hung tight last week in the midst of a playoff race. The boys from Indiana went 4-2 and now sits just one game back of first place. They hit the road for a series with Great Lakes and then head back to Four Winds Field to take on Bowling Green.

The starting pitchers last week were outstanding. The somewhat irregular group of Faustino Carrera, Derek Casey, Cam Sanders, Zach Mort, Peyton Remy, and Carlos Vega made up the six starts last week, going 32 total innings.

The starters combined for a 0.84 ERA and struck out 24 batters. Even without the bats going full-force, the pitchers still carried the load for this team.

Clayton Daniel was the top bat on the team last week as he came back from injury. He homered and scored seven runs, but most importantly he did not strike out in his 24 plate appearances.
Short Season Eugene Emeralds
The Ems also finished above .500 last week, playing a full slate of games and going 4-3. They are tied for first place in the division in the second half of the season and face off against Hillsboro at home before heading to Everett to play the Aquasox.

Michael McAvene made two brief starts last week, totaling five innings and giving up two hits without allowing a run. He struck out seven and only walked one, the first batter he faced all week.

Brandon Hughes was lights-out in the bullpen, striking out seven in his four innings of work. It was enough to earn himself a promotion to South Bend for the second time in his career, although last time he made the leap it was as an outfielder.

Josh Burgmann seems to be somewhat of a forgotten man from the 2019 draft class, but he is making sure it won't be that way for long. He struck out five of the nine batters he faced in his nearly perfect three innings start last week.

Edmond "Captain" Americaan OPS'd an absurd 1.131 last week. He doubled four times, tripled twice, and stole home to boot.