Tyler Chatwood's Increased Efficiency Earning Him More High-Leverage Situations
This year's version of Tyler Chatwood is different from the would-be starter whose stuff was supposed to have played so well away from Coors Field. After a disastrous debut campaign in Chicago, the righty has gotten better results by simplifying his mechanics and shifting his pitch mix. For the majority of 2018 and early months of the 2019 season, he threw more four-seamers than sinkers. But since April, that has flipped
Chatwood's increased sinker usage has coincided with 40% more swings, which is a major reason for his reduced walk rate (2018: 8.25 BB/9; 2019: 4.55 BB/9). That has in turn made him more efficient and has kept Joe Maddon from having to come get him after multiple walks.
By looking closer into Chatwood's mechanics, we clearly see his release point has been more consistent in 2019. His horizontal release point was all over the place by the end of the 2018 season and he was drawing significantly fewer swings as a result. But so far in 2019, we see that his mechanics are "tighter," allowing him to better repeat his delivery and achieve the desired results.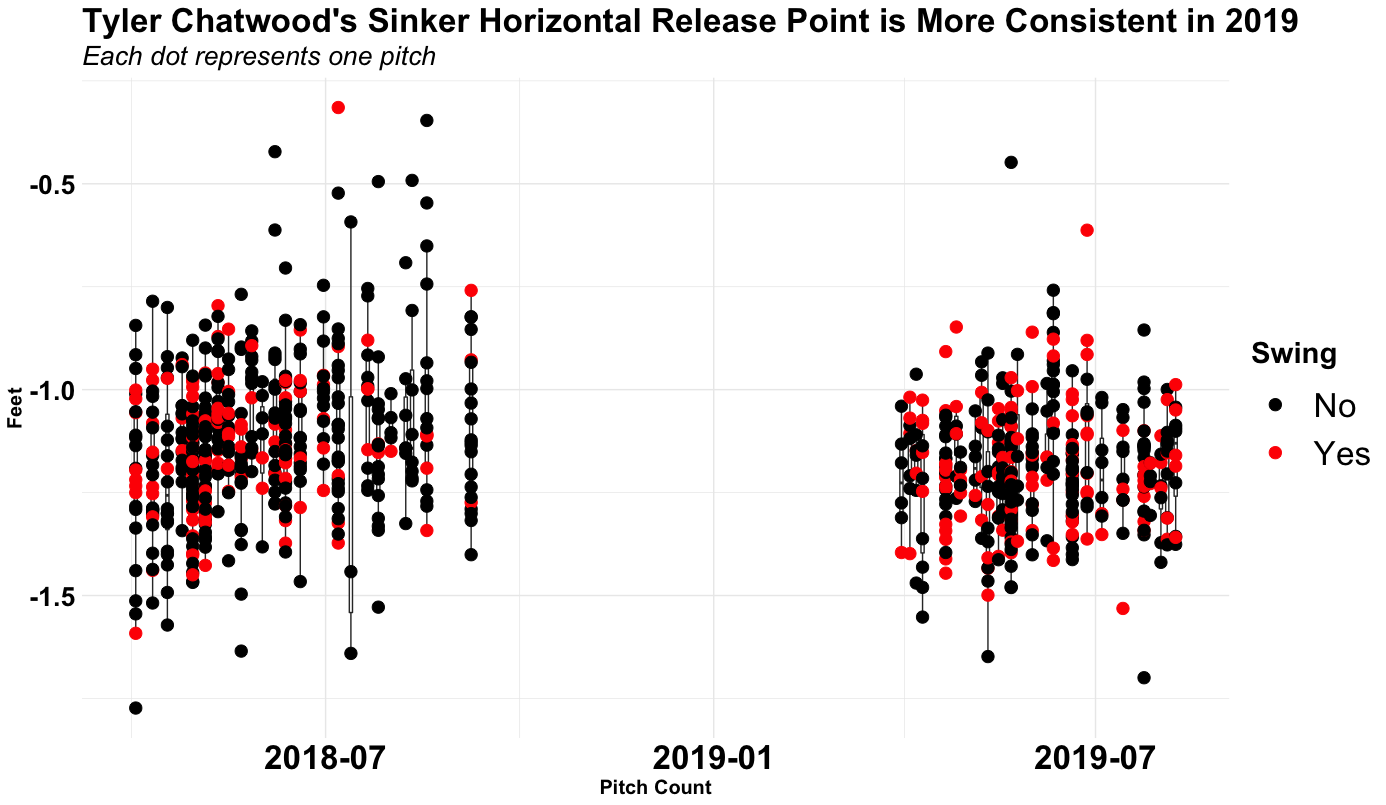 Chatwood's sinker efficiency has been a major reason for his 3.79 ERA in 59 innings. Personally, I'd love to see him get more multi-inning opportunities going forward because his mechanics look sharper and his confidence appears off the charts. We've seen that in his clutch production this season. Joe Maddon seems to feel the same, telling 670 The Score's Laurence Holmes that Chatwood has earned more high-leverage spots.
"The other day, talking to Tommy Hottovy, he's been telling me how well [Chatwood]'s been throwing on the side," Maddon explained. "And it was just that moment, I wanted to try something differently. And he nailed down those first two innings (against the Pirates).
"But that's what Chatwood is capable of doing. One of those fastballs was 98, and none of the Pirates had good swings."
As the Cubs head toward what could be a really brutal stretch to close the season, they're going to need a sixth starter or a piggyback guy to lengthen the rotation. With better sinker usage improving his command and efficiency, Chatwood could play a major role over the coming weeks.