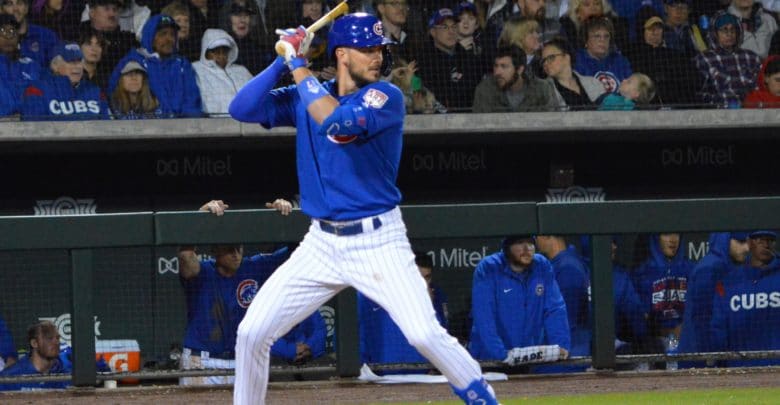 With Uncertainty in Young Core, Cubs Should Renew Push to Extend Kris Bryant
The Cubs won the 2016 World Series, which people tend to forget, on the strength of their core group of young position players. In the years that have followed, however, several of those players have failed to develop further and others who were once viewed as potential heirs have fallen back into more ancillary roles.
Not that there's anything wrong with developing role-players, since that is actually an integral function of the farm system. I mean, David Bote was never supposed to be the starting third baseman after 2021 or anything like that. But the rationale behind drafting and developing a glut of position players was that they'd matriculate through the system quicker and would provide a faster, more consistent impact.
Once that happened, the Cubs could switch their focus to pitchers whose eventual promotions would help to offset the escalating salaries of their hitters. Except the organization was admittedly too conservative when it came to drafting and developing arms, hence the abject failure in that department over the last several years. Legitimate hope is on the horizon, but most of those pitchers won't be coming into their own at the big-league level until the position players are approaching free agency.
As such, the front office would do well to re-double their previous efforts to work out extensions with their current stars to wedge their competitive window open and literally buy more time for the farm system to churn out prospects. While that obviously means trying to lock down Anthony Rizzo and Javy Báez, among others, it should probably start with Kris Bryant.
Such a notion runs a little contrary to my typical preferences, since I'm someone who refuses to eat his burger until his chips or fries are gone, but Bryant being perhaps the most difficult to extend makes him the best to target first. Rizzo just turned 30 and still has two club option years at $14.5 million apiece, so there's no rush and he doesn't exactly have a ton of leverage.
Javy is quite a different case because of his meteoric rise and status as the world's favorite baseball player, but he is repped by an agency that has a reputation for being amenable to extensions. The Wasserman Group counts Kyle Hendricks among its stable of players, and we saw how he signed a team-friendly extension prior to the season. They also represent Nolan Arenado, whose eight-year, $260 million deal provides a backdrop for a potential Bryant pact.
Not only did the former MVP admit during spring training that he'd "absolutely" be interested in a similar offer, but he understands the value of legacy and being able to carve one out a lasting one in Chicago. Many will point to reports that Bryant turned down north of $200 million in 2018, citing his representation by the extension-averse Scott Boras as evidence that he's just salivating for free agency. Then there are Bryant's comments about rampant service-time manipulation with young stars.
What you have to keep in mind is that, contrary to some of the speculation out there, Bryant is not harboring ill will and holding up a middle finger to the Cubs. He's wasn't happy at the time that he was unnecessarily held in Triple-A for a couple weeks in 2015, just like he's upset about the way the rules of the game are structured to allow such things to continue. But he's not going to cut off his nose to spite his billboard-worthy face because of it and I'd bet he's willing to talk turkey.
While it all comes down to money and being compensated handsomely for his elite talent, Bryant is surely aware of some of the other factors involved here. Take his recent injury history, specifically the shoulder injury that cost him big chunks of last season and sapped his power when he was able to play. Or the knee issue that hampered him at the start of the second half this season.
Though not career-ending by any stretch, both were reminders of his athletic mortality and could have him thinking about the time value of money. Then you look at his high-profile buddy Bryce Harper, whose drawn-out courtship reflected poorly on Boras's tactics and provided Harper with neither the contract nor the destination he preferred.
A noted homebody, Bryant doesn't seem like the kind of person who's interested in drawing things out and then having to uproot his life to start something new, especially if it ends up being with his third-choice team. He's going to be making a lot of money no matter what, so it stands to reason that he'd be willing to forego the possibility of a bigger payday after 2021 for the comfort and security of an extension after this season.
As for the Cubs, they're experiencing the harsh reality of non-linear development and would do well to lock up a man who is on pace to become one of the greatest players in franchise history. The new Marquee Network coming online this coming February means more money for baseball operations, but it also means keeping camera-friendly stars around.
How much would that cost? It's going to take a significant figure, but Bryant isn't going to trying to set records just to fuel his ego. Something from $250-290 million over eight or nine years seems reasonable given Bryant's performance and the various factors involved.
All things considered, an extension makes too much sense for Bryant and the Cubs not to pursue mutually following the conclusion of the season. As for Boras, well, he might be willing to change tack a little bit after this past offseason saw him tucking his tail between his legs, at least in the public's eyes. Even if that isn't the case, Bryant can make like Tony Danza because he knows who's the boss.
This is obviously not something to spend much more time thinking about over the next few weeks, but maybe we should mark the tape so we can come back around to it in a few months.