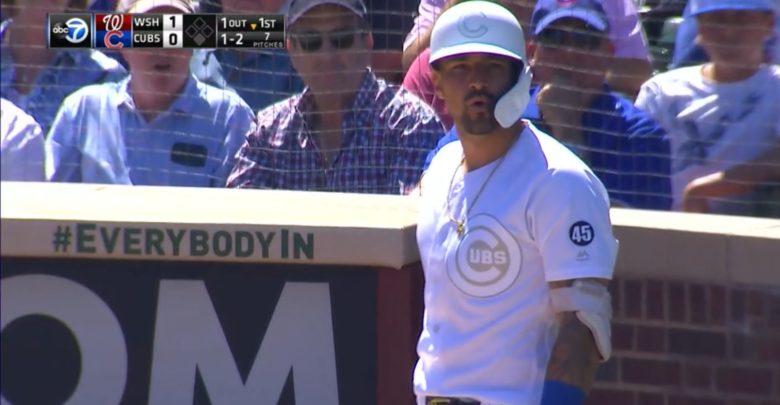 Red, White, Blue, and Black: A Quick, Colorful Look at Friday's Loss to Nats
Those uniforms, man. Wow. The brain geniuses at MLB decided to turn their sport into a game of 3D chess for the weekend, dressing players in monochromatic duds in a failed effort to be edgy and cool. Among other decided aesthetic shortcomings, it has to be hot for the players rocking all-black in the sun, right?
I'm not exaggerating when I say I had a hard time watching the Cubs in uniforms that were so blindingly white it was like an Ivy League lacrosse team had become clothing. Then I had an even harder time watching them as they struggled one by-God hit over 8.1 innings against Aníbal Sánchez.
Back to the uniforms for a second, namely how the Cubs wore neither the white caps to match them nor the black versions that would have complimented the look. No, they went with their traditional blues. The idea of not wearing a white cap while playing in the sun makes sense, as the glare might make it harder to see than what it already has been over the last two games.
It's just incredibly foolish that MLB would even opt for colorways that create this kind of issue at all, but the position players weren't the worst of it. The pitchers weren't going to be able to wear the white hats anyway because of how they might impact the ability to see the trajectory of the ball. Because of course.
"Each home team decided which colorway it will wear during the weekend with each visiting team wearing the other uniform option," read a statement from MLB. "Pitchers on teams wearing white uniforms will wear black caps to ensure all umpires and batters have clear visibility of each pitch."
You'd think the uniforms would cause enough of a problem with that, though the Nationals put that notion to bed right away and then thoroughly rocked it to sleep over the course of the game. They're red-hot right now and have been hanging crooked numbers like crazy over the last couple weeks, which left Cubs fans as blue as their lids.
Again, what's the point of special uniforms if teams can opt to change them anyway? There are any number of better ways to have pulled off this fun league-wide event, but the garbage uniforms only served to detract from the games themselves and some of the really unique ways in which players chose to customize their bats and cleats.
There really isn't much to say about the game, lest we want to get into a conversation about the rapid and obvious diminution of Jon Lester's skill. Watching Lefthander over the past few weeks is somewhat akin to that moment when you realize your grandparents, or maybe your parents, are getting older. It's been easy to deny in the past, but the signs of slippage are there.
Maybe things pick back up, Lord knows we've seen Lester overcome hiccups in the past. But at this point, it's more a matter of just hoping for a few good days here and there. About the only positive to be drawn from Friday's debacle is that it gave Joe Maddon a chance to give some of his regulars a little extra rest. Jason Heyward and Javy Báez were both lifted early and Kris Bryant came out in the 9th.
"That should be beneficial, hopefully," Maddon offered afterward. "I wanted [Javy] out of there and Jason, the same way. Jason, playing center field, there's a lot of running around out there and he gives you full effort all the time, too. So, those are the two I wanted out of there."
It's at least a little ironic that such additional rest was made possible during American Legion Week, when players are already afforded additional time off by not having to report early to the ballpark. Hell, most of them never showed up at all. Guess that means they'll all be plenty rested for Saturday's contest.
I know there's a better way to sew this thing up, I just don't really care to find it right now. Let's hope the next effort with the black and whites comes off significantly better.