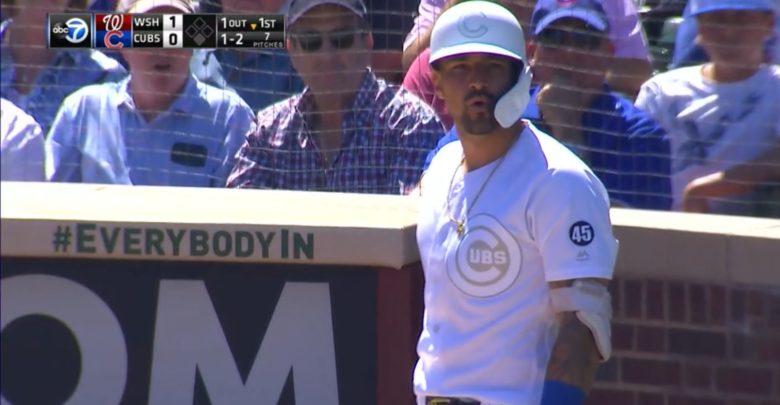 The Rundown: Cubs Wayward in All-Whites, Franchise Honors LGBTQ+ Fans Today, Sunday Baseball Notes
At first I thought I would dig the Cubs home whites for Players' Weekend. Turns out I can't stand them, and I'm not alone.
It may or may not have something to do with the fact that Nationals' buzzsaw is making sawdust of the North Siders, but that certainly doesn't help matters. Washington has scored 97 runs over their last 10 games and they've kept the pedal floored since arriving in Chicago.
The Cubs decided to go a little rogue, shunning the required white toppers that match their unis. Pitchers are required to wear black caps so the batters can better see the ball coming out of their hands, but the players decided instead that the entire team would wear their standard blue caps. Not that any of it matters. Washington batters could probably step up to the plate blindfolded and churn out five-run innings right now.
At least the social media commentary has been far more colorful than baseball's tribute to Mad TV's Spy vs. Spy.
I hope MLB releases their sales numbers from this marketing boondoggle. And to think they did it during their showcase series of the season as the Dodgers are hosting the Yankees. The Los Angeles front office reportedly asked MLB for a weekend exemption and were denied.
The Cubs have looked like dead milkmen in their white units. Forced fun seldom works and the atmosphere at Wrigley Field this weekend is living proof. The combination of poor play and unsightly threads has left a palpable silence enveloping the Lake View area. All in all, it's just another distraction in a year that has been nothing but one big disturbance in the force for Cubs fans.
It will be a relief to put the white-hot Nationals and baseball's poor choices in all-white haberdashery behind us. A win today would be huge, even if it just serves to keep pace with the surging Cardinals.
The Cubs are recalling David Bote for today's game, and we all remember what he did to the Nationals last season. But lost in the dramatic ending of that game was the epic pitching duel between today's starter, Cole Hamels, and Max Scherzer. Hamels will draw Stephen Strasburg this afternoon and a repeat of last year's pitching performance could go a long way toward somewhat salvaging this series.
Cubs News & Notes
From the Christopher Kamka Files
Kyle Hendricks at Wrigley Field

2019: 11 starts
1.79 ERA in 75.1 innings

Career: 77 starts (78 games)
2.59 ERA in 476.2 innings#Cubs

— Christopher Kamka (@ckamka) August 22, 2019
Updates On Nine
Apropos of Nothing
Andrew Luck's retirement just a few days shy of his 30th birthday was the biggest new coming out of the NFL this weekend. The announcement came in the form of a tweet from ESPN reporter Adam Schefter during the Bears' 27-17 preseason win over the Colts, with Luck standing on the sidelines. After the game ended, Luck was booed off the field.
"[The injuries] have been unceasing and unrelenting," Luck said after the game. "… I felt stuck in it and the only way I see out of it is to no longer play football. It has taken my joy of this game away."
As fans, sometimes we get just a tad too crazy about the teams and players we support, removing the human element completely. The world doesn't end when our favorite player retires or if the team we support misses out on the playoffs, and no, I am not trying to be prescient here with regard to the '19 Cubs. Sports are entertainment and nothing else, and they're certainly not life and death. It is, in fact, apropos of nothing.
Extra Innings
The Cubs are every bit the team PECOTA projections insinuated before the start of the season, and could be fighting for their wild card lives if they don't get on some kind of a hot streak. They've won five of seven, lost ground to the Cardinals who have won 12 of 15, yet still have a slight edge on St. Louis per FanGraphs.
NL playoff chances, per Fangraphs:
Nationals 82.6%
Cubs 68.9%
Cardinals 63.9%
Mets 37.8%
Brewers 22.7%
Phillies 8.9%

— Buster Olney (@Buster_ESPN) August 25, 2019
They Said It
"I don't know, I get into so many tough spots when I demonstrate my feelings on certain things. I'd just like to know who said [the uniform choice] was a good idea. That's the best way I could describe that. Just really awkward… They're getting enough heat. I don't need to pile on." – Joe Maddon
Sunday Walk Up Song
Let It All Hang Out by The Hombres. "A preachment, dear friends, you are about to receive on John Barleycorn, nicotine and the temptations of Eve!" Arguably the best garage rock song of all time and an attitude the Cubs need right about now. This season has seemed to be one pressurized week after another. Time to breathe a little. Go Cubs Go!