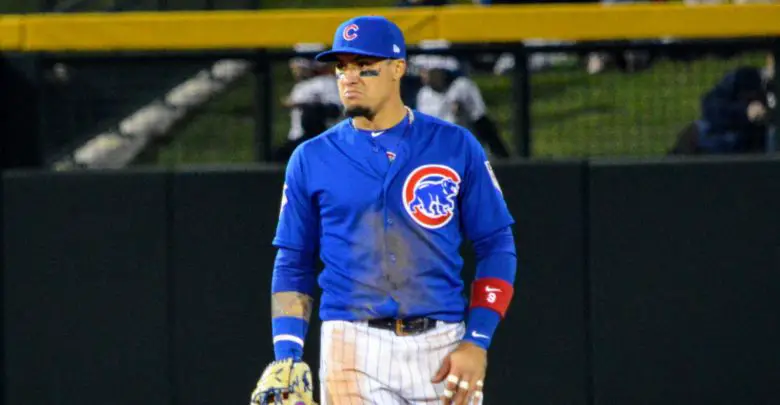 Does Javy Báez's Slump Indicate Bigger Issue or Major Offensive Surge?
Javy Báez opened August hotter than the Andrew Luck taeks being lobbed across the internet like flaming balls of pitch. But after hitting .406 with a 1.268 OPS and 220 wRC+ that included three homers and 10 RBI over his first 33 plate appearances of the month, El Mago has been far too easy for opposing pitchers to retire. Get it? Because Luck [remaining words drowned by boos from Colts fans].
In the time since, however, Javy has looked worse than the abominations MLB unleashed on the world this past weekend. Over his last 53 PAs, the dynamic shortstop is batting .163 with a .453 OPS and 14 wRC+ only Daniel Descalso could be envious of. He's hasn't gotten anything other than Sunday's ground-rule double to leave the yard over that stretch despite a 71.7% contact rate that sits several points above his career average (67.3%).
Maybe that's the problem, particularly when it comes to his contact on pitches outside the zone. While he's historically gotten a bat on 54.3% of those offerings, he's up to 67.3% during the sample in question. As CI's Brendan Miller pointed out recently, this increase could be the sign of a change in approach or of Javy trying to force the action.
We saw something similar with Kyle Schwarber earlier in the season, when increased contact rates suppressed his production through early June. [This is the point were batting average devotees point out that Schwarber's numbers are still suppressed.] Javy's recent results have been staggeringly bad, sapping both his BABIP (.211) and hard-contact rate (21.1%) over the past two weeks or so. Those things go hand in hand, since hard-hit balls are more likely to go for hits.
If there's a positive to all this, it's that Javy's numbers are so uncharacteristically opposed to his past performance that they're almost certain to rebound here soon.
"It's just missing his pitch and really, he's gonna be out of the zone anyways, but a lot of times when he's out of the zone, the ball still gets on the fat part of the bat," Joe Maddon said this past weekend. "That just hasn't been as frequent…He's just been off a little bit. It's just not getting to the barrel as often, but it will.
"When I see a situation like this with a guy like that, I believe we're gonna benefit when it really matters moving forward. But otherwise, I think he's playing really well."
If Maddon is correct, we may be able to eliminate the fear that residual pain from Javy's heel injury is responsible for this recent downturn. Except that it's almost impossible to rule such a thing out because those issues can linger for months on end. If you've ever dealt with something similar, plantar fasciitis for instance, you know what that's like.
Even if it's not a matter of physical fatigue, there could be a psychological factor to Javy's slump at the plate. That seems hard to believe for a guy who's seemingly always "up," but it's easy for anyone to fall prey to deleterious swing thoughts over the course of a long season. You expand your zone a little in an attempt to spark a stagnant offense, which yields bad results, which leads to expanding your zone even further.
Before you know it, you're swinging at everything and the frustration makes it impossible to find the bread crumb trail that leads back home. Under most circumstances, the solution might be to give a guy a break to hit the reset button, but that's not easy to do when said player is so integral.
"More than anything, the guy can definitely use a rest and I gotta make sure we stay on top of that," Maddon admitted. "It's just him playing hard. Man, he hit some weak ground balls, but he ran hard to first base and I really appreciate that. His defense has been outstanding in spite of all that."
How about Maddon finding that silver lining, huh? I get the whole #Respect90 vibe and all that, but if it's gotten to the point where you're handing out an attaboy for busting it on a weak grounder, well, that's a far sight from great. As the manager said, though, it's his responsibility to balance things and make sure Javy doesn't get worn down to the point that he's further damned by faint praise.
It's easy to look at their recent sweep at the Nationals' hands and get down on the Cubs, but their utter mediocrity has been quite evident for the last few months. While no one player is responsible for that and it'll take more than just a singular effort to set things right, Javy getting back to being Javy over the next month sure would help.
In other words: El Mago, we go.