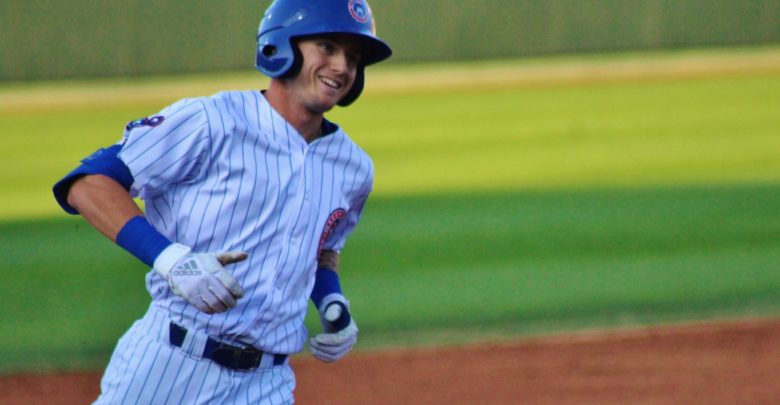 Chicago Cubs Weekly Farm Report (8/27/19): Playoff Chases Coming Down to Wire, Cole Roederer Finishing Strong
The MiLB season is coming to a close, which means these Weekly Farm Reports are as well. With one more full week of games on the slate, it appears as though this will be the second-to last-edition of the 2019 minor league updates. Before I get too sentimental, let's dig right into what this last week had to offer.
News in the System
Ladies and gentlemen, we are down to the final week of the MiLB regular season! From Eugene all the way up to Iowa, each affiliate plays on Labor Day this year and it will be the final time they take the field before the playoffs.

Iowa is almost a lock to get into the postseason fun, while South Bend and Myrtle Beach are in neck-and-neck battles for a spot to play some extra baseball. Eugene still has a shot if all the pieces fall right.

It is absolute mayhem in Iowa right now. The Triple-A Cubs are this close to clinching a playoff spot, their rivals are the hottest team in all of baseball, and they are trotting a lineup out there every day that could beat the Detroit Tigers. Of their 26 active players, half have spent time in Chicago this season. They started a lineup last week that featured seven players who had suited up in the Bigs.
We are now just 22 days away from the start of the Arizona Fall League and players are starting to be announced. So far, there are some of the very top prospects in all of baseball, so whomever the Cubs decide to send to the important offseason league will be playing against some stellar competition.
As always, be sure to check out what is going on over at the Growing Cubs Podcast. The guys go into the extreme depth of starting pitchers in the upper minors, swoon over Cole Roederer's beautiful swing, and bring back their Dudes and Duds segment.
Triple-A Iowa Cubs
The I-Cubs have slowed to a snail's pace as they attempt to clinch the division. After going 4-3 last week, they sit with a five-game lead over the white-hot Memphis Redbirds with just a week to play. A series at Oklahoma City is next before closing down the season with a series at home against the Redbirds. Hopefully the division will be wrapped up by the time they come to town.

What better way to lead off the player-performance portion of the update than with Phillip Evans? He homered and doubled three times because that's what he does.

Remember that Robel Garcia guy? In case you forgot about his insane power, he went and popped three over the fence last week while also driving in eight runs.

The big three relievers were all spot-on at the same time for maybe the first week all season. James Norwood, Dakota Mekkes, and Dillon Maples combined for eight innings on the bump, allowing only one hit and two walks without giving up any runs. They struck out 14 of the 26 total batters they faced.
Double-A Tennessee Smokies
The Smokies actually had a pretty good week by their second-half standards, going 3-4. They managed to hold off the sweep by the Jackson Generals and now enter this week with games against Birmingham and Mobile.

I have made it no secret that Vimael Machin is one of my favorite prospects in the system and deserves every bit of a shot at Triple-A. He continued to prove me right as he slashed .350/.481/.550 while walking more than he struck out, which is true for his season-long stats as well.

Due to a roster crunch in Iowa with major league talent, Zack Short got the boot down to Tennessee for more consistent at-bats. Like someone who is too good for that level would do, he cranked out 10 hits in his 28 at-bats, including three doubles.

You could make a legitimate argument for Cory Abbott as the Cubs' Minor League Pitcher of the Year. He continued his ludicrous streak of allowing fewer than three hits in a game and made two starts totaling 10 innings, while giving up four hits, no runs, two walks, and nine strikeouts.

Oscar De La Cruz has been on a mission to prove his worth ever since he was DFA'd and not claimed off waivers. He went 3.1 innings in relief and only gave up a couple of hits while rocking a perfect 5:0 strikeout to walk ratio.
High-A Myrtle Beach Pelicans
It really is coming down to the wire for the Birds as they sit 2.5 games back of Wild Card leader Fayetteville. The Pelicans went 3-3 last week and now round out the season on the road against Potomac and Wilmington.

Luke Reynolds might be the hottest bat in the system right now. Last week he doubled and tripled with five RBI. His slash line in Myrtle Beach before he was sent down to South Bend was .190/.296/.288 with a 75 wRC+, but since he came back up he's at .297/.392/.547 with a 164 wRC+.

Jeff Passantino worked another five innings at High-A and only gave up a run on four hits while striking out five with no walks. Who knows where he starts the 2020 campaign; he could pitch anywhere, anytime.

Manuel Rodriguez was lights out from the bullpen last week in his four innings of work. He only allowed one total baserunner and struck out five batters.
Low-A South Bend Cubs
Much like Myrtle Beach, the South Bend Cubs also have to finish their playoff chase on the road. They went 4-2 last week and now sit just two games back of first place in the Midwest League as they hit the road to take on Bowling Green and Fort Wayne. 

Roederer had a two-homer game last week, which was probably the highlight across the whole system. His swing is one of the sweetest you will ever see and he is hitting the ball as well as he has all season long. Since August 1, he is slashing .249/.370/.471 with a 141 wRC+ and a 13.6% walk rate.

Riley Thompson came back from his suspension for using a foreign substance while pitching and was electric even without a little help. He went five innings and did not give up a run on three hits. I think he will start 2020 in Myrtle Beach and will be promoted somewhat aggressively now that he has proven he can stick in the starting rotation permanently.

Eugenio Palma has been one of the most consistent relievers this year for South Bend and last week was no different. He worked 5.1 scoreless innings and struck out seven while only walking two and giving up two hits.
Short Season Eugene
It was a heartbreaking week for the Ems after going 1-6 in the most important stretch of the season. That performance put them four games back of Hillsboro for a playoff spot and it is going to take a miracle against Salem-Kizer this week for them to continue playing baseball deep into September.

Yovanny Cuevas had a dead silent bat during his time in Eugene until last week, when he doubled twice and homered en route to a 1.250 OPS.

Alex Guerra joined the 1.000 OPS club thanks to his four doubles and two homers in 29 plate appearances. He had 10 hits last week.

Josh Burgmann caught my eye on the mound that caught my eye, working three one-hit innings and striking out three of the 10 batters he faced.