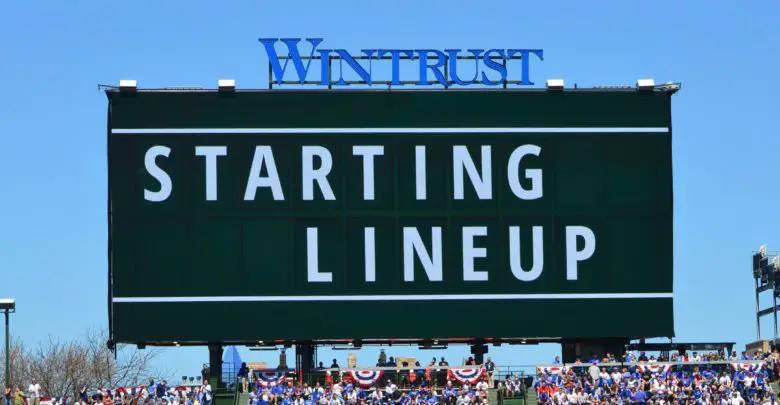 Chicago Cubs Lineup (8/28/19): Nearly Identical Configuration as Hendricks Battles Thor
Tonight's lineup is nearly identical to last night's as the Cubs continue to press on without Anthony Rizzo. Jason Heyward leads off in center, followed by Nicholas Castellanos in right and Kris Bryant at third. Javy Báez busted out in a big way Tuesday and he's back in the cleanup spot ahead of Kyle Schwarber in left.
Addison Russell, who homered to put the Cubs on the board last night, moves up to the six-hole and plays second base. Ian Happ again spells Rizzo at first and Victor Caratini is behind the plate. Rizzo could return by tomorrow night, though it all depends on how he responds to treatment, and Willson Contreras is nearing a return as well.
Between his size, flowing blond locks, and big hammer of a curveball, Noah Syndergaard is certainly worthy of the mantle of Thor. The massive righty has ridden a 98 mph fastball and a much-improved changeup to eight straight quality starts, though his strikeout numbers have dipped for the third straight season and his 3.71 ERA is the highest of his career.
You'd think someone with overpowering stuff would post marked platoon splits, but Syndergaard has always been pretty neutral in that regard. That's really the case this season, as most metrics between righties and lefties are within single digits. The one big difference is that left-handed hitters strike out and walk at significantly lower rates than their counterparts.
Syndergaard is allowing a few more fly balls and little more hard contact than in the past, though the uptick isn't really notable and he's still well below league trends in both areas. He's also missing fewer bats than in the past, perhaps because he's dialed back on the slider in favor of more four-seams and fewer sinkers.
His approach is a little different, more aggressive, as he's throwing a career-high 65.1% first pitch strikes while working in the zone slightly more than he has on average in the past. Despite that, his walk rate is slightly elevated, some of which comes from a five-walk game against San Diego in July. Long story short, dude is going to throw strikes and the Cubs needs to catch up to them.
The best pitchers can beat you even when you know what's coming, and that's pretty much the case with Thor. He doesn't mess around and change his repertoire much, so he'll pretty much bring the same mix regardless of count. Lefties will see more sinkers early and changes late, but there's not much other than that when it comes to an out pitch. When he's locating that high-90's heat up in the zone, he's tough to square up.
Maybe that's a good thing for the Cubs, who've faced a barrage of soft-tossing pitchers over the last few weeks and could be ready to get something going against a flame-thrower.
If Syndergaard is Thor, that makes Kyle Hendricks like pre-Super Soldier serum Steve Rogers. He may not have a vibranium shield or America's ass, but he is capable of wielding his own hammer and possesses a wide array of low-key powers. Hendricks has been using his curveball a little more lately while also getting comfortable with adjusting and even abandoning a gameplan that isn't working.
As we've seen all year from the team as a whole, Hendricks' road struggles have been well documented. Opponents are hitting and reaching base 99 points higher against him on the road while slugging 202 (!) points higher. You have to think something will change there because Hendricks has just been flat bad away from Wrigley.
Those numbers are inflated by a pair of starts in which he allowed seven runs each on a combined 22 hits, so things look better with those removed. He gave up just one run on three hits in Pittsburgh recently, a sign that he may be ready for one of those patented streaks of Cy Young-level performance.
First pitch is again set for 6:10pm CT on NBC Sports Chicago and 670 The Score.
Here is tonight's #Cubs starting lineup against the Mets.

Stream on @NBCSChicago: https://t.co/rGCuW1XI7C pic.twitter.com/FNVnoJxEhR

— Chicago Cubs (@Cubs) August 28, 2019