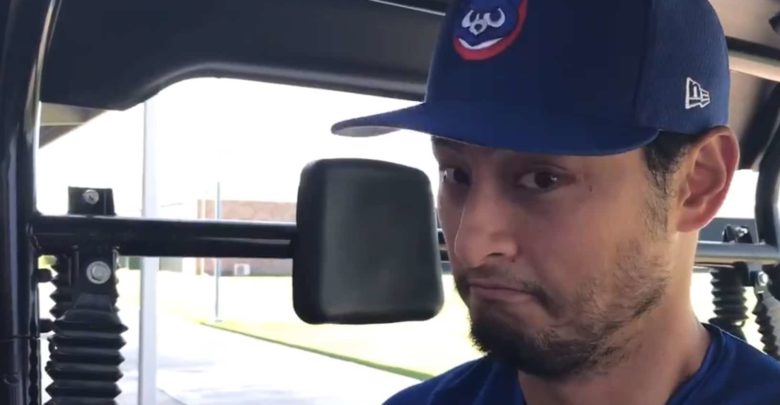 Yu Darvish's New Knuckle Curve Spin Rate Greater Than 75% of MLB
Yu Darvish recently added another pitcher to his incredibly diverse repertoire: a knuckle curve. He learned the pitch from future Hall of Famer Craig Kimbrel last week before taking the mound against the San Francisco Giants and had no issue incorporating into live action.
"He felt it in the bullpen and broke it out in the game," Joe Maddon told members of the media. "And it was great. He's able to manipulate his hand and his arm in ways most guys cannot. He's just a different level of talent."
While Darvish's standard curve is typically at around 70-75 mph, this new variation is thrown roughly 10 ticks harder. That's because the knuckle curve is actually thrown more like a fastball, with the index finger pulled back so that the first knuckle is on the ball, thereby creating the spin and movement. With this knowledge, we can classify Darvish's knuckle curves over his last two starts and compare spin rates between curve types.
Darvish's knuckle curve clearly has greater spin, coming in around 2,700 RPM while his normal curve spin rate was roughly 2,500 RPM.  So he is essentially throwing faster curves with almost 10% greater spin action.
Darvish's knuckle curve spin rate is also greater than about 75% of MLB pitchers. I genuinely have no idea how batters hit this guy. The Cubs ace already has nearly 10 different pitch types, and now he just added a similar pitch as one thrown by one of the greatest closers in MLB history. This is insane.
The new knuckle curve is mesmerizing, it just completely disappears.
Yu Darvish, Filthy 82mph Knuckle Curve. ? pic.twitter.com/NJ7PzJcm0Y

— Rob Friedman (@PitchingNinja) August 28, 2019
Yu Darvish, 93mph Fastball and 83mph Breaking Ball, Overlay. pic.twitter.com/7AxFVD4kZ6

— Rob Friedman (@PitchingNinja) August 28, 2019
I keep mentioning Theo Epstein's "premier strikeout pitcher of our generation" phrase whenever I write about Darvish, but there is simply no more accurate way to describe him. He has an uncanny ability to throw whatever the hell he wants.
What's next, will Darvish suddenly start throwing Kyle Hendricks' changeup? Don't put it past him.